The results are in and after a heated referendum, the fine people of Scotland have decided to remain within the United Kingdom. With all of these discussions of independence and sovereignty buzzing in the British Isles as of late, we over here at Pornhub HQ couldn't help but be curious about how different the people of Scotland and England really are when it comes to the types of porn they fancy. Are their tastes truly united as one? Let's take a closer look to find out.

LONG-LASTING FRIENDS
For starters, one thing that the Scots and Brits seem to have in common is the amount of time they tend to last on average when they visit Pornhub. The English outlast by a mere 2 seconds with their average 9 minutes and 19 seconds spent on the site, but again, the difference is minimal when compared to Scotland's 9 minutes and 17 second average.

WHAT THEY DESIRE IN THE ISLES
As we've seen in previous posts, citizens of a particular country will often search for their nation's ethnicity, as well as those of neighboring countries. The tradition is kept alive in England where 'british' lands in at number three, and search terms 'lesbian' and 'MILF' claiming the top 2 spots.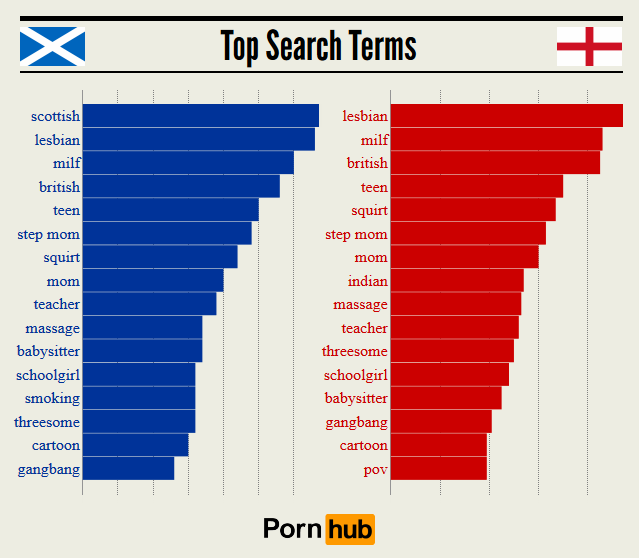 The Scots show a little more patriotism in sending 'scottish' straight to the top of list of their top searched terms, though they also love that lass-on-lass action as made evident by 'lesbian' sliding in at number two. Both countries appear to have a thing for the older ladies with terms 'MILF,' 'mom' and 'step mom' all ranking high, but the Scottish pay special tribute to the dames next door with 'british' claiming the 4th spot on the most searched terms there. Looks like the Scots want to unify with the Brits in more ways than one…
NOT SO CLOSE RELATIVES
To really tease out the differences in terms of porno-preference between the two countries, we've taken a look at the relative differences between Scotland and England in terms of their viewed categories. In other words, the charts below show us which categories are more likely to be browsed by a Brit than a Scot and vice versa. In Scotland they seem to enjoy some comedy with their porn as the 'Funny' category is 15% more likely to be viewed there than in England.
Things get a little more exotic in England where the Indian, Ebony, Interracial and Latina categories are respectively 94%, 66%, 52% and 47% more likely to be searched by a Brit than a Scott. Special tribute is paid to the redheaded beauties that Scotland is famous for producing, with the Read Head category found to be 13% more popular there.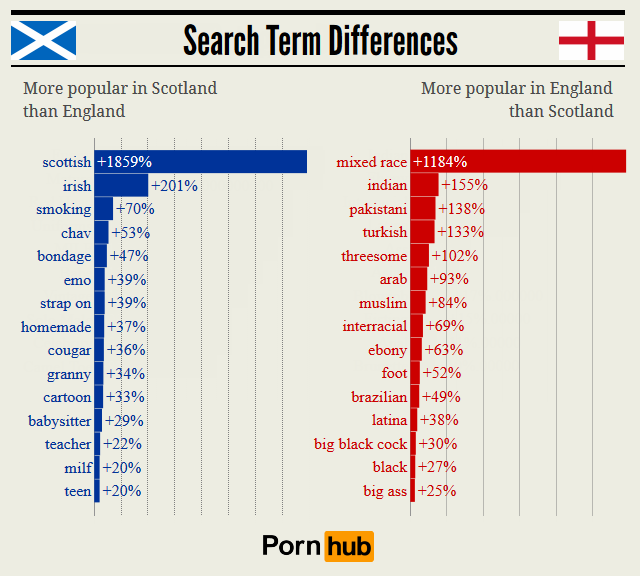 When we look at the specific search terms for both countries in this same way, we again see evidence of Britain's love for international flavors. In fact, almost all of the search terms that are more likely to be searched for in England than in Scotland are ethnically oriented. For starters, 'mixed race' is 1184% more likely to be searched for by a Brit than a Scot, whereas they're keeping it local in Scotland with 'Scottish' showing 1859% more popularity as a search term there. The otherly love continues down the chart in England with 'indian,' 'pakistani' and 'turkish' all around 140% more popular there, which makes sense considering that these are also some of the most represented nationalities in terms of England's immigrant population.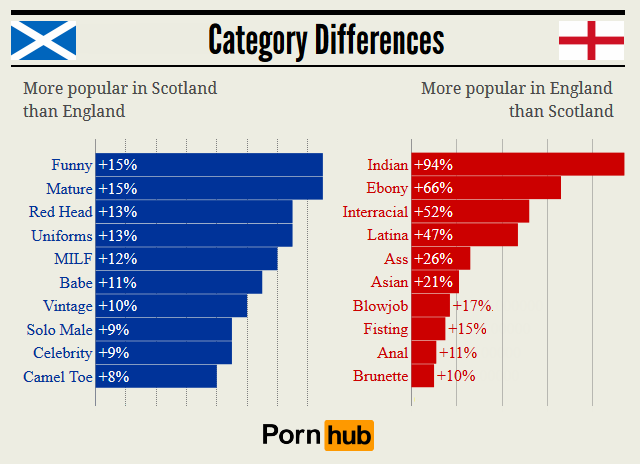 Back on the Scottish side, neighbor-related 'irish' is the only other ethnic term on the list, which is 201% more popular there. Interestingly 'smoking' as well as the pejorative anti-social British youth epithet 'chav' both show 70% and 53% more popularity respectively.
HOW THE STARS ALIGN
The British love for Southeast Asian babes is once again made clear when looking at the porn stars that are significantly more popular there than in neighboring Scotland. For starters, Indian beauty Anjali Kara and the Bollywood babe who we wish was actually a porn star, Katrina Kaif, are 1168% and 1059% more likely to be searched for in England, whereas in Scotland, native-born Georgie Lyall and British babe Amanda Rendall show 875% and 88% more popularity.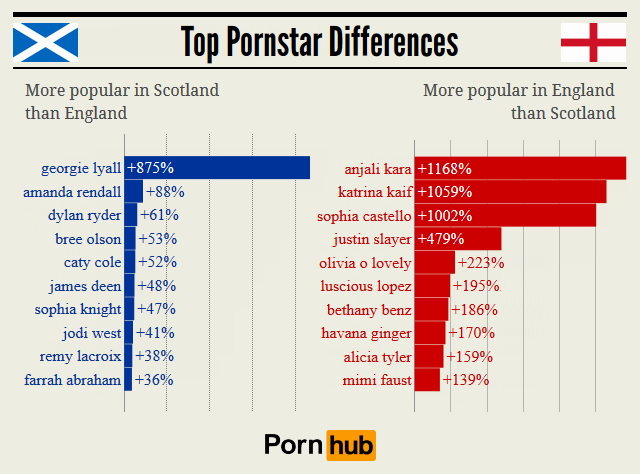 SCOTLAND SAYS 'NO THANKS' TO PORN (DURING LAST HOUR OF REFERENDUM VOTE)
As we now know, an impressive 86% of the Scottish population turned out to vote in the referendum that took place on September 18th, the majority of which decided to keep Scotland within the United Kingdom. The voter turnout represents a record high in the country which translated to interesting changes in Pornhub site traffic within the UK.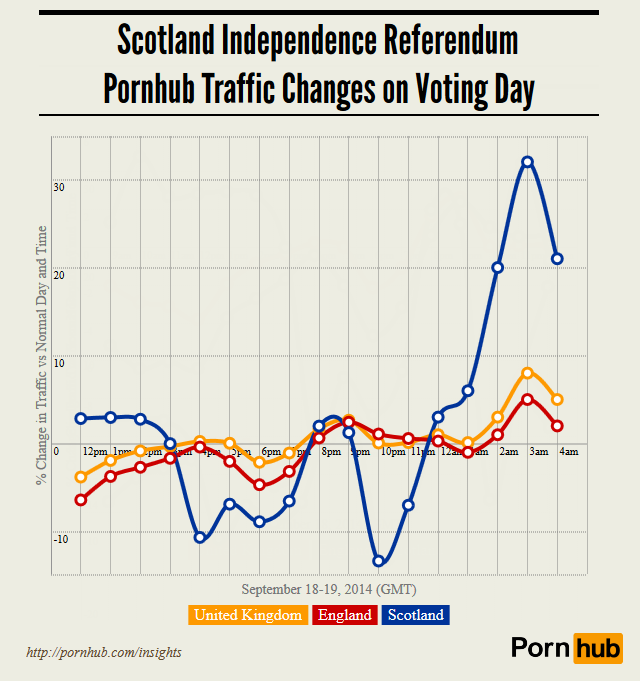 Voter polls opened at 7 am local time and didn't present any major disruptions in site traffic until 2pm when it began to dip, then bottomed out at around 11% below the usual numbers between 4 and 5 pm. This perhaps reflects folks getting their votes in at the end of the work day, rather than taking the edge off on Pornhub. Traffic began to rise again around 7pm only to dip down once more at 8:30, hitting a low for that day at nearly 14% less traffic than usual at 9:30 pm, just half an hour before the polls closed at 10.
Throughout the day in the rest of the UK, traffic was a little slower than usual on average, demonstrating the significance of the event throughout this part of the world. Once the polls closed at 10 in Scotland, we noticed significant spikes in traffic, reaching as high as a 32% increase at 3 am. No doubt, tensions were rising high and the stress-relieving powers of Pornhub were necessarily called upon while Scotland waited for the final vote count to be announced.
That's all we've got for this edition of Pornhub Insights. Check back soon for more awesome world event coverage!