We're back to take a deeper look into Canada's porn data, analyzed by our highly trained team of statisticians. As the world's biggest porn site, Pornhub.com averages 35 million visitors each day and that almost equals the entire population of Canada! Right now it's January, and that's one of the coldest months of the year up North. It's also the month that Canada spends the most time on Pornhub. Coincidence? As well, Mondays see the highest levels of traffic meaning Canadians, like many others worldwide, come to us after a long day's work to release all that built up pressure.


How Long Do Canadians Last?
While Canadians usually spend a little over 10 minutes browsing our pages it will take them roughly 8 pageviews to find the perfect video to satisfy their desires. Now that is dedication, my friends. As you can see, people from Alberta view on average the most pages on the site, proving just how important the fap is to Albertans. Overall British Columbians and Quebecers need the least amount of time to find the video that's right for them. Is that a good thing? You tell me.


Top Turn-on Terms
What does the average Canadian search for on Pornhub? MILF Lisa Ann is the favorite, ranking as the most searched term in Canada, although not by much. Massage porn seems to be big in Canada too. Something did surprise us though; the terms Quebec (#1 Quebec) and French (#3 Quebec) are pretty much only popular in Quebec. I thought there was a general consensus on the sexiness of French Canadian girls! Also interesting that searching for smoking (#2 Quebec) was much more popular in Quebec compared to the rest of Canada.
What a lot of Canadians agree on is that Lesbians, Teens and MILFs are the best. What is interesting, without necessarily coming as a surprise, is that Lesbian is the most popular of the three.
O Canada! The Gentle Patriot!
Canadians don't make as big of a deal of Canada Day as we do of the 4th of July but, as you can see on the graph below, many Canucks re-allocate some of their fap minutes in order to spend more time with family and friends. Around 10% of the country took some away time on July 1st to enjoy the day with their people. And, much to our surprise, Quebecers turned out to be just as patriotic as the rest of the country or maybe the fact that July 1 is the unofficial moving day in much of Quebec had something to do with it.
Speaking of Quebecers, let's look at what they were up to during St-Jean Baptiste Day, Quebec's national holiday. Montrealers clearly preferred staying home and enjoy their evening on our site. What's up Montreal? Not down to party with the rest of the province?
Canadians celebrate Thanksgiving the second week of October, and like their American cousins, it's a time to celebrate with family and friends. But unlike the United States, Canada still finds plenty of time for Pornhub. While the US sees a 30% drop in traffic nation-wide, Canada has a marginal increase. Thanks for that!
Now this one is a bit more interesting. In June of 2013, Alberta was taken by surprise by a monster rainfall. The catastrophe resulted in billions of dollars' worth of damages! That's crazy! The traffic coming to Pornhub went down 32% in the hard hit High River region, but traffic was actually up across the province as a whole. Looks like porn was, for a lot of people, a way to cope with the losses! Glad we could help!
He Shoots, He Scores!
Now let's take a look at what happens up North on an important NHL playoffs night. As we all know, hockey is a very dear sport to our Canadian friends. If it's game time, don't bother because they're glued to their televisions cheering for their team! As you'll notice, traffic from pretty much all of the country slows down to almost a halt during the game. And take a closer look at the stats for Ottawa, who ended up winning the game. Traffic went down nearly 50 percent! If that's not love, I don't know what is. Spezza, congrats, your fans really love you!
Unfortunately, the Canadiens don't get the same love the Senators get at home. I mean, the home team is playing and the local traffic slows down by 12 percent at most and that's at the beginning of the game. As the game progresses, people start coming back to us and traffic goes back to almost normal levels. What's up Montreal, no love for the team?
Popular Platforms
Finally, what devices do Canadians prefer for browsing their favorite porn site? Desktops are still the most popular, but mobile is catching up quickly. In 2013, 40% of Canadian traffic came from mobile devices, a significant increase from 30% in 2012.
It's clear that Canadians are very proud of their country and their sport and that the average Canuck loves Pornhub. It was pretty interesting to be able to get a closer look into their fapping habits by analyzing the traffic coming from Canada. Hope you enjoyed it!
Focus on Quebec
Our statisticians thought it would be a good idea to separate Quebec from the rest of Canada. No, not politically… but the Pornhub data does differ significantly in that province compared to the others.
The most popular search term in the province is "Quebec". Around the world we've found many regions where people tend to search for their own nationality or ethnicity. The second most popular terms is "smoking", followed by "French". Another nod to regional searches appears further down the list with "quebecoise".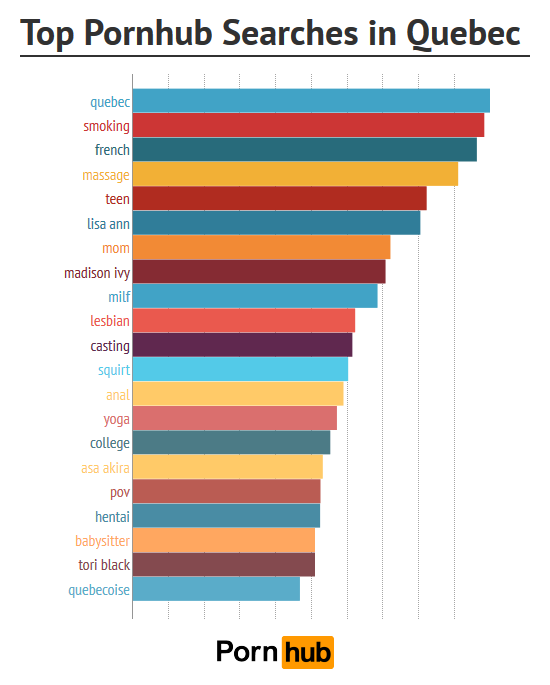 The Quebecois language contains some unique words and phrases that few people outside the provide can comprehend – especially when it comes to swearing and sex. So we consulted some Quebec locals who were happy to provide us with a list of such terms (or at least we think they were happy). From those, we found the top 6 that were searched for on Pornhub.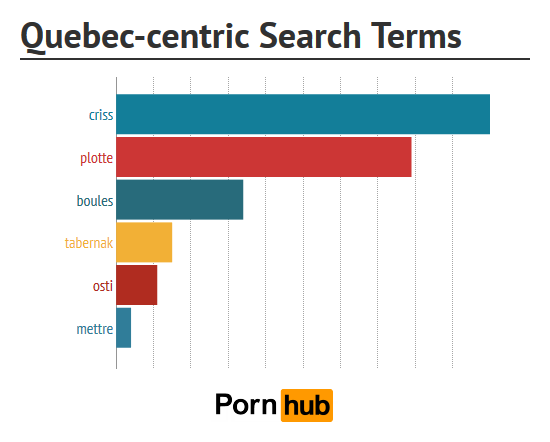 We're told that "plotte" means pussy, vagina or slut, that "boules" means boobs and "mettre" can mean "to have sex with". The other three are general curse words with a wide variety of uses and meanings. It should be noted that these are still a VERY small percentage of overall searches.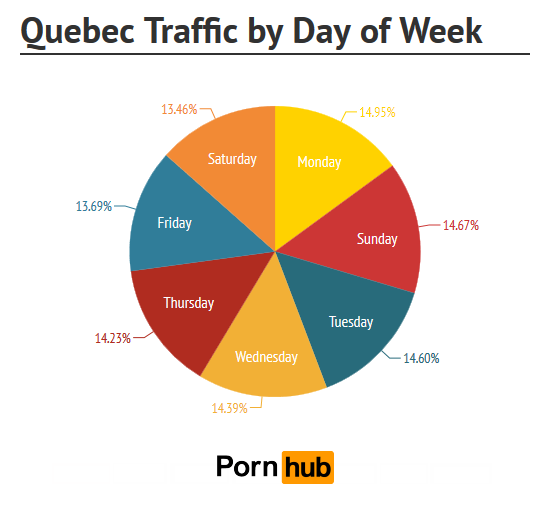 Mondays are the most popular day for visiting Pornhub in Quebec with nearly 15% of all traffic. Saturday is the slowest day, with 13.5% of traffic to our site.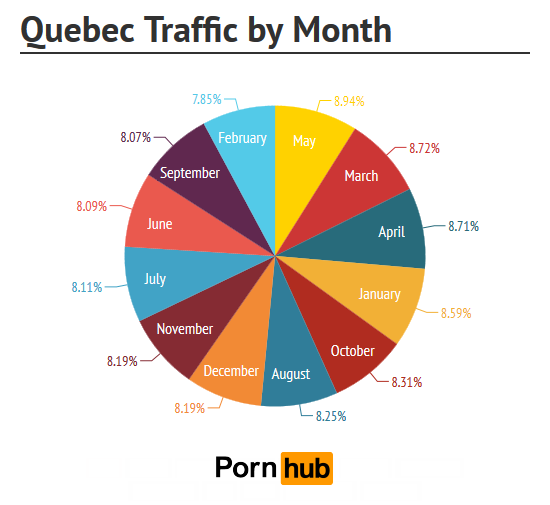 May is the month that brings the most visitors to Pornhub from Quebec at nearly 9%. Although February appears to be the slowest month, it does have only 28 days, so the late-summer traffic in September, at only 8%, is a better comparison.
Pornhub is designed and tested to work on a wide variety of devices including smartphones, tablets, smart tvs and even consoles. Although they only account for around 1% of traffic from Quebec, the two most popular consoles for browsing Pornhub are the Playstation and Xbox.