Once again our Pornhub statisticians are on the move, this time travelling to the land of the midnight sun: Finland. Out of Pornhub's 35 million daily visitors Finland ranked 30th in overall traffic. However, the home of Nokia boasts the 17th position worldwide on mobile.



Not bad for a country of 5.5 million inhabitants. It appears that when not enjoying their saunas, thousands of lakes and first-class education system, Finns enjoy watching porn on their phones!

Finland follows the general global trend in regards to weekly activity. The busiest day remains Monday while Saturday sees a decrease in visitors to Pornhub. Interestingly, Finns tend to get at it earlier then some of their European counterparts. They favor visiting the site between the hours of 7pm and 10pm, in contrast to the Dutch and Norwegians who help themselves to a porn nightcap between the hours of 10pm and 12am.

What makes Finland particularly quirky is that the busiest month is April while December sees decreased activity. As we have seen in other European countries, January generally sees an increase in visitors while June/July experiences a decrease. Could long dark winters be affecting the libido of the Finns?

Fast Finish
Finnish visitors to Pornhub view 8.17 pages in 8min 20sec which is well below the world average of 8min 56secs and nowhere near the British average who clock in a solid 9min 42 sec! Residents of Helsinki, who account for 40% of traffic, will generally spend more time on Pornhub than the national average, viewing 7.89 pages in 9min 03sec.

Suomi Love
A trend we have seen time and time again here at Pornhub Insights is the world's desire to see their neighbors naked, and Finland is no exception. 'Finnish' is the most searched term, coming in first or second across all regions. Nationally, 'milf' comes second while hot MILF 'Lisa Ann' remains the most popular pornstar taking third most searched term.

Mobile on the move
As mentioned earlier, Finns love to watch porn on their phones. From 2012 to 2013, we saw a staggering increase in traffic via mobile devices with traffic proportion jumping from 17% to 41%. This mobile use is 14% higher than Norway (28%) but slightly lower than Britain (43%).
Funnily, though the hours of 7pm to 10pm see more traffic overall, PC visitors tend to be more active between the hours of 2pm and 6am. Do Finns watch porn at work just like we do here at Pornhub?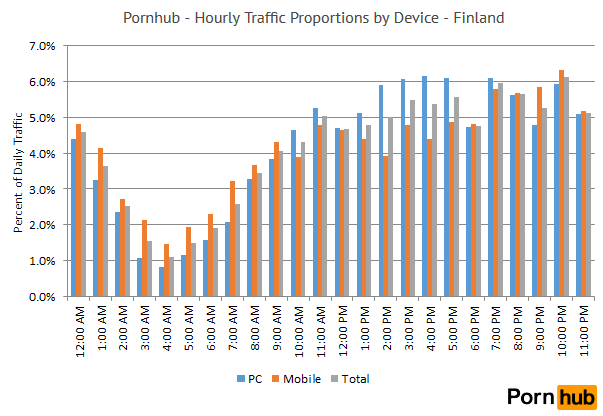 And so finishes our romp of Finland. Goodbye and Näkemiin!