The folks at City Beat asked our statisticians to take a look at the porn habits of San Diego's visitors, and see how they compared to other parts of California. We found some interesting differences in this Southern-most California city which accounts for nearly 1% of all Pornhub's traffic in the United States. Stay classy San Diego – here are your Pornhub Insights.
The most popular searches in San Diego are "lesbian", "step sister" and "step mom". We also found that ethnic searches for "asian" and "latina" were quite popular.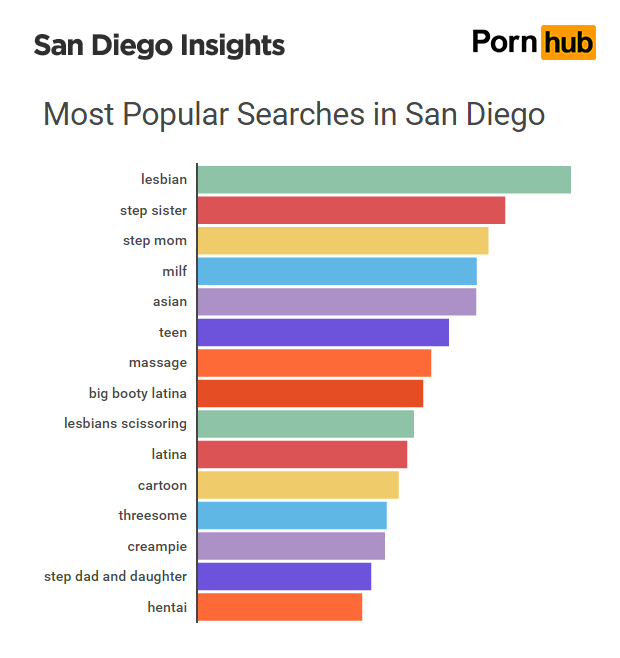 We next compared San Diego's relative searches – those searched more often when compared to the rest of California – and found that "san diego" is 834% more popular among it's residents. "Gloryhole" searches are 57% more popular, and "big black cock" is 39% more popular.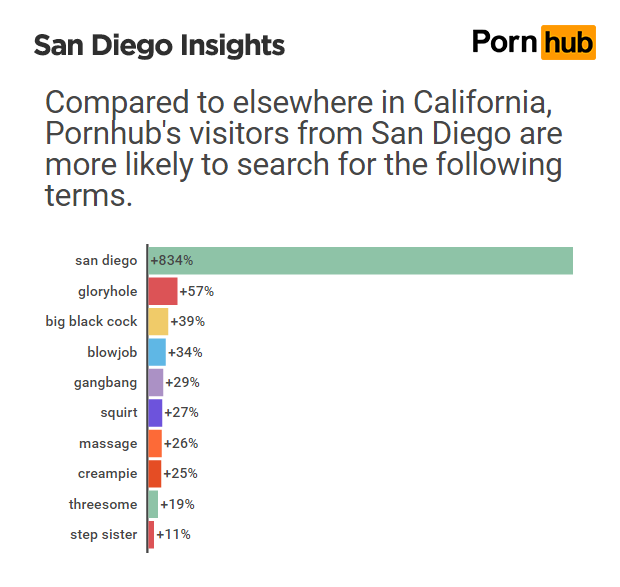 Pornhub offers over 100 categories of adult videos, and just like searches, residents of San Diego enjoy videos from the "Lesbian" category. It's followed by "Teen", "Ebony" and "Anal".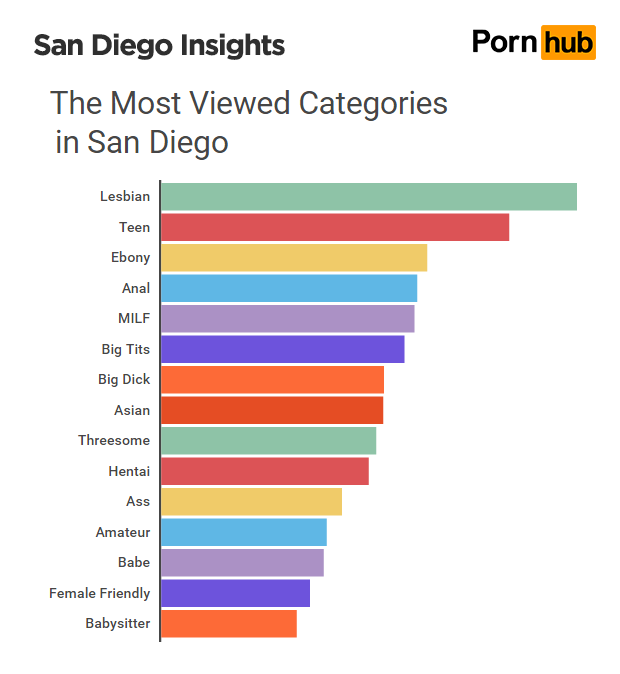 The relative categories show that visitors from San Diego are 27% more likely to view the "Gay – Bareback" category than elsewhere in California, 11% more likely to view "Double Penetration" and 10% more for "Gangbang".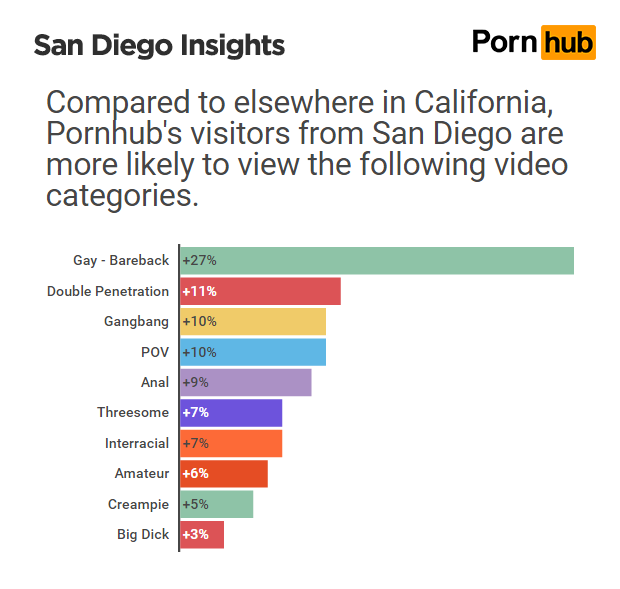 The average visitor from California spends 10 minutes and 8 seconds each time they visitor Pornhub. San Diego spends just 5 seconds less than the state average, closely matching Los Angeles and San Francisco. The state's lowest time on site comes from San Jose.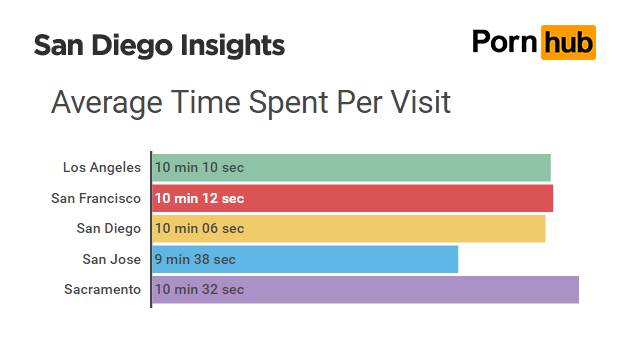 In our last Year in Review we found that women account for 24% of Pornhub visitors from the United States. California falls 6% short with only 19% women. San Diego is slightly ahead of the California average at 20% women.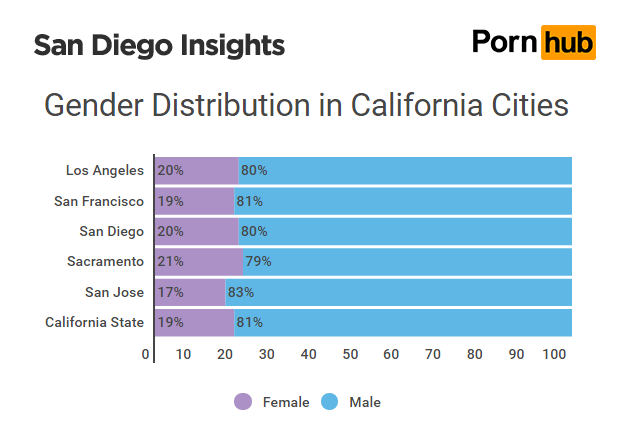 Millennials aged 18 to 35 account for 64% of Pornhub's traffic from California, although San Diego has slightly less visitors in the 18-24 age group.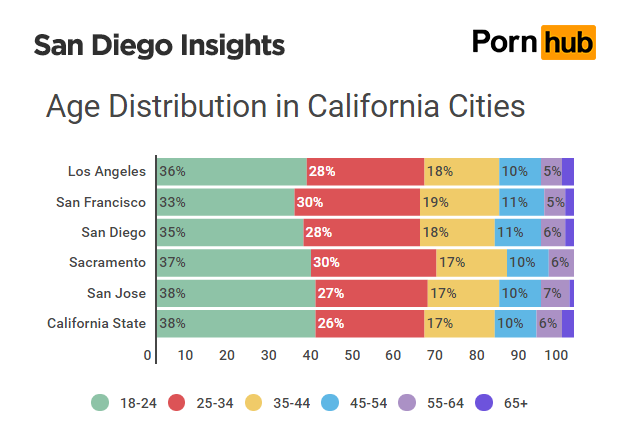 In the United States 75% of people visit Pornhub on mobile devices such as tablets and smart phones. California comes out 7% higher at 82% mobile use. San Diego comes out even further ahead with 84% of visitors using mobile devices, leaving only 16% of traffic coming from desktop and laptop computers.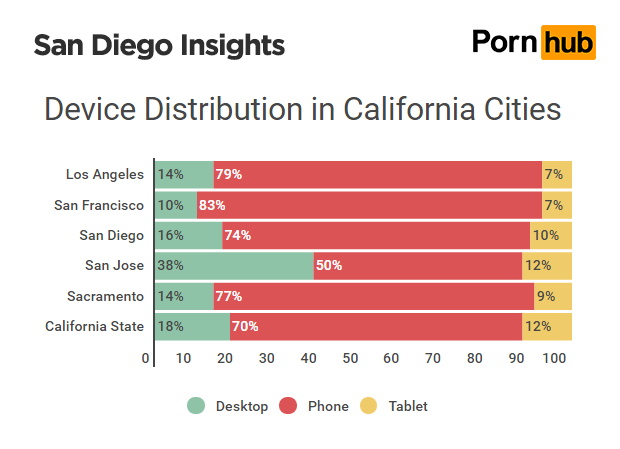 We hope you enjoyed this edition of Pornhub Insights. Are there other cities you would like to see compared? Let us know in the comments!