The 2014 Stanley Cup finals have drawn to a close, so the Pornhub Statisticians stopped to take a look at how hockey viewership affected traffic to everyone's favorite porn site. We've seen in the past that televised sports events like the 2014 Superbowl, the 2014 NBA Finals and the 2013 Stanley Cup can have a major effect on Pornhub traffic when fans choose tuning-in over turning-on (at least for a few hours).

The 2014 NHL Finals featured a 5 game series played out between the New York Rangers and the Los Angeles Kings. In game 1, hopes were high for both teams and we saw an 11.7% traffic drop in Los Angeles and 13.8% in New York. With Los Angeles one win ahead going into game 2, nearly 3 times as many New Yorkers gave up Pornhub to watch the game. In game 3, Los Angeles was 2 wins ahead which seemed to excite their fans enough to see a 10% drop to Pornhub and 7.1% in New York.
With 3 wins for Los Angeles, game 4 had the potential to be the decisive match, so traffic dropped significantly in both cities – 15.1% in New York and 17% in Los Angeles. The Rangers managed to win that game giving New York some hope going into game 5. Interestingly though, it seems that New York fans had already given up – game 5 traffic to Pornhub was actually up 1.8% over New York's time-of-day average. The 10% drop in Los Angeles paid off for Kings fans, with both hands free to cheer their team right through to the Stanley Cup win.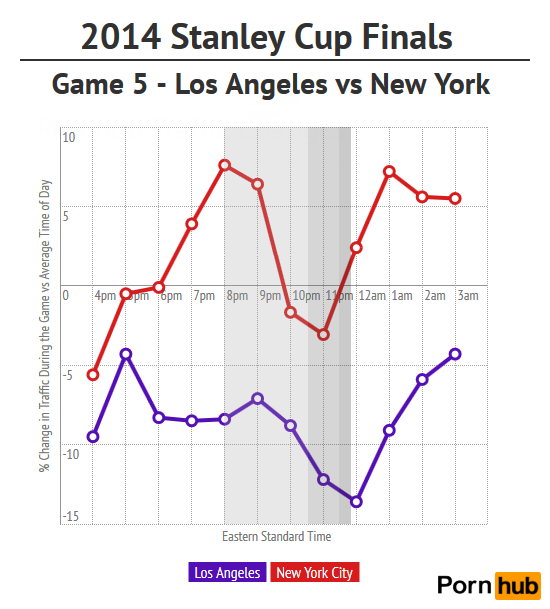 Focusing in on game 5, we can see how Los Angeles and New York City traffic played out hour-by-hour. As the puck dropped, 7.6% more New Yorkers were fixated on Pornhub than usually were at 8pm on a Friday. It was only as the game went into the first period of overtime that New Yorkers stopped playing with themselves long enough to cheer on their favorite players. Traffic in Los Angeles was down a steady 8% for the first 3 periods of the game, but as it went into overtime the traffic dropped down by 14%.
With the Kings winning goal in the second period of overtime, fans everywhere headed back to Pornhub to either make themselves feel better (in New York) or to celebrate their win by popping one off (in Los Angeles). Los Angeles traffic stayed lower than usual well into the night, but remained up in New York by as much as 7%.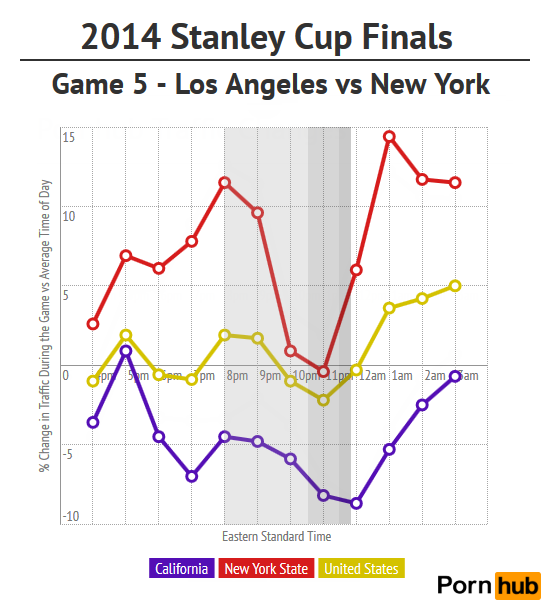 Fans state-wide seemed to follow the same trends as in their capital cities, but with a much higher increase in traffic in New York. Immediately after the game, Pornhub's traffic in New York state surged nearly 15% above normal for Friday night. Fans all across the United States tuned in to watch the decisive overtime portion of the game, and then made up for that lost time by heading back to Pornhub.
You can compare these results to our study of the 2013 Stanley Cup Finals between the Chicago Blackhawks and Boston Bruins. In that game, Boston was more focused in the first few periods, but then traffic dropped over 20% in both cities at the game drew to a close. With Chicago too busy celebrating their win the traffic there stayed well below the usual numbers, but we saw a massive traffic surge of 21% in Boston.