It's always fun to check out different parts of the world and see what really interests people in specific countries with regard to their viewing habits on Pornhub. There are horny people everywhere, this is a fact.. What turns them on seems to range by country. The Pornhub statisticians have crunched the numbers; here are the results from Freud's homeland.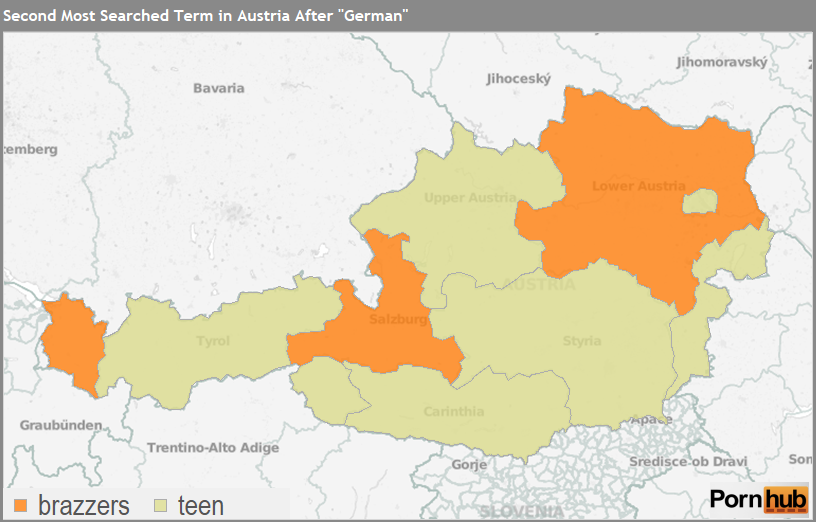 Well, one thing's for sure.. Austrians either really want to be German, or really want to bang their women! Remarkably, the top searched term in every Austrian province was German. Logically speaking, they probably want to understand what's being said and JA JA JA turns them on more than yes yes yes.
The stats show that teen was the second most searched term in 7 provinces, while our content partner Brazzers ranked number 2 in 3 provinces. Had Brazzers produced German teen flicks back in the day, Mozart may have never written any of his classics! Below you'll see the top 5 most searched terms by each Austrian province.
All in all, Austrians are just as horny as any other country it seems, and we're definitely not judging their top search terms… If you focus on the heat chart above, you'll see the average time by province that users last…. on our site.
Just for fun, our Pornhub statisticians put together a chart comparing election day in Austria (sept 29th) to a regular Sunday, in order to try and somehow attribute voter turn-out to pornhub viewing.

Kinda shows you when people were voting, and gives you a good idea of how, many of them spent the rest of their day! I hope you've enjoyed our fact-finding mission to Austria, stay tuned for fun new stats about a country near you!