Welcome to Pornhub's 8th Year in Review, where we bring you 2021's hottest trends, terms, searches and a recap of everything that happened during the year. Here you will find plenty of colorful infographics filled with data compiled by Pornhub's intrepid statisticians. As always, we provide a little commentary to touch on the main trends and breakdown the details to see how the year that was 2021 affected the porn viewership of people around the world.
Holidays & Events Affecting Traffic
The Searches that Defined 2021
Every year, the Insights team and Pornhub's statisticians sift through data from billions of visits to see what content defined the year. Those that follow this blog know that Pornhub's top searches are often influenced by pop culture and other worldwide events. Many of these terms define 2021 not just on Pornhub but in mainstream media as well.
In 2018 our list included 'Fortnite' and 'Bowsette', while 2019 was led by 'amateur' porn and 'aliens' and 2020 was 'quarantine'. For 2021, our top defining term is 'hentai'.

1. Hentai
In Japanese culture, hentai can refer to any sort of sexual fetish. But around the world it most often describes the pornographic form of anime, a style of Japanese film and television animation. Hundreds of thousands of hentai videos can be found on Pornhub, including professional productions, homemade animations made by fans and 3D generated scenes.
Hentai became the most popular search term in the world after it moved to the top spot in the United States, Pornhub's biggest audience. Hentai was a top ten search in almost every country in 2021.
Dr. Laurie Betito, clinical psychologist, sex therapist and director of the Pornhub Sexual Wellness Center, notes that "Cartoons are more fantastical than regular porn. They may offer more visual stimulation in terms of movements, angles, colors, and facial expressions. Because it's not real, it can go further, with less constraints that reality offers. Hentai porn also tends to have more of a storyline and people seem to be more and more drawn to context."
2. Romance
The second search that we feel defines 2021 is 'Romance'. The popularity of searches containing 'romance' and 'romantic' more than doubled, alongside a 139% increase in 'passionate' searches. Among Pornhub's gay male visitors, searches for 'bromance' grew 288% in the last year.
Dr. Laurie tells us that "Human connection has become far more important this past pandemic year. Many people have experienced loneliness and isolation and may be craving love, intimacy and romance. So the next best thing to a partner it seems, are the fantasies of romance."
Sex educator and writer Dainis Graveris commented that "More and more people are looking for genuine interactions between performers and more realistic depictions of sex. 'Romantic' or 'passionate' porn somehow feels and looks more authentic. And many people see this porn genre as an inspiration for their sexual actions and preferences because the narratives speak to them. Viewers can use these romantic scenes to not only attain sexual satisfaction but also explore their sexual identity. The content aims to break the fictional standards of porn."
3. Group Sex
It seems like after a bleak 2020 of lock-down, people were ready to throw social distancing to the wind and get in on some three way (or four or five) action! 'Threesome' grew by 40% worldwide and became the 6th most popular search in the United States and 4th among women. Searches for 'group', 'ffm', 'mmf' and 'orgy' all grew by more than 70%.
For some of you out there, third parties make for a real party in the bedroom…but especially after a year of being locked in the house, people are craving novelty. Niki Davis-Fainbloom suggests, "there may be more searches for threesomes this year because so many couples have been isolated with just their partner. When couples spend so much time together, it makes sense that they may begin to think about how to increase excitement in the relationship."
Clinical Sexologist Dr. Stacy Friedman looks to a longer term effect. "Women and couples are finding more of an interest in group sex, such as threesomes, as ways to spice up their relationships. Getting an idea of how things look or work with multiple people can be helpful to bring about conversations in their relationships as to what they like or don't like if they ever have an opportunity to have group sex."
She also feels that "It allows those that don't want to open up their relationships, a chance to fantasize with each other and enjoy or explore the idea of group sex. Women are becoming more confident in asking for what they want so the idea of exploring this type of activity can be exciting!"
4. Fitness
In 2021 we saw a 56% rise in 'fitness' related searches. As the world was under lockdown, many celebrities and social media influencers began sharing their favorite at-home fitness routines and this may have driven an increase in fitness searches on Pornhub. Porn involving activities like 'yoga', 'running', 'exercise' and 'gym' all saw search gains throughout the year.
5. Swapping
Our 5th term defining 2021 is 'swapping'. Once again viewers tossed social distancing to the side and searched for 'swap' and 'swapping' 170% more than the previous year. 'Swinger' and 'Swinging' both trended in the spring and summer, resulting in a +127% increase in popularity. Somewhat related terms like 'Cuckold' increased +168% in 2021, as well as 93% growth in 'cheating' searches.
6. Challenge
In number six we have 'challenge'. It seems like every week there's a new challenge going around social media. Whether you think they're fun or stupid, there's no denying that millions of people are up to a challenge. Porn is no different, with dozens of challenges being popular in 2021 including 'no nut November', 'try not to cum', 'jerk off challenge' and 'buss it'. 'Challenge' searches grew 255% in 2021, and more than 500 different terms are routinely searched alongside 'challenge'.
7. Transgender
Number seven on our list is 'transgender'. As society has become more inclusive of diverse gender identities, searches for 'trans' and 'transgender' content have increased on Pornhub. In 2021 'trans' searches grew another 141% and views of the transgender category grew by 23%, making it the 10th most watch category by male visitors. Today, some of Pornhub's most popular Verified Models are transgender.
According to Dr. Laurie, trans is trending for many different reasons: "Increasingly, marginalized sexuality (outside the vanilla world) is coming out of the shadows. We are talking about sex more, we are more free to explore our sexual fantasies with less judgment attached. Our sexual curiosity is coming out of the closet. Bicuriousity is far more acceptable these days, and even "trendy" among the younger generations. When it comes to Trans individuals, we are now seeing more and more people who are portrayed in mainstream media, thus making trans porn more intriguing, more available and more accepted."
8. Goth
The 8th term that defined 2021 is 'goth' which grew by +283% over the last year. That follows a similar trend in pop culture with goth style and culture making a comeback with the Y and Z generations.
9. Roomate
At number nine on our list is 'roommate'. Perhaps due to long periods of quarantine, people have been fantasizing about the people they were closest to, which may have caused the 136% increase in roommate related searches, including 'lesbian roomate', 'gay roomate', 'straight roomate' and 'horny roomate'.
10. How to…
And finally, one more search stood out to our team as a trend in 2021. Our statisticians found that the popularity of searches containing 'how to' increased by 244% and there are now more than 200,000 videos on Pornhub that are tagged or titled as 'how to' videos. Some of the most popular searches include 'how to squirt', '..eat pussy', '..suck dick', '..put on a condom', '..last longer', '..finger myself', '..shave balls', '..make a dildo' and of course '..find a g spot' and 'how to make her cum'.
Sex coach and doctor of human sexuality, Dr. Stacy Friedman tells us "The increase in searches of 'how to', shows that people are finally feeling more comfortable looking at how to improve their sex lives. Since the discussion of sex has been taboo for so long, relationships have suffered because there aren't that many places to learn about sex. Since we have had the pandemic, I believe that couples are realizing they need more help in the bedroom so there is more research out there that they can find information from. People want to know how to enjoy their sexuality more."
2021's Most Searched for Terms
Trendy terms aside, Pornhub's #1 worldwide search in 2021 was 'hentai', which moved up +1 spot to replace 2020's favorite 'Japanese'. 'Lesbian' and 'MILF' retained their 3rd and 4th positions, while 'pinay' (a Filipino woman) moved up +13 spots to complete our top five. Other gainers included 'creampie' (+5), 'cosplay' (+9), 'pov' (+8) and 'squirt' (+9).
'Teacher' grew by +14 and made our Top 20 because a math teacher in Taiwan uploaded his calculus tutorials on Pornhub and his story quickly went viral. He now has 7700 subscribers on Pornhub, and his calculus videos have been watched more than 2 million times. In 2021, searches for 'ebony' moved down -2 positions, while 'black' searches increased by +19 to make our top searches list worldwide.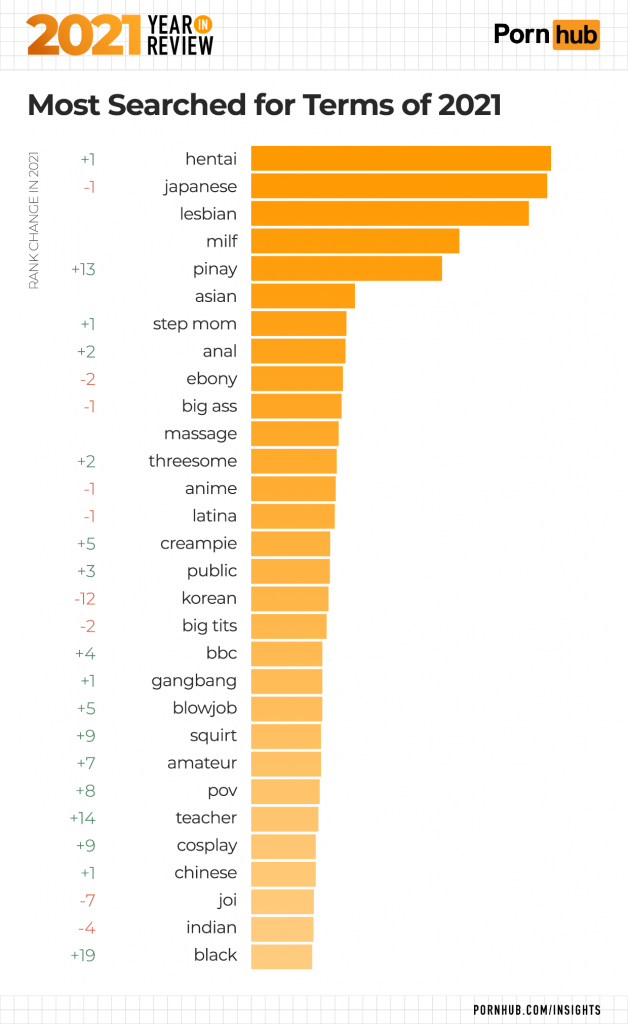 For the 3rd straight year, Lana Rhoades was Pornhub's most searched pornstar, followed by Abella Danger who retained her #2 position. Eva Elfie moved up +2 spots ahead of Riley Reid and Mia Malkova. Jordi El Nino Polla was the most searched male pornstar with a rank increase of +3, while Alex Adams (+19), Violet Myers (+102), Lexi Luna (+26) all had significant growth in 2021.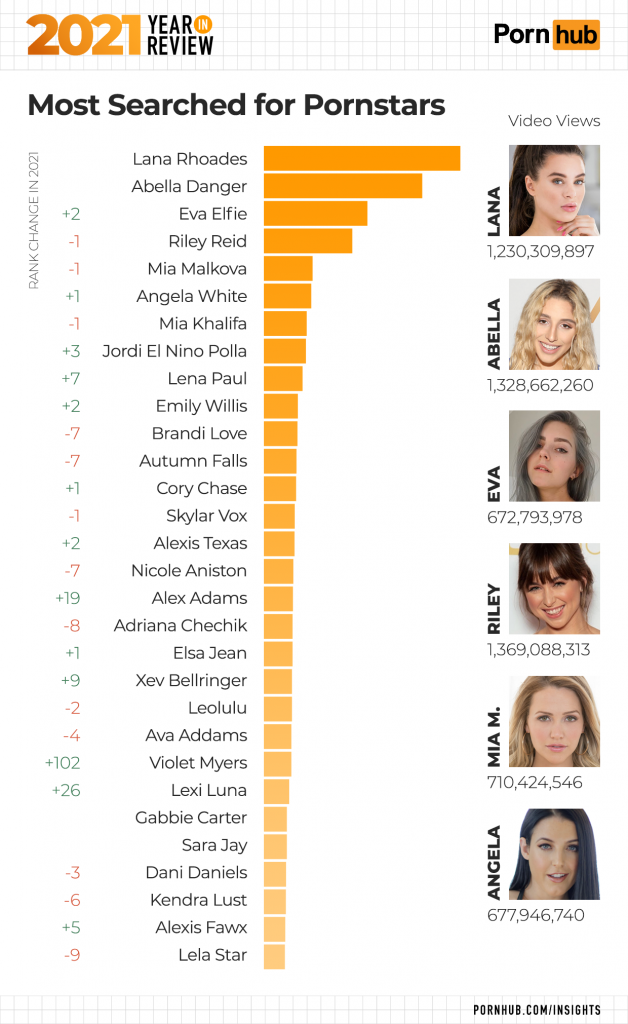 Below you can find the most viewed Verified Amateur Models of 2021. Videos uploaded by the Pornhub Community's top 5 models 'yinyleon', 'Porn Force', 'LuxuryGirl', 'TheStartofUs' and 'Crystal Lust' had more than 1 billion combined views.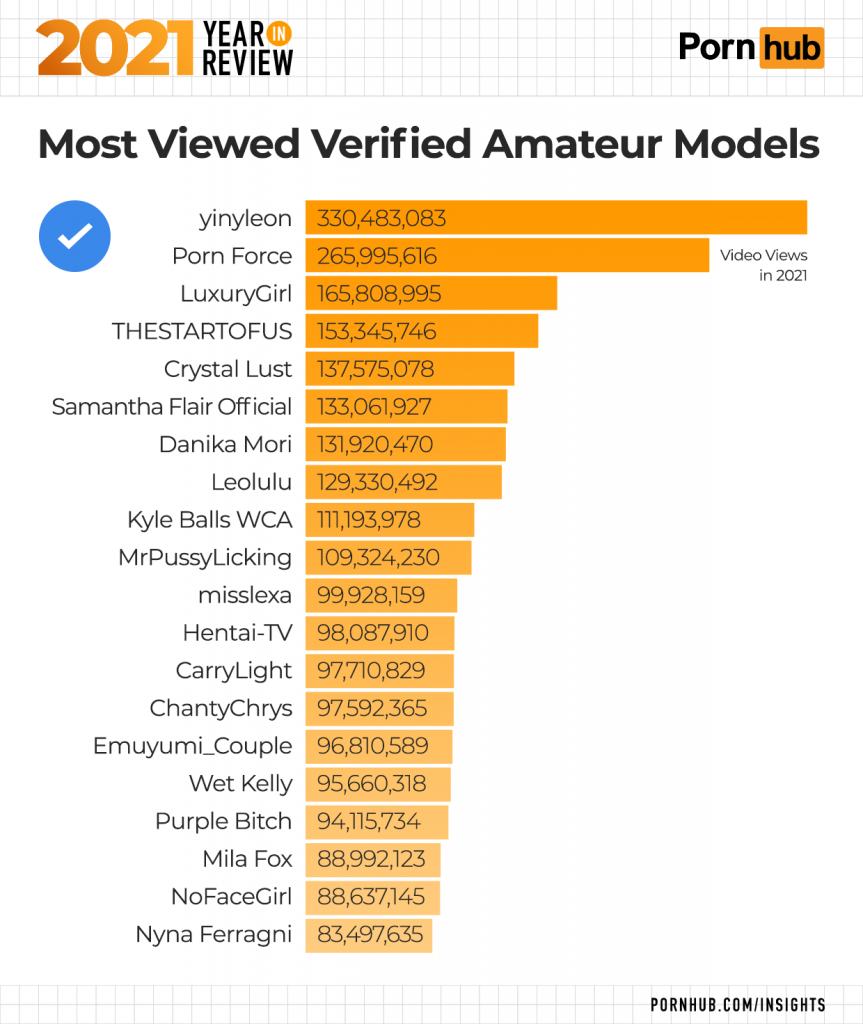 The State of the Union
2021 saw 'hentai' overtake 'lesbian' as the most searched for term in the United States. 'Milf', 'ebony', 'asian' and 'latina' retained their 3rd, 4th and 5th positions, while threesome increase by +2 to become the 7th most searched term among American visitors. Other big gainers include 'black' (+5), 'gangbang' (+17), 'pov' (+7), 'gloryhole' (+27), 'Fortnite' (+12), 'squirt' (+17) and 'trans' (+134).
The big increase in 'gloryhole' searches may be a result of some government authorities (like Canada's CDC) recommending that a hole in a wall or other barrier could help avoid Covid transmission during sexual encounters.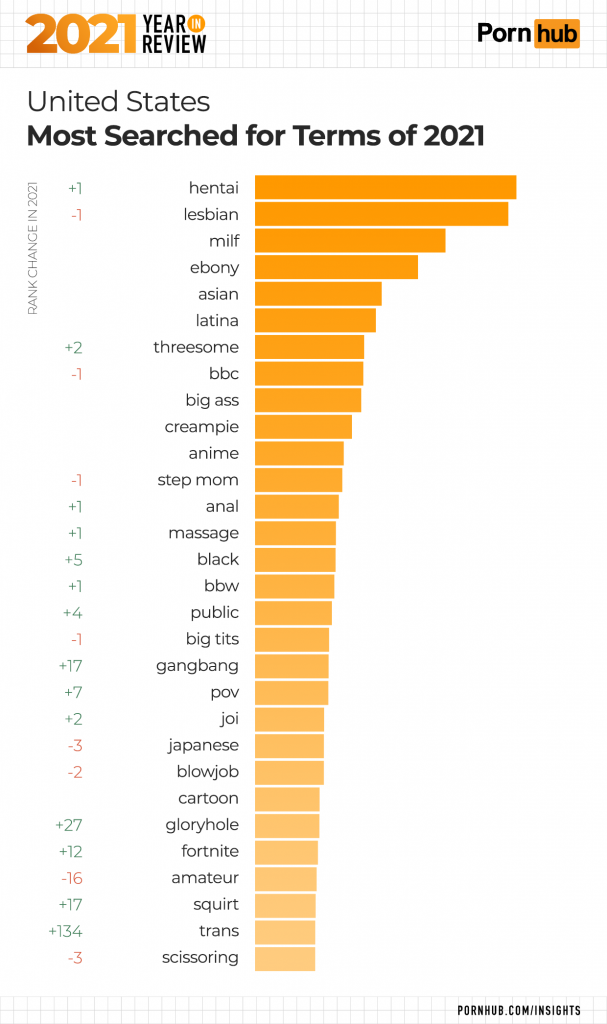 If you've followed our Insights blog, you already know that porn preferences differ from one country to the next. But did you know that people's tastes can differ just as much from region to region within a country? By looking at the top relative searches, we can see what terms are proportionally more likely to be searched in those regions when compared to all other parts of a country.
The United States is a great example of these regional differences, as illustrated in the following map. Our statisticians found that visitors from Alaska were more likely to search for 'morning sex', while those in Virgina like a bit of 'dirty talk'. Visitors from North Dakota are more likely to search for a 'quickie', which may be why their state has one of the shortest visit durations. Arkansas has one of the highest divorce rates in the United States, and 'divorce' is their most common relative search.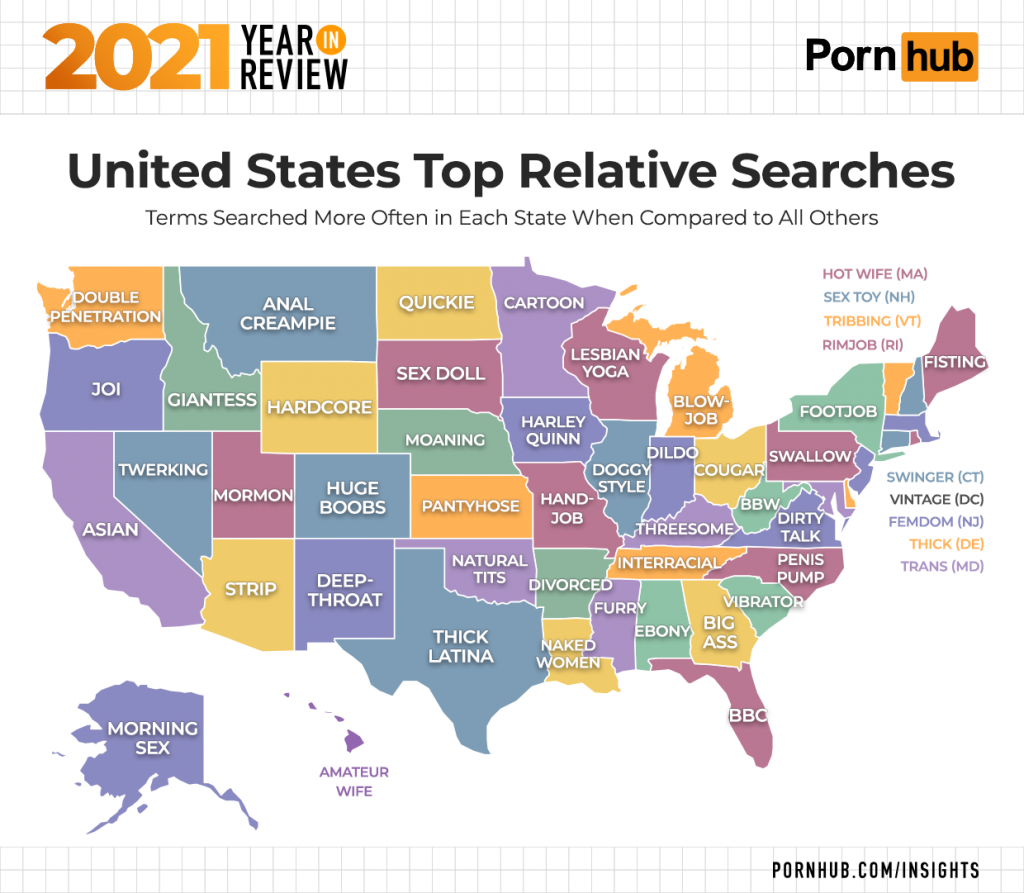 Colorado is more into 'huge boobs' while their neighbors in Oklahoma prefer 'natural tits'. America's wang (aka Florida) likes 'bbc' (big black cock), while up the coast in North Carolina they are more likely to search for 'penis pump'. Kansas likes to search for 'pantyhose', South Dakota likes 'sex doll' and visitors from Utah are more likely to search for 'Mormon' porn.
Top 20 Countries by Traffic
Once again, the United States continues to be the country with the highest daily traffic to Pornhub, followed by the United Kingdom (+1), which moved ahead of Japan. France (+1), Italy (+2) and Mexico (+4) all had traffic increases which pushed them ahead of Canada (-3), Germany (-2) and the Philippines (-1). Chile (+5) and Colombia (+8) were new to our Top 20 Countries list in 2021.
Collectively the Top 20 countries represent 79% of Pornhub's daily traffic, so we will be looking more closely at them through this Year in Review.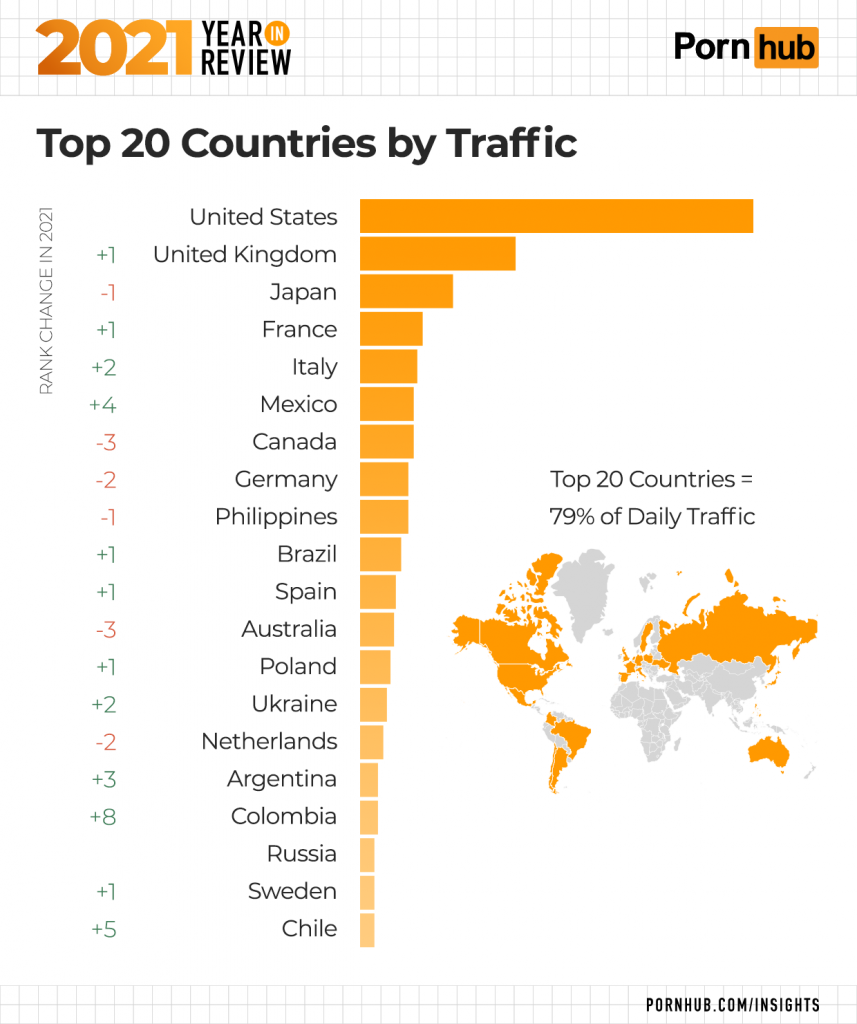 To learn even more about the porn preferences of each country, you can skip to the Top 20 Countries in Depth section at the end of the Year in Review.
A Time for Reflection
2021 saw Pornhub's average visit duration decrease by nearly half a minute to 9 minutes 55 seconds. That doesn't necessarily mean that everyone got 29 seconds more efficient at masturbating in 2021, as time on site can reflect many factors including the speed internet in some regions. Our usage trends show it's more likely that visitors are finding what they want much faster thanks to our handy search algorithm and well-curated category tags.
This year, the Philippines tops the list of the longest lasting countries at 11 minutes 31 seconds. Japan is the only Top 20 country with an increase in viewing time (+12 sec) making it the second longest lasting country at 10 minutes 3 seconds.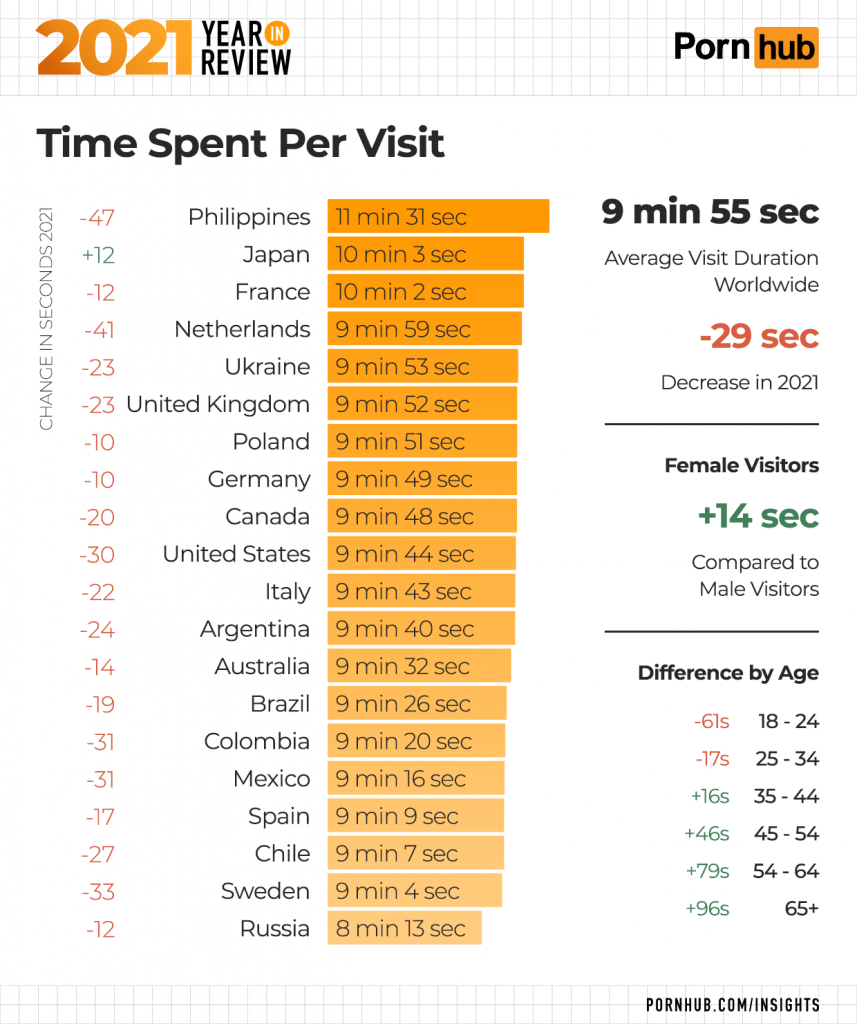 Female visitors came and went 14 seconds faster than men and visitors 18-24 were -61 seconds faster than older age groups, while those over 65 took on average an additional +96 seconds.
This leads Dr. Bentito to affirm: "Porn, erotica, sex is clearly not just for the young! Increasingly, Baby Boomers are showing an interest in remaining sexual. As we age, however, we sometimes need more stimulation to get us there, which is why we may be seeing a trend for longer visits. Sex within the aging population is being talked about more, written about more and shown more (see my book "The Sex Bible for People Over 50″). Visiting porn sites is just another example of the increasing openness to sexuality."
The average visit duration of the United States decreased by -23 seconds in 2021 to 9 minutes 44 seconds. California saw the biggest drop drop of -36 seconds, becoming the second fastest state after Colorado, which dropped -29 seconds to only a quick 8 minute 51 second average visit time. Wyoming was the longest lasting state at 11 minutes 3 seconds.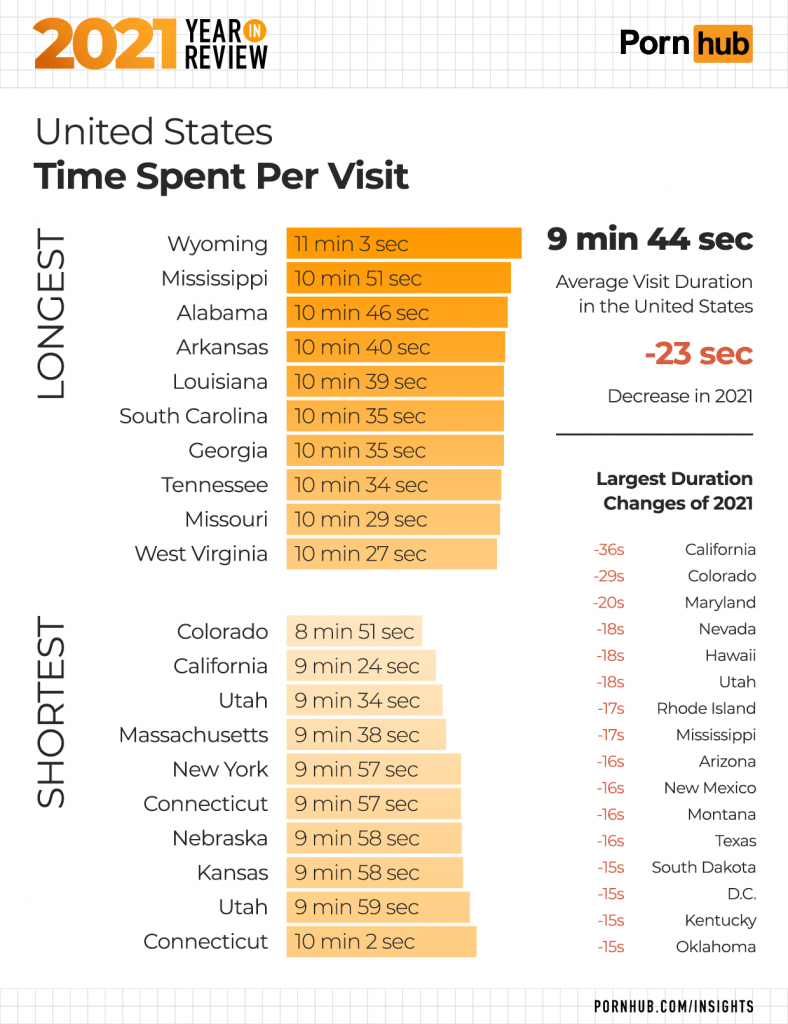 Worldwide, and indeed in most countries we have studied, Sunday is the most popular day to visit Pornhub, while Friday tends to have the lowest traffic. A lot of that has to do with the hours people prefer to watch porn. Peak viewing times are typically from 10pm to 1am, but on weekends (as people tend to stay up later and sleep in longer), the view time shifts into the morning hours.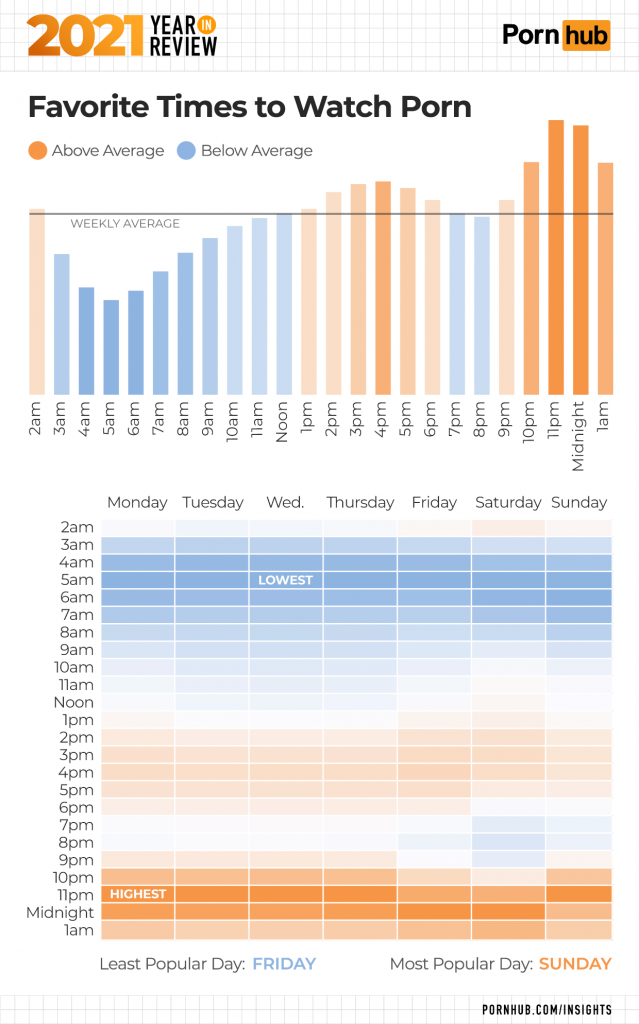 When reviewing our data, Sex Sociologist and Columbia professor Jessie Ford had the following to say:
"People often think about sex and porn as a biologically driven realm of life, but I argue that it's much more like other aspects of social life than people might think. People are spending the most time on Pornhub after work, at the end of the day, late at night and sometimes in the siesta hour right after lunch. People are watching less on Friday, Saturday, Sunday because they are probably out doing other things. So I like to think of porn as being very much connected to other aspects and other rhythms in our social life."
Categorical Analysis
While search terms can be more easily influenced by current trends and differing international terminologies, Pornhub's 100+ video categories are the same throughout the world. So, when compared internationally or on a local level, categories can give a solid indication of the types or genres of porn that people are most interested in viewing.
For the second year, 'Japanese' remained Pornhub's most viewed category, followed by 'Lesbian', 'Ebony', 'Hentai', 'MILF' and 'Anal' all held onto their top 6 spots. 'Threesome' gained +3 to become the 10th most searched term worldwide, while 'Female Orgasm' (+14), 'Outdoor' (+7), 'Bisexual Male' (+23) and 'Big Ass' (+31) all saw big increases in popularity this year.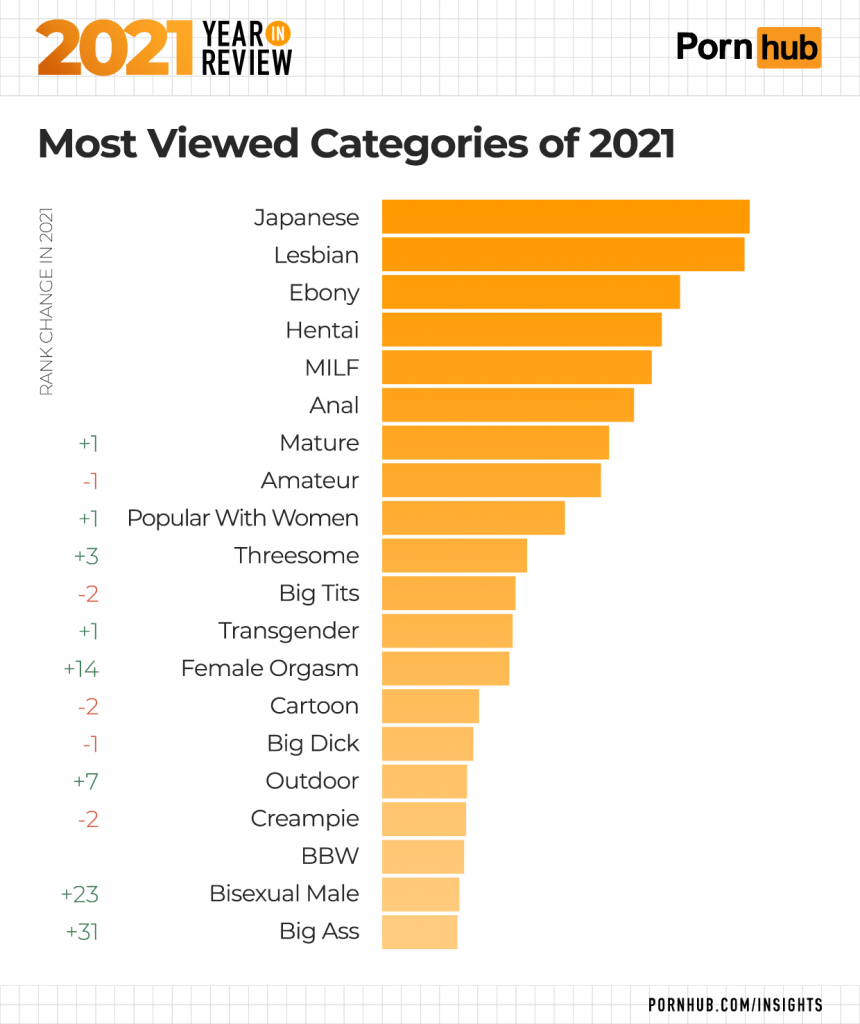 The following map illustrates which of the top categories are most popular in different parts of the world. 'Ebony' remained tops in the United States, while northern neighbors in Canada prefer 'Lesbian'. 'Hentai' expanded its popularity into South America, 'Japanese' is popular through most of Asia, 'Indian' is tops in India and Pakistan, while 'Arab' is the most popular category in countries like Egypt, and 'Anal' through much of Europe.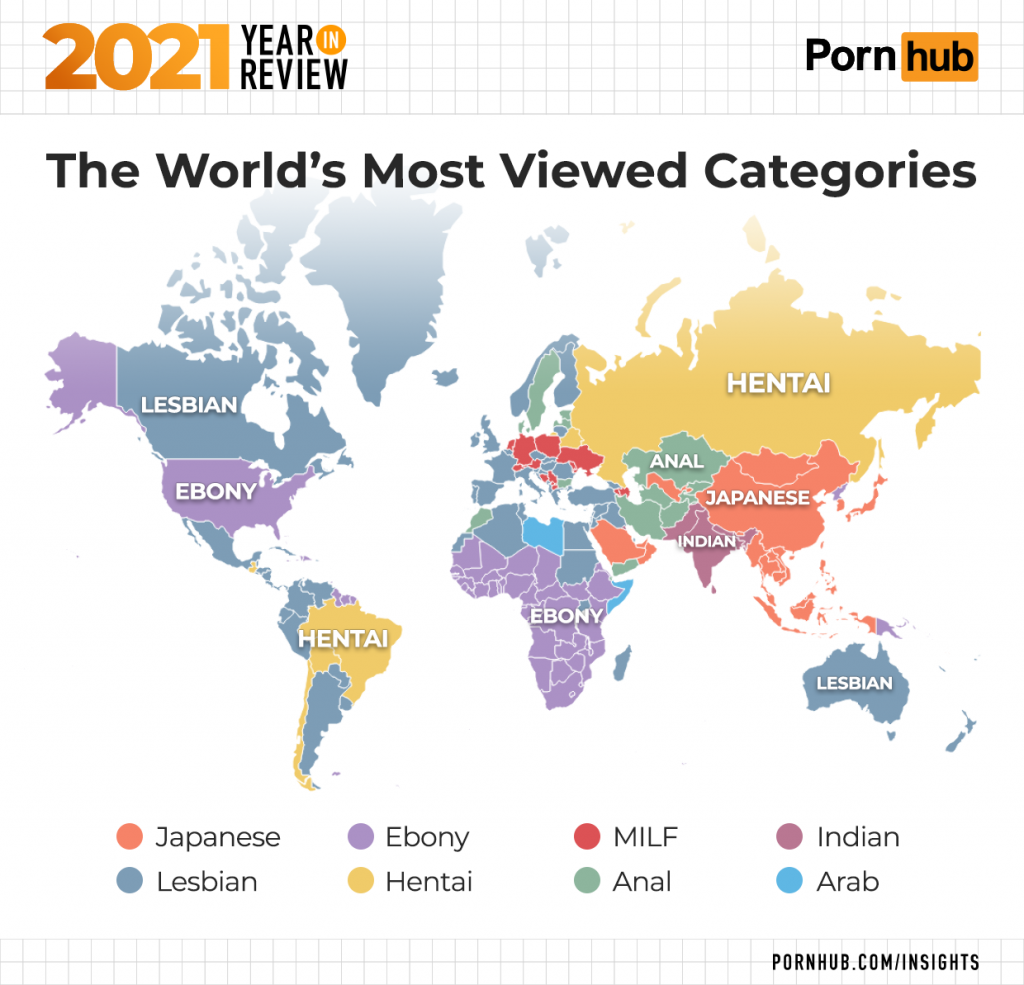 The 'Big Ass' category stretched it's popularity by +314% in 2021, followed closely by 'Bisexual Male' with a +288% increase compared to 2020. The last year also saw twice as many 'Female Orgasm' views (+92%), and the 'Popular With Women' category gained another +41%. The 'Transgender' continues to grow, up +23% in 2021 and 'Threesome' views by +19%.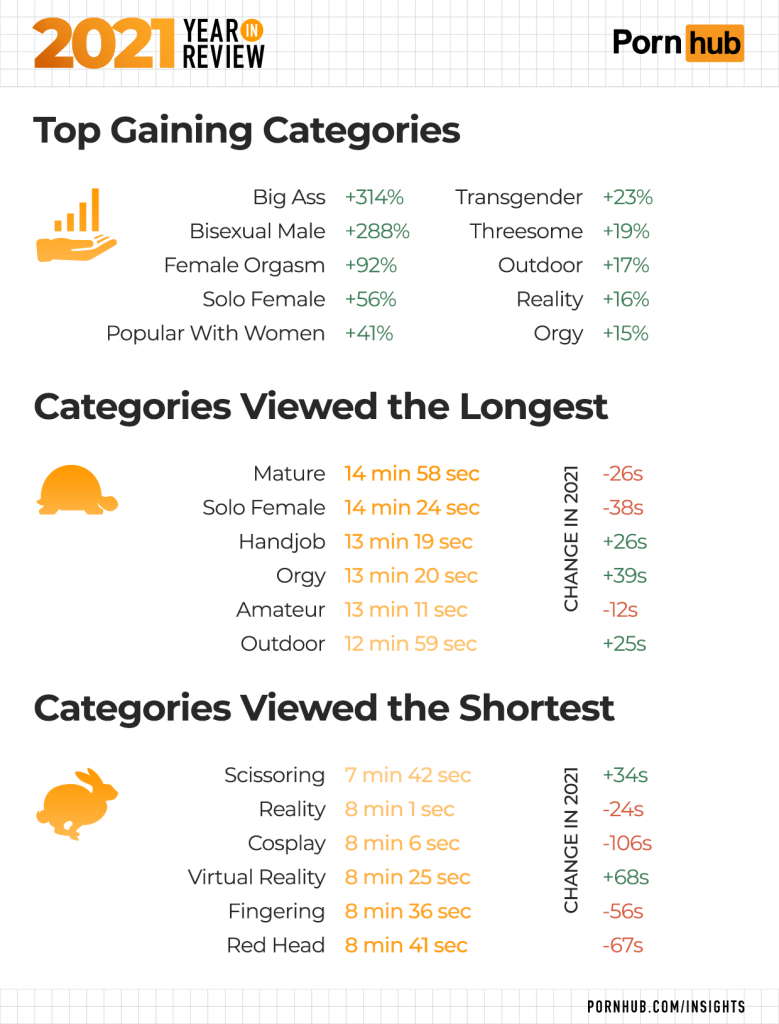 Luna Matatas is a Sex and Pleasure Educator with over 10 years of experience in sexual health and wellness. Of these stats, she said: "It is definitely worth talking about the fact that viewership of the Transgender category grew by 23% in 2021. The trans community has been prominent in advocating for their rights and representation across the world and showing up more in mainstream media, so we're hearing more and seeing more about trans people and trans communities. This rise in visibility can often give all genders more permission and even prompt curiosity about what we find alluring, attractive and arousing. Trans communities have always existed and attraction to trans people and performers, but as trans communities get more included in movies, shows and mainstream society – we start to see a normalization of trans inclusion in other ways too, including porn and erotic media."
The 'Mature' category was viewed the longest, most likely because it's more popular with older aged visitors, who tend to visit Pornhub for longer durations. 'Handjob' lasted +26 seconds longer in 2021, and people were into 'Orgy' for +39 seconds longer. Viewers of the 'Cosplay' category spent -106 seconds less time watching videos in 2021.
For another year, the 'Scissoring' category cut right to the chase and was viewed for the shortest amount of time, just 7 minutes 42 seconds. Want to get off quick next time? Try the 'Scissoring' category.
Pornhub Pride
By analyzing traffic landing specifically on Pornhub Gay pages, our statisticians can see what type of gay (male) porn was the most popular in 2021. This year saw some big changes to gay favorites, with 'twink' edging +7 to the number one spot, topping 'femboy'. 'Hentai' searches shot up +9, while 'yaoi' (gay Hentai) gained +15. 'Massage', 'Public' (+21), 'Gloryhole' (+15) and 'Threesome' (+19) all saw big increases, pushing them among the top gay search terms.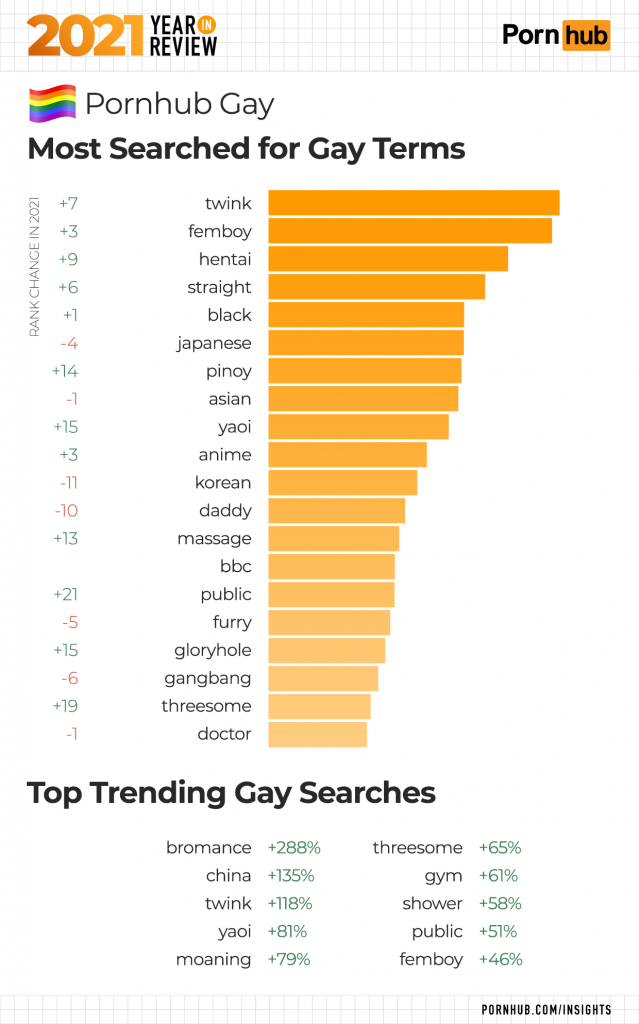 Searches that saw significant growth among gay men included 'bromance' (+288%), 'twink' (+118%), 'moaning' (+79%) and 'gym' (+61%).
'Straight Guys' remained the most viewed gay category for another year, as did 'Black' in 2nd place. 'Bareback' came on top of 'Daddy' which ended the year topping 'Twink'.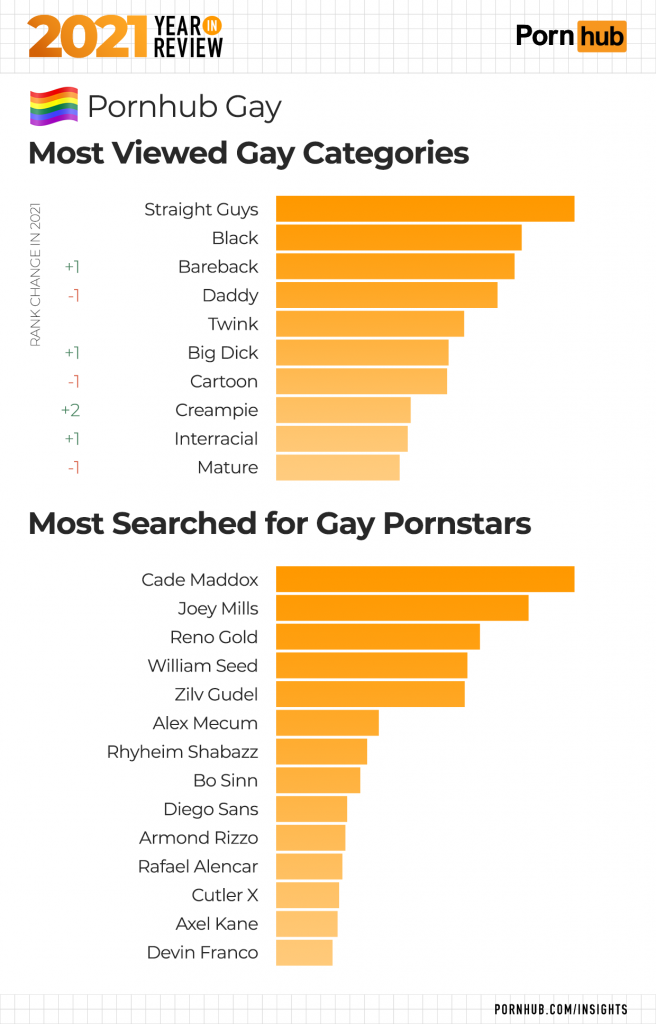 Sex Educator Luna Matatas says: "Fantasies are a big part of why we go to porn. Our fantasies can't be understood through any single data point, they are often a complex manifestation of a bunch of different parts of us. The allure of straight guy porn for gay men sometimes is about fantasizing about conventional masculinity. It might feel arousing to fetishize heterosexual men as 'more masculine' because of the idea that they fit into society's binary of masculine and feminine easily. So if you're a gay man and attracted to masculinity, it makes sense you'd be looking at 'straight guy' porn to see things that are appear hyper masculine."
The most searched for pornstars by gay men were Cade Maddox, Joey Mills, Reno Gold and William Seed.
Gender Demographics
The 'Japanese' category remained the most popular with men, and 'Lesbian' for women. The 'Threesome' category ranked 4th for women and 10th among men. Men watch 'Ebony' and 'Transgender' more than women, but women are +170% more likely to view the 'Scissoring' category than men, +131% more into 'Solo Male' and +118% more interested in 'Pussy Licking'.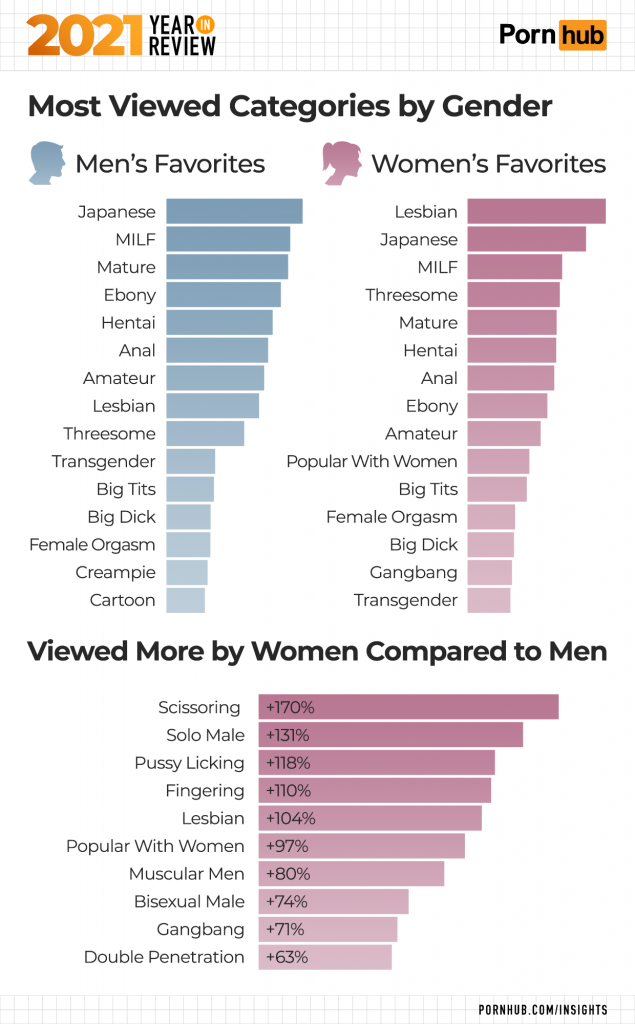 Why is pussy licking, scissoring and fingering porn so popular? According to Niki Davis-Fainbloom, this is largely due to the focus on female pleasure. She says, "It makes sense that women would enjoy viewing pussy licking, scissoring and fingering more than men because we are turned on by watching porn that focuses on our pleasure. When the focus is on female pleasure, it is easy to put ourselves in the position of the ladies that are clearly having a good time. Most women can't orgasm from penetration without clitoral stimulation and it is often during "foreplay," when we are being fingered and receiving oral sex that we orgasm. As a result, it makes sense that we would enjoy watching porn that reflects our ultimate pleasure."
Sex Coach Kaitlin Klarer agrees. With Scissoring, Solo Male, Pussy Licking and Fingering all being more popular with women, "That tells us that women desire watching things that involve the vulva and not just vaginal penetration. That's telling me that women are jonesing for some good 'outercourse' content. So guys remember that!"
Lana Roades was the most viewed pornstar by women for a 3rd year, followed by Abella Danger and Jordi El Nino Polla. When compared to men, women are twice as likely (+98%) to search for Manuel Ferrara, +87% more into Alessa Shine and +71% more often for Lexi Lore.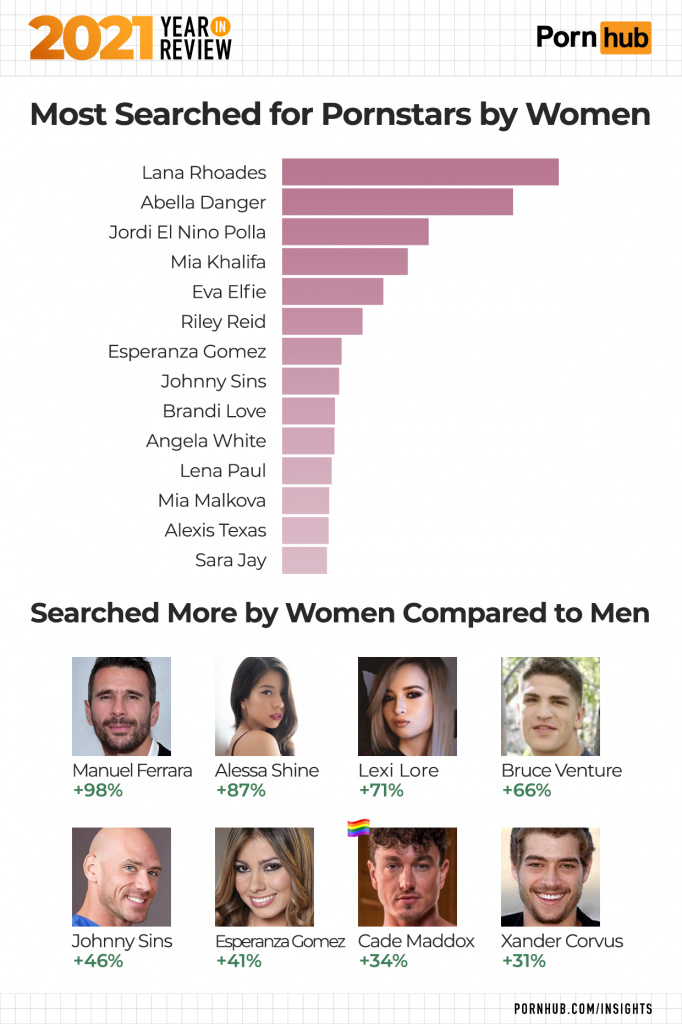 That gay pornstar Cade Maddox is searched more by women comes as no surprise to our statisticians. An earlier Insights study found that 37% of Pornhub's gay male porn was being watched by women.
Sex Educator Luna Matatas explains: "Typically gay male porn isn't fueling the heterosexual male gaze like heterosexual porn. So it makes sense that women might be enjoying soaking up all the masculinity and penis action without feeling like they are watching something that isn't focused on what they are turned on by. Depending on the type of porn, women might also feel insecure about women's bodies in heterosexual porn and be comparing themselves – which takes away from their pleasure."
Proportion of Female Visitors
2021 saw the proportion of female visitors grow to 35%, an increase of 1 percentage point and +5% growth compared to 2020. Among Pornhub's top 20 countries, the Philippines, Colombia, Argentina, Mexico and Ukraine all have greater than 40% female viewership.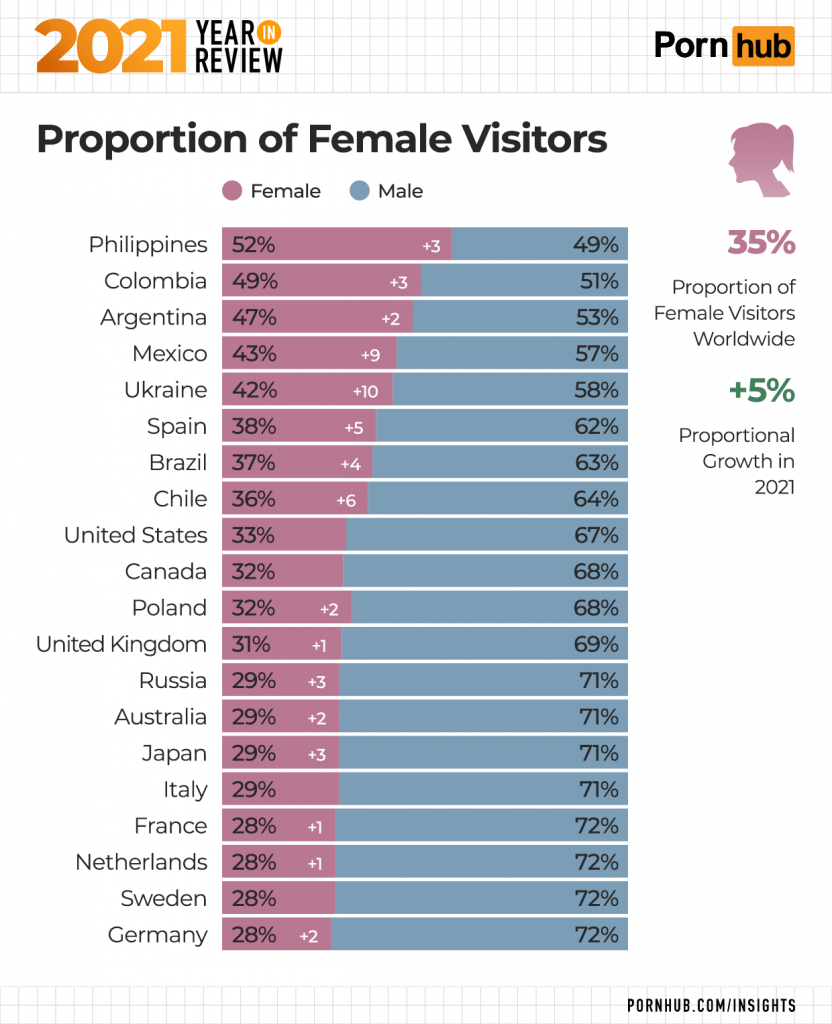 A University of Denver study found that among women surveyed, 45% said they watched porn with their partners, and 32% by themselves.
According to Niki Davis-Fainbloom, "We are moving towards embracing female sexuality and women are feeling more deserving of pleasure. As a result, women are more open to exploring their sexuality and there is less stigma around watching porn. More women are feeling empowered, and exploring how the right video can help facilitate that for us. As a result, it seems like there is more porn being produced that targets a female audience."
Age Demographics
Pornhub's visitors grew up a bit over the last year in terms of their average age now being 37 years old, an increase of +1 year since 2020. Visitors aged 18-35 decreased by -3 percentage points, while those aged 35 to 44 grew by +3 percentage points.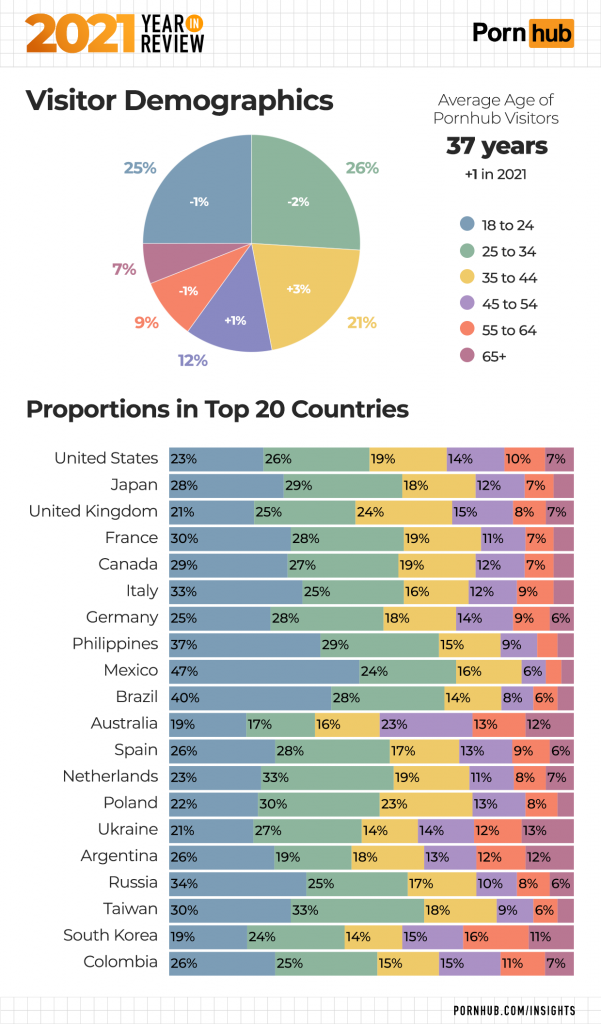 Gen Z (18-24) visitors are +77% more likely to view Lesbian videos and +76% more into Hentai compared to older age groups. They're also +72% more into Cosplay and +68% more into Feet videos.
Gen Y (25-34) are +92% more likely to view the Asian category, +79% more into POV videos and +58% more into Creampie.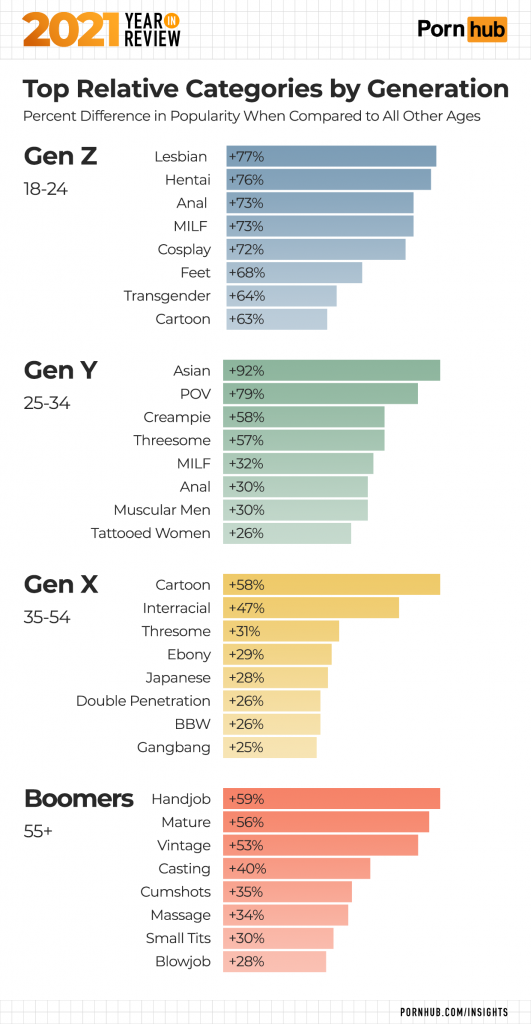 Gen X (35-54) are +58% more likely to view Cartoon porn, +47% more interested in Interracial and +31% more into Threesomes.
Boomers over the age of 55 are +59% more likely to watch Handjob videos, +56% more into Mature and +53% more interested in Vintage content.
Devices & Technology
In 2021, mobile devices made up 86% of all Pornhub's traffic worldwide. 83% of that was from smartphones, which saw their share grow by 3%. Tablet traffic was reduced another –24% in 2021, while desktop and laptop traffic were reduced to just 14% of Pornhub's global traffic.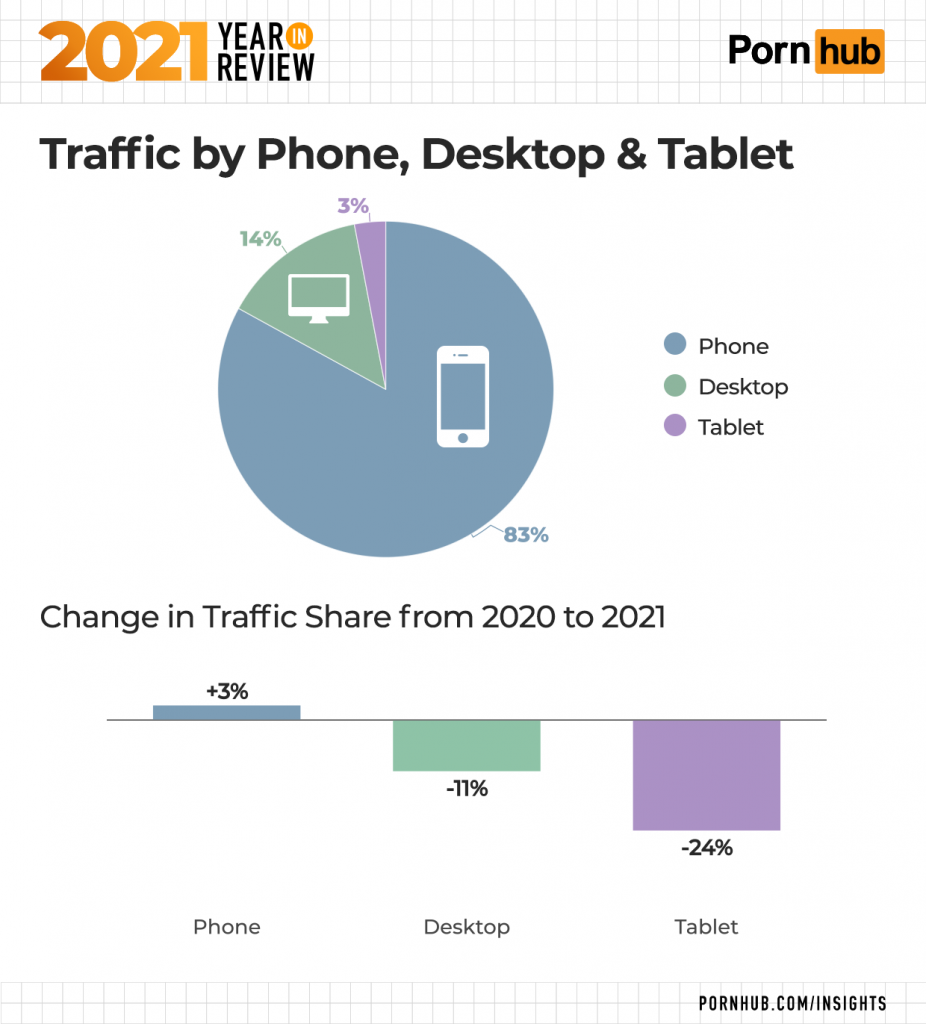 Some countries have even larger shares of mobile traffic including the United States where 88% of visits are from phones or tablets. Mobile devices make up 96% of Pornhub's traffic from Mexico and 93% from Italy.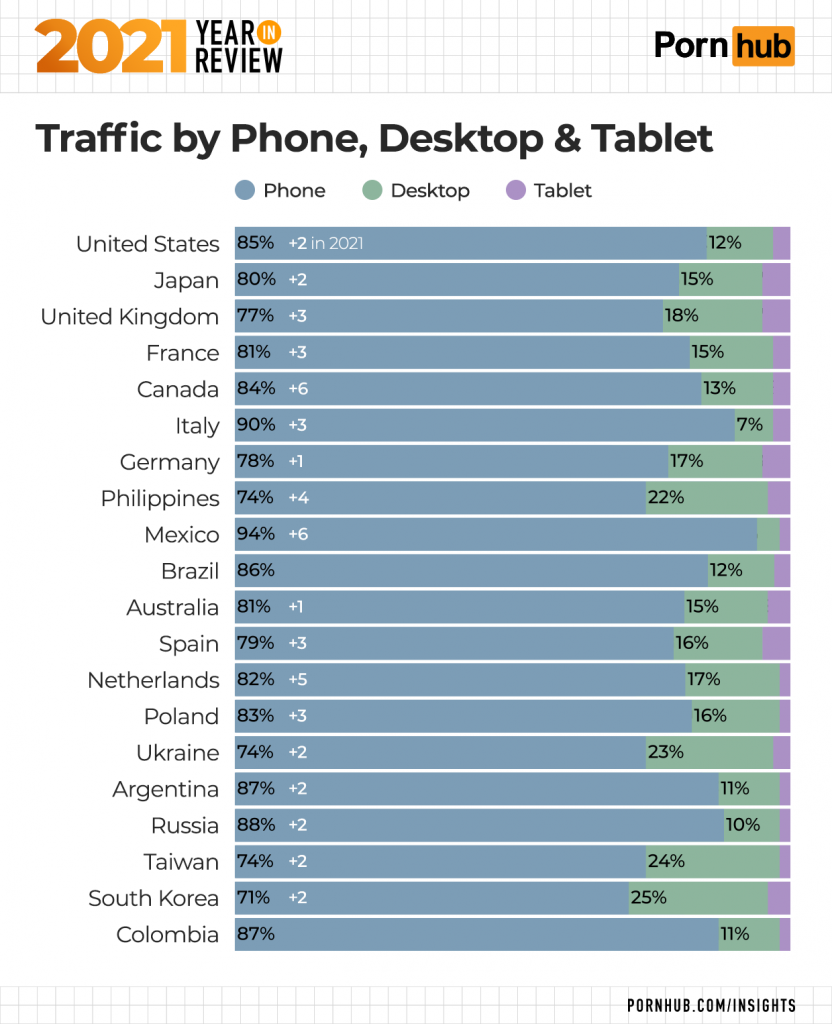 A quarter of visitors from South Korea still use their desktop computers, followed by 24% in Taiwan and 23% in the Ukraine.
Operating Systems
Android remained the dominant mobile Operating System for the second year, increasing it's share by +3% to 54%, while Apple iOS shrank by -3% to 45% of Pornhub's mobile traffic.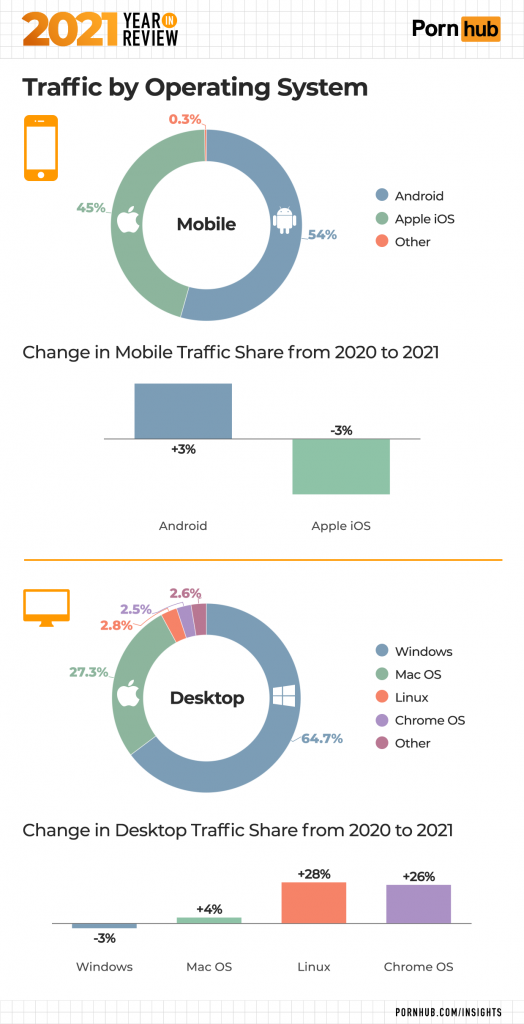 While desktop operating systems make up only 14% of Pornhub's traffic, it's still an active tech group as the share of Mac OS grew by 4% to 27.3% while Windows share shrank -3% to 64.7% of desktop traffic. The share of Linux based visits grew by +28% in 2012, as well as a +26% increase in Chrome OS visitors.
Web Browsers
Google's Chrome and Apple's Safari web browsers made up 90% of mobile browser traffic. That's a +7.3% share growth for Chrome, and a -2.9% decrease for Safari. Big increases in 2021 were Android Browser which increased it's share by +1300% and Firefox by +6100%. Opera Mini and UC Browser had the biggest share decreases, -44% and -31.7% respectively.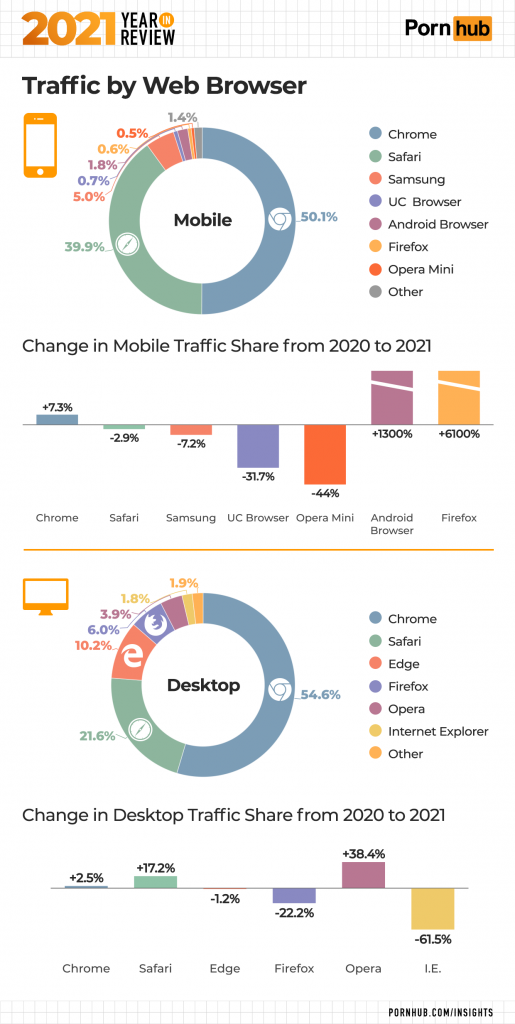 On the desktop side, Safari's share grew by +17.2%, as did Chrome by +2.5%. Microsoft's Edge browser shrank by -1.2% to 10.2% of desktop users. Classic Internet Explorer saw it share reduced by -61.5% to just 1.8% of desktop browsing, alongside a -22.2% drop in Firefox users. Opera had the biggest growth by +38.4% to 3.9% of desktop usage.
Game Consoles
Game consoles aren't just for playing games, they can also be a handy way to play with yourself. (Think about that next time your friend hands you one of their game controllers for a little two-way action). Playstation's share grew again by +17.6% to make up over 60% of console based visits. Xbox increased it's share +6% to 36.8%, while PS Vita, Nintendo's WiiU and 3DS shrank to just a fraction of Pornhub's traffic from gaming devices.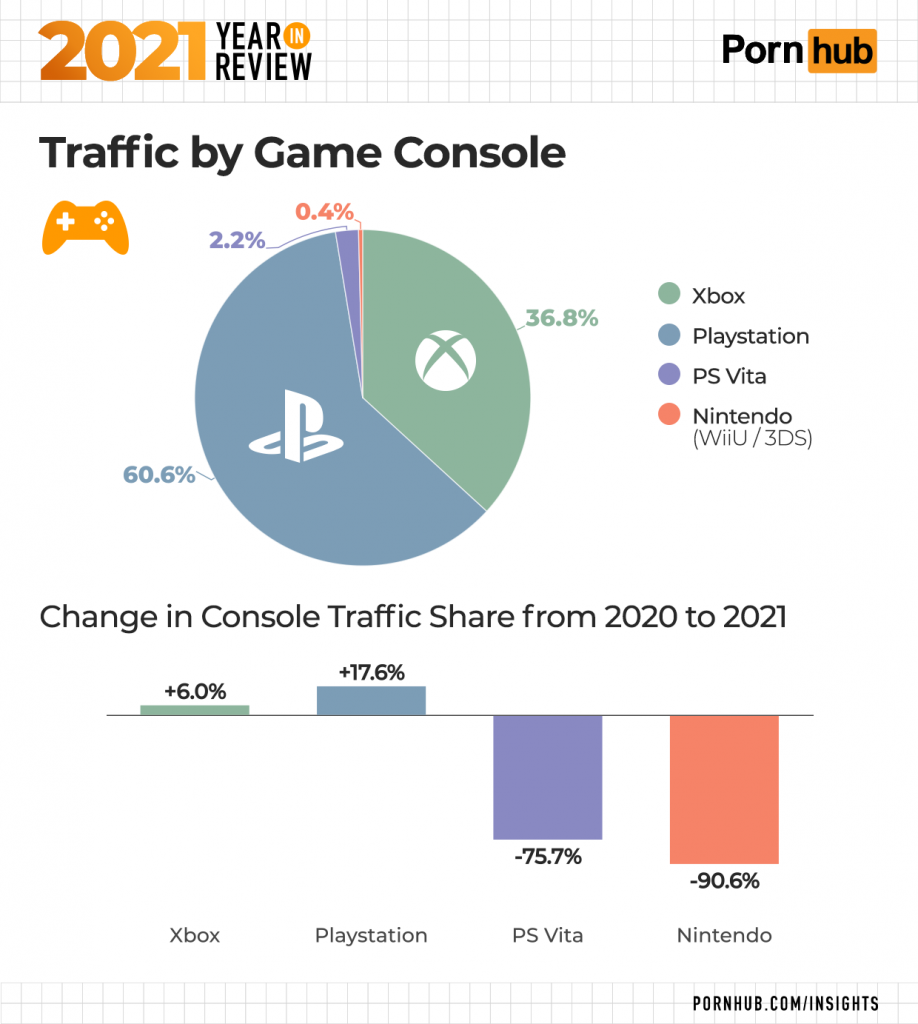 Movie & TV Characters
Fantasy plays a big role in pornography. People are not simply looking for naked flesh, they're interested in the stories that lead to each sexual encounter. Like film and television studios, the porn industry spends millions each year to design elaborate scenes that will bring viewers into the story, and create an emotional attachment with the characters on screen. It's only natural that fans will want to see their favorite movie characters involved in sexual scenarios, so porn parodies are a popular adult film genre.
Harley Quinn was the most searched movie series or character in 2021, followed by Wonder Woman, Harry Potter, Star Wars and Black Widow.
There's little doubt that people still love the Simpsons after more than 30 years, as their popularity remains top among Pornhub's cartoon and TV related searches. It's followed closely by Teen Titans and Scooby Doo. Squid Game trended in the later part of 2021, but ended the year 13th among TV related searches.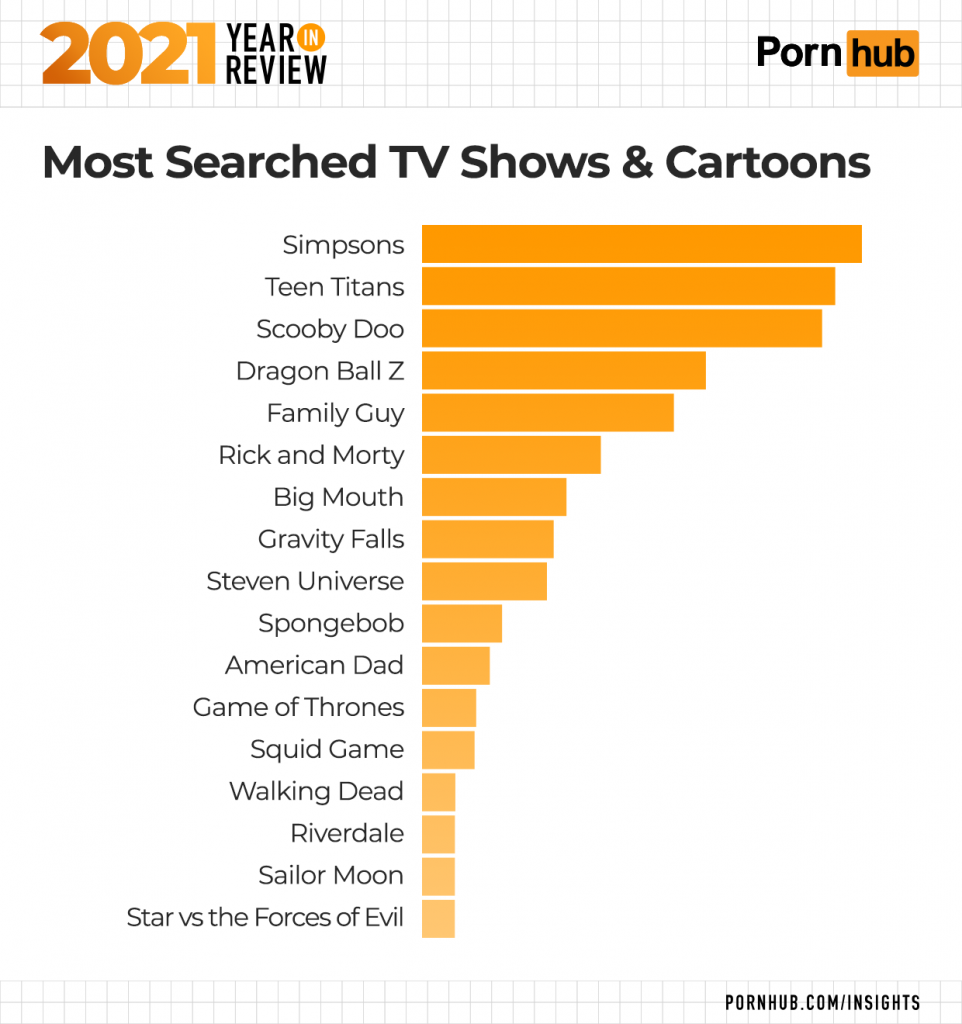 Video Games & Characters
Fortnite continued to be the most searched for game on Pornhub. Minecraft moved up +2 to the second most popular search, pushing down both Overwatch and Pokemon. New to the top video game searches in 2021 were Brawl Stars, FNAF (Five Nights at Freddy's) and Genshin Impact.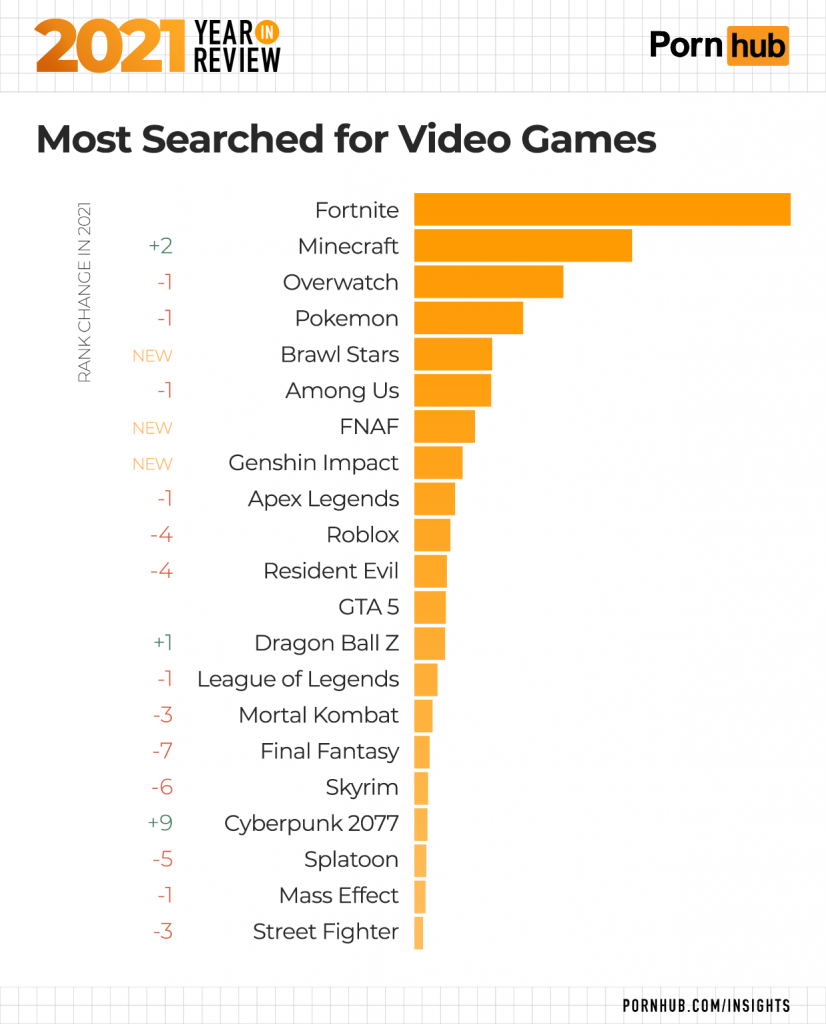 To see what video game characters were the most popular, our statisticians looked for any searches that combined a character name with the title of the video game they appear in (to avoid counting searches for pornstars who may have similar names). Topping this year's list was Tomb Raider's Lara Croft, followed by D. Va from Overwatch and Nintendo's Super Mario.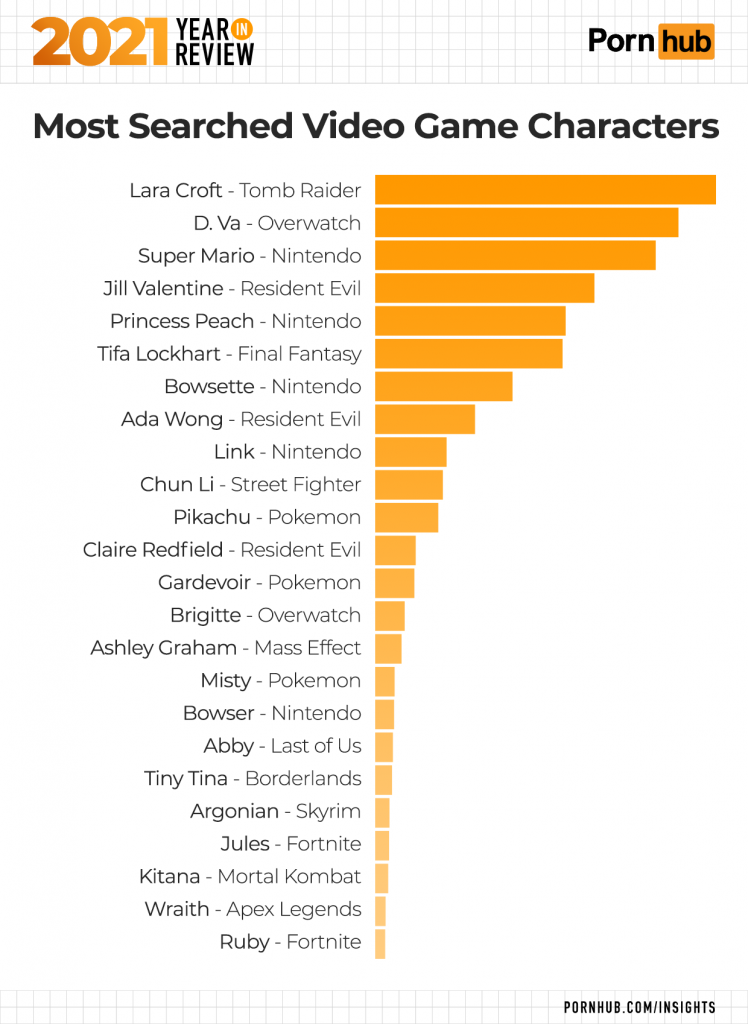 If you are surprised by all the searches for video games, you really shouldn't be! According to New York sex educator Niki Davis-Fainbloom, "People are playing more video games now than ever, so it makes sense that we would find a way to add an erotic twist to our gaming experience," moreover, "Especially in 2020, it's logical that we would want to escape from our strenuous world and enter into an existence of total fantasy."
She adds: "The human mind has a spectacular capacity to eroticize almost anything that we come in contact with. Enjoying video game porn also feeds into our desire for novelty. If you show a person the same porn video everyday for a week, their arousal dwindles in each continued showing. However, when you show them a novel video, their arousal comes back stronger and harder than ever. With the advent of new video games, we are given unexplored situations and characters to eroticize. It's very exciting stuff!"
Holiday Traffic Changes
We've found that people are pretty regular when it comes to their masturbation schedule, choosing the most convenient days and times to visit Pornhub. Holidays can have a dramatic affect on traffic to Pornhub as people have to adjust their regular schedule to travel, attend events and spend time with family and friends.
To illustrate these changes, our statisticians focused on the biggest holiday season of the year to see whether it was Christmas Eve, Christmas Day or New Years Eve that caused the biggest drop in Pornhub traffic.
New Years Eve kicked holiday ass with a -44% drop in Pornhub's traffic from 6pm to Midnight. Out of our top 20 traffic countries, the biggest celebrations happen in Sweden where Pornhub's traffic plummets -69%, as well as a -66% drop in Germany and -60% in France.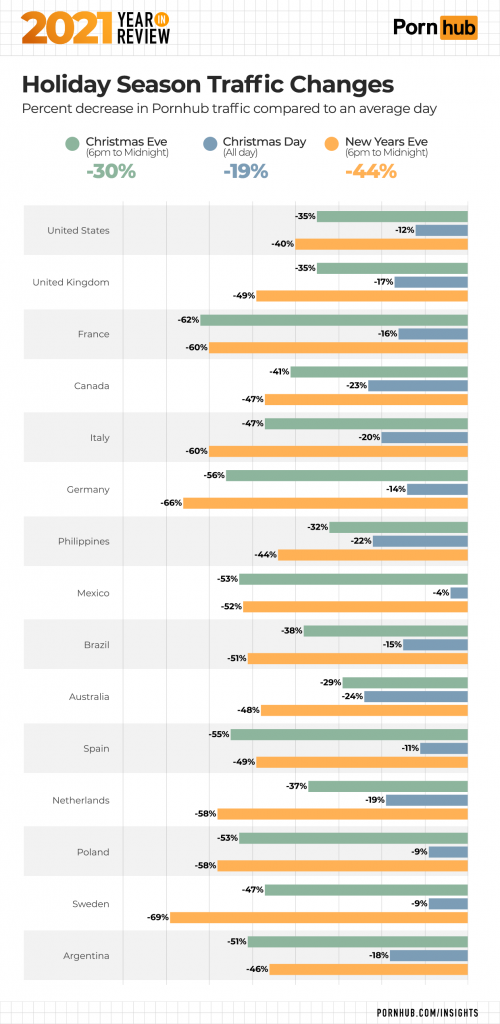 Pornhub's worldwide traffic drops -30% on Christmas Eve from 6pm to Midnight, and -19% on Christmas Day. The biggest Christmas Eve celebrators are France (-62%), Germany (-56%) and Spain (-55%). The countries that take the biggest porn break on Christmas Day is Australia (-24%) followed by Canada with a -23% drop.
Events Causing Traffic Changes
Live events cause people to adjust their regular porn viewing schedule, quite often causing a drop in Pornhub traffic. However, some events will cause Pornhub traffic to increase like when Facebook and Instagram suffered a service outage in October. As people had more time on their hands, they headed to Pornhub to keep those same hands busy. Worldwide traffic increased by as much as +10.5% on October 4th at 2pm when compared to the same time on an average day.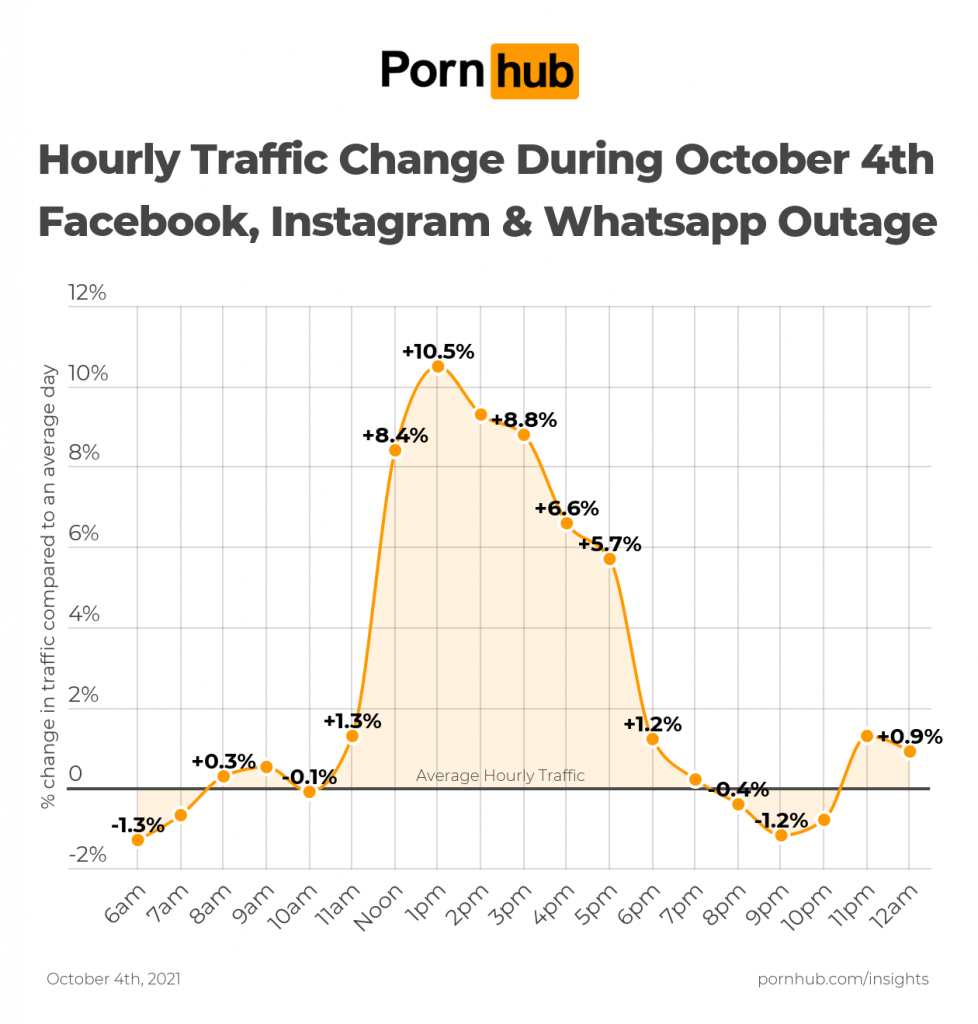 Eurovision Song Contest
When people have to adjust their favorite porn viewing times to watch a live event, it can cause a noticeable change in Pornhub's traffic. The 65th annual Eurovision Song Contest aired it's finale on May 22, 2021. During the 3 hour live broadcast, traffic to Pornhub dropped though-out much of Europe, especially in countries represented by a finalist. Malta and Iceland showed the biggest traffic drops by nearly a third.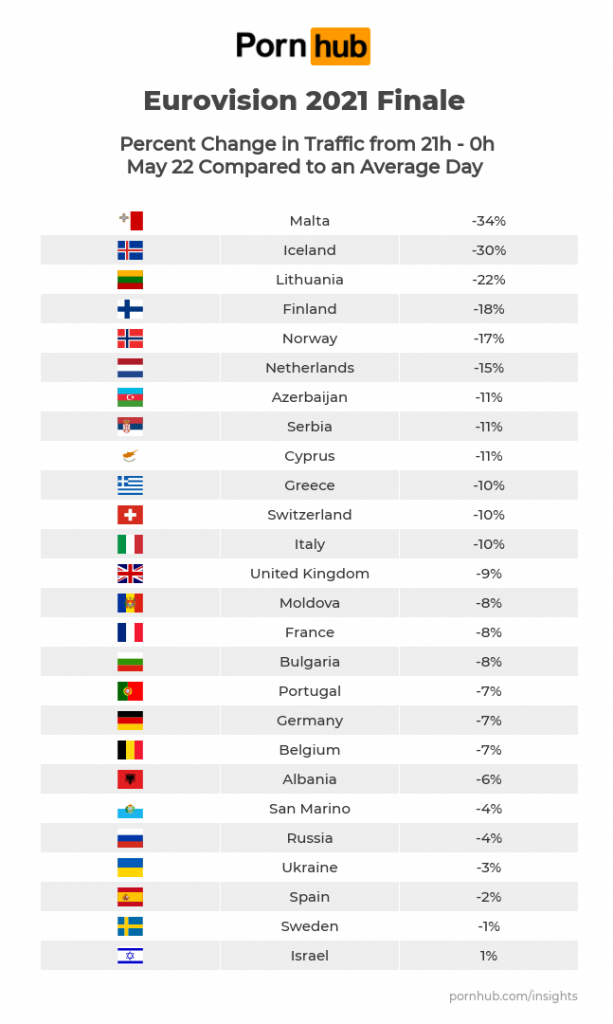 If we take a closer look at the changes by hour, we can see that even in highly populated countries like the U.K. (Pornhub's second biggest source of traffic), there's a noticeable drop during the broadcast, as much as -14% in the final hour.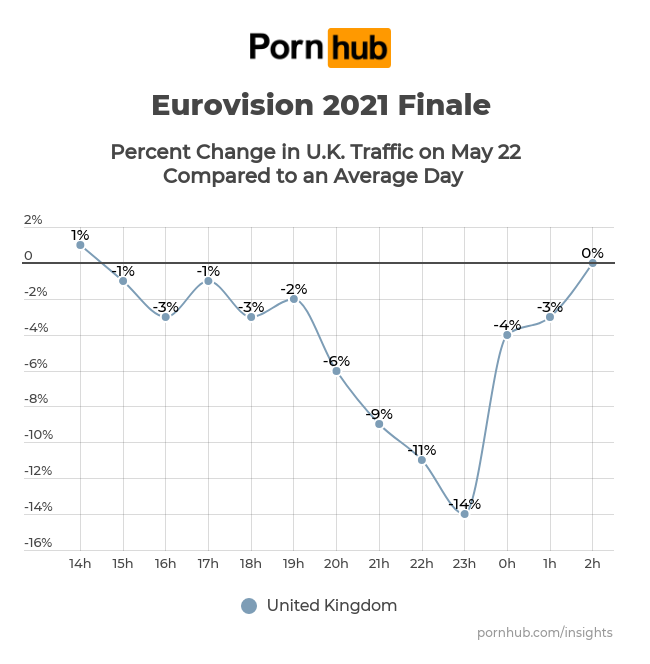 Superbowl 55
Super Bowl 55 took place on Sunday February 7th, with the Tampa Bay Buccaneers defeating the Kansas City Chiefs 31 to 9. The Super Bowl is one of the most watched live events in the United States, so it's no surprise to see U.S. traffic drop as much as 21% during the game. Even more interesting is the traffic change in Florida and Missouri as people there tuned in to watch their home teams play.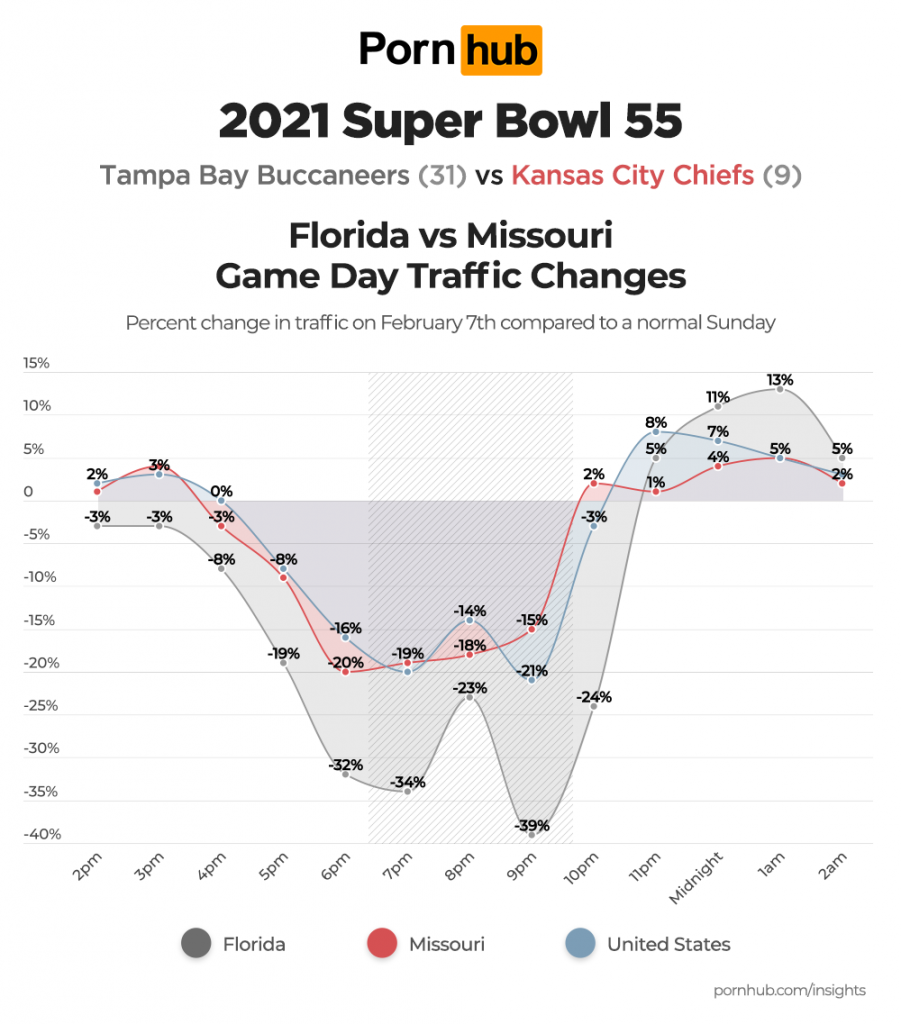 In the final hour of the match, Florida's traffic dropped -39%, compared to only -15% in Missouri. You can see from the graph that the halftime show was a convenient time to grab a snack but also to visit Pornhub, as traffic increased slightly during that period. After the match, fans in Florida celebrate their win on Pornhub, with traffic going +13% higher than normal at 1am, but only +5% in the U.S. and Missouri.
Top 20 Countries In Depth
In this section you will find a closer look at each of our top 20 countries by order of highest daily traffic. It really illustrates how porn tastes differ around the world. Throughout 2021, Pornhub continued to expand into international markets and you will see that many of the top searches are in different languages. Through crowdsourcing, thousands of Pornhub video titles are being translated into foreign languages to help people around the world find the content they want, using their localized lingo.
You may also notice that many of the top searches have to do with the places, languages, and culture in those countries. The takeaway is that people like to see porn featuring their fellow citizens!
1. United States
'Hentai' became the #1 search in the United States, replacing the previous favorite 'lesbian'. The most searched pornstar among Americans was Lana Rhoades, while Ebony remained the most viewed category of videos, ahead of Lesbian and MILF. When compared to the rest of the world, Americans are +128% more likely to view the Scissoring category, +97% more into Ebony and +67% more into Interracial videos.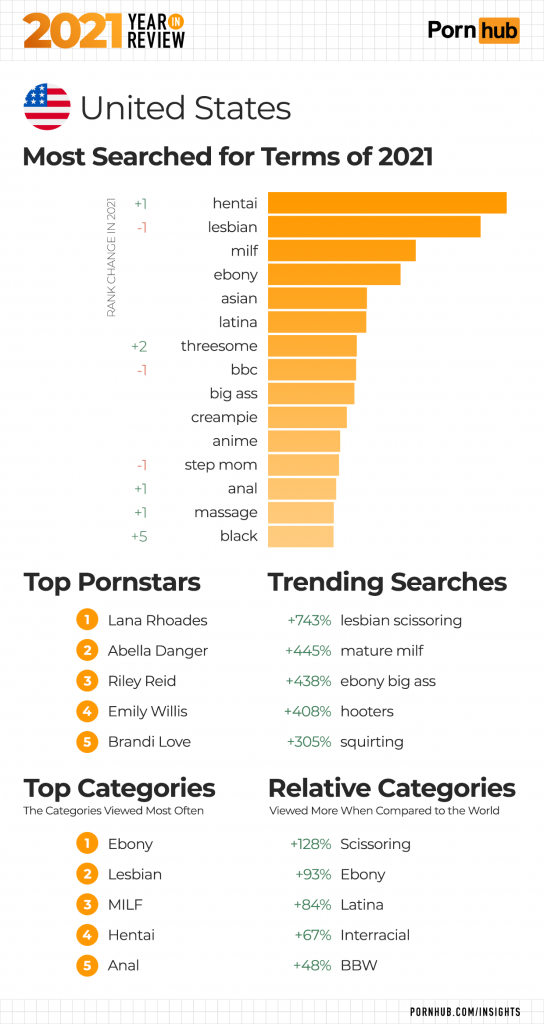 2. United Kingdom
'Lesbian' and 'MILF' remained the top 2 searches in the U.K., while terms like 'threesome', 'ebony', 'massage' and 'anal' all saw increases in rank. 2021 saw searches for 'lesbian scissoring' increase by +408% among U.K. visitors, as well as a +188% increase in 'squirting' and +126% more 'trans' searches.
When compared to the rest of the world, visitors from the U.K. are +658% more likely to view the British category, +244% into MILF and +102% more into Indian videos.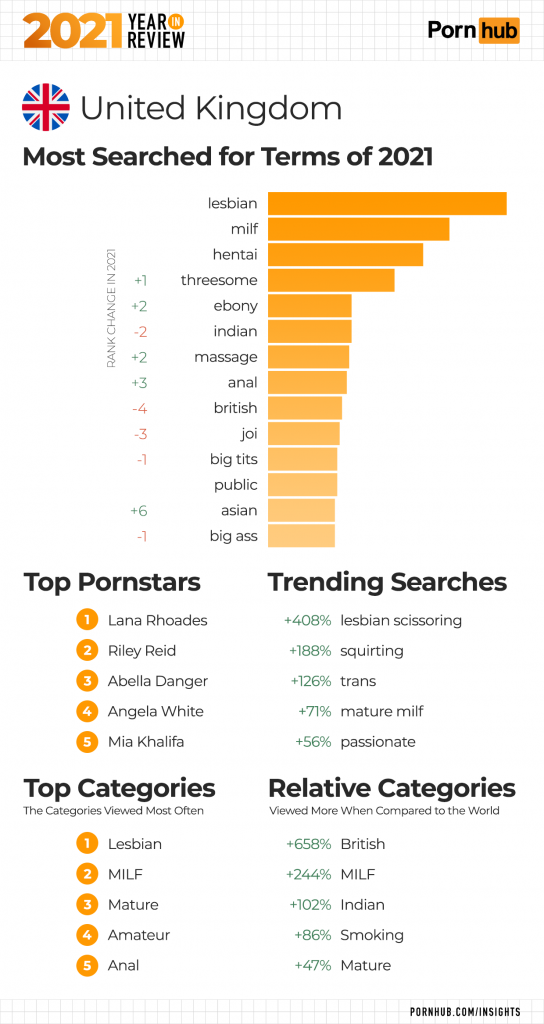 3. Japan
The #1 search in Japan is 'Japanese', followed by 'amateur', 'hentai' and 'masturbation' (in Japanese). 'Married women' increased it's rank by +10, as did 'mature woman' and 'big tits'. Trending searches included a +491% increase for 'athlete', most likely a result of the Tokyo Olympic games.
Eva Elfie is Japan's favorite pornstar, followed by Julia Japanese. When compared to the rest of the world, Japanese visitors are +351% more likely to view the Uncensored Cartoon category, +83% more into Euro and +73% more for Cosplay.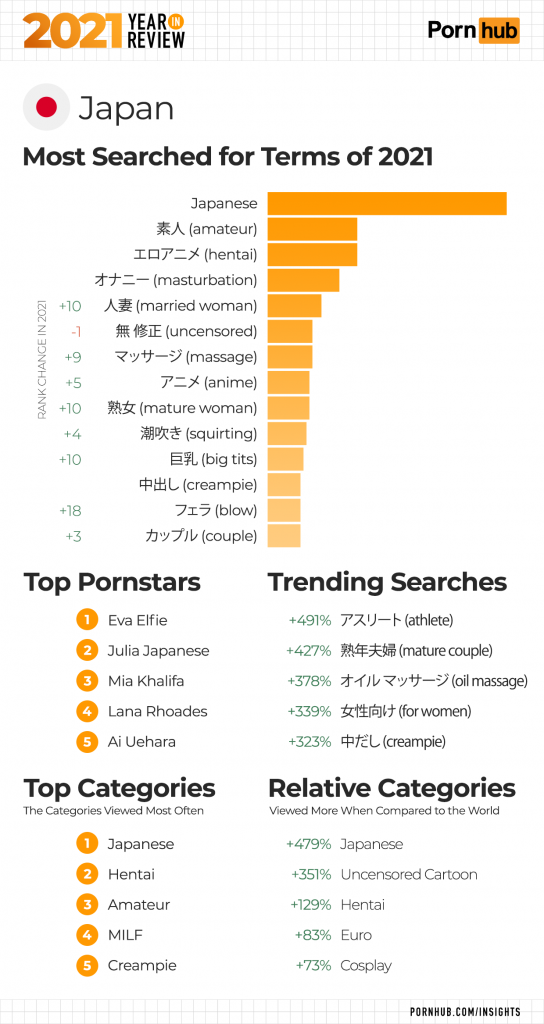 4. France
The #1 search in France remained 'francaise', while 'hentai' overtook 'French' for the second most searched term. In 2021, France's trending searches included a +363% increase for 'try not to cum', +225% more 'naruto rule 34' and +213% more 'squirting'. When compared to the worldwide average, visitors from France are +140% more into the Solo Female category, and +136% more for Fingering.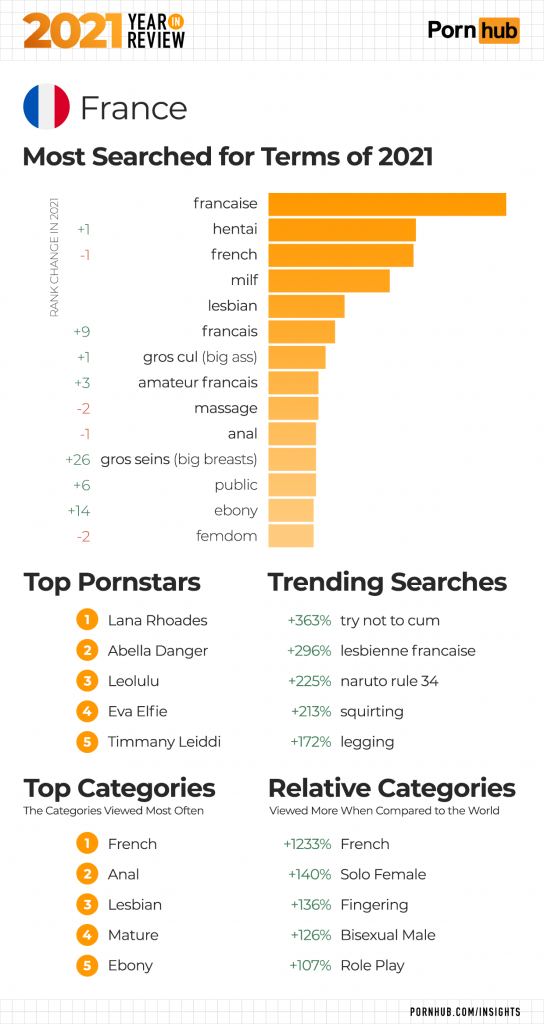 5. Italy
For 2021, 'Italiano' and 'Dialoghi Italiano' replaced MILF as the top search in Italy. Other big rank changes included 'anal' (+8), 'mature' (+11), and 'pompino' (+22). The most search pornstars in Italy are Malena La Pugliese, Martina Smeraldi and Valentina Nappi. Some top trending searches in Italy were 'sesso romantico' (+278%) and 'sesso passionale' (+173%). Italian visitors are +194% more likely to view the Solo Female category, +139% more into Bisexual Male and +117% more into Transgender videos.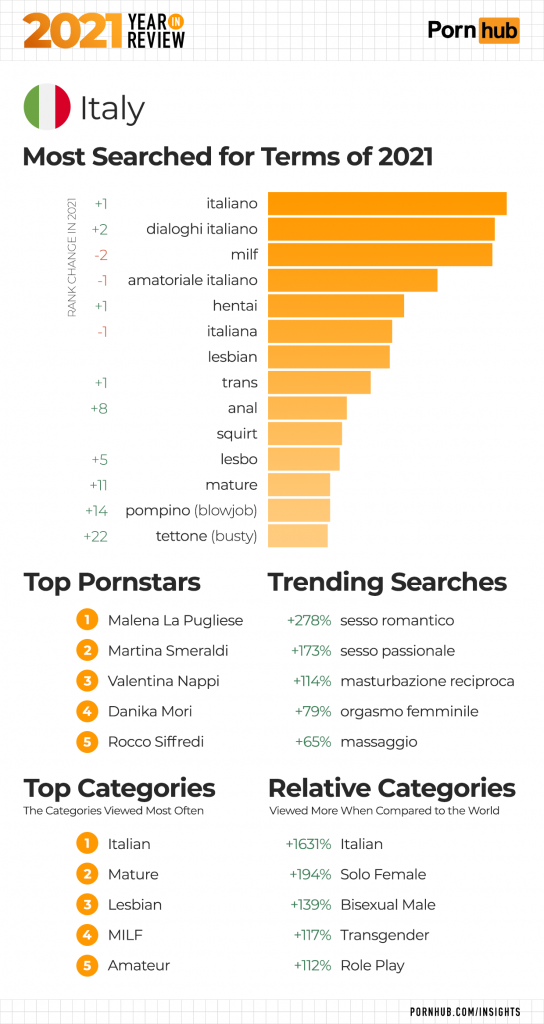 6. Mexico
'Hentai' was the most popular search in Mexico, while 'lesbianas' moved up to 2nd. Significant rank changes included 'anal' (+5), 'culonas' (+9) and 'squirt' (+16). Trending searches in 2021 included a +255% increase for 'otaku', +182% for 'naruto' and +145% for 'hinata'. Compared to the rest of the world, visitors from Mexico are +229% more likely to view the Scissoring category, +105% more into Popular With Women and +89% more into Parody videos.
7. Canada
'Hentai' bumped 'lesbian' for the #1 search spot in Canada, while 'threesome' gained +3 to make Canada's top 5 for the first time. Canadians were big time into 'big tits' as it's rank increased by +11 in 2021. Trending searches included 'milf amateur' (+385%), 'lesbian scissoring' (+321%) and 'dry humping' (+190%). When compared to the rest of the world, Canadian visitors are +93% more likely to view the Fingering category, +72% more into Female Orgasm and +51% more into Solo Female videos.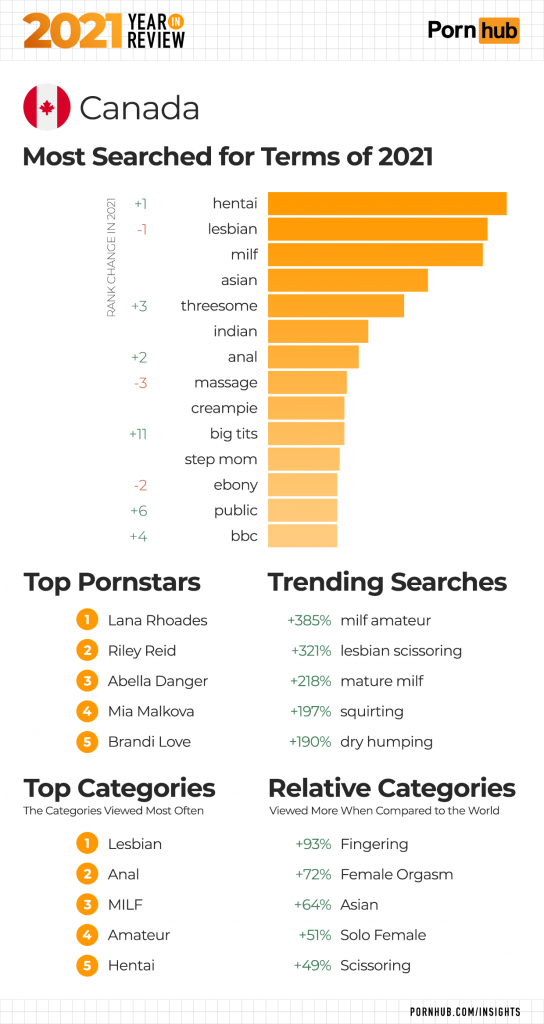 8. Germany
German visitors love German porn! The top 2 terms are 'German' and 'Deutsch', the most viewed category is 'German' and in 2021 'Deutsch amateur' searches grew by +308%. On top of that, German visitors are +1167% more likely to view the German category compared to the rest of the world. Germans are also +214% more into Big Ass and +146% more into Bisexual Male.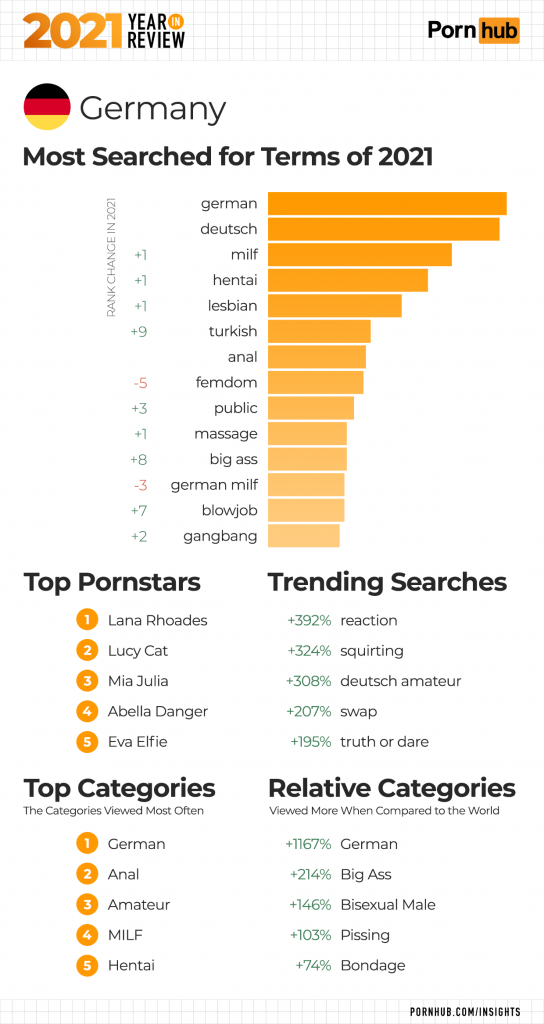 9. Philippines
The most searched term in the Philippines continues to be 'pinay', while several other terms appeared in the top 10 for the first time including 'korean' (+9), 'asian' (+23) and 'anime' (+12). 2021's trending searches include a +460% increase for 'threesome pinay', +345% for 'hentai anime' and +316% for 'Rule 34'. Compared to the rest off the world, visitors from the Philippines are +286% more likely to view the Hentai category, +134% more into Romantic videos and +111% more into Cartoon.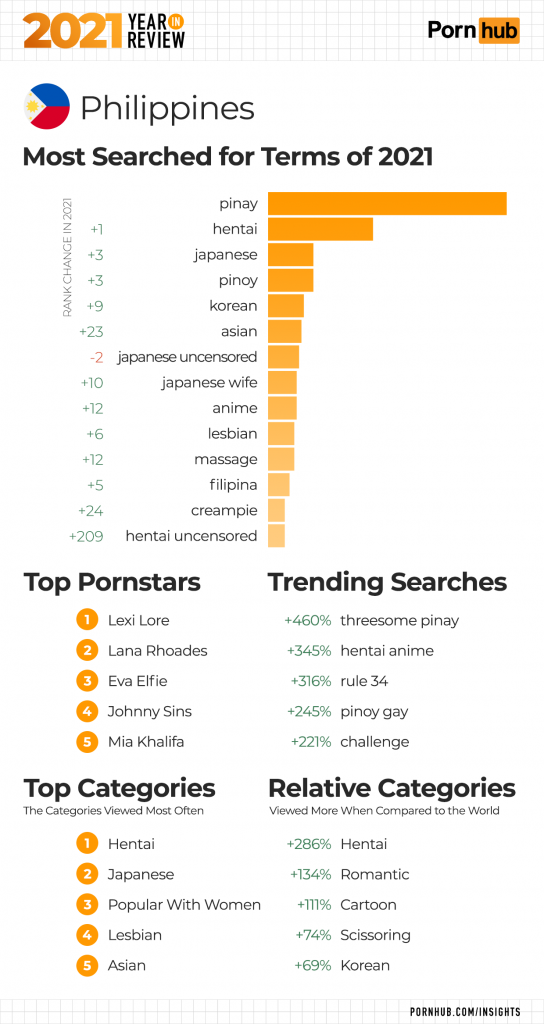 10. Brazil
'Hentai' replaced 'Brasil' as the most searched term in Brazil, while other terms saw big increases like 'naruto' (+55), 'amador' (+7) and 'gostosa' (+25). Trending terms were 'caseiro' (+128%), 'coreanos' (+115%) and 'trans' (+74%). Compared to the rest of the world, visitors from Brazil are +274% more likely to view the Uniforms category, +145% more into SFW content and +71% more into Hentai videos.
11. Spain
'Hentai' and 'MILF' continued to be the most popular searches in Spain, while 'Espanol' moves up 4 spots to 3rd. Other ranks changes included a +20 increase for 'lesbianas' and +28 for 'latina'. 2021's trending searches included 'maduras' (+105%), 'transexual' (+53%) and 'orgia' (+47%). When compared to the rest of the world, visitors from Spain are +145% more likely to view the Fingering category, +104% more into Party videos and +83% more into Muscular Men. The most viewed category of video in Spain in Mature.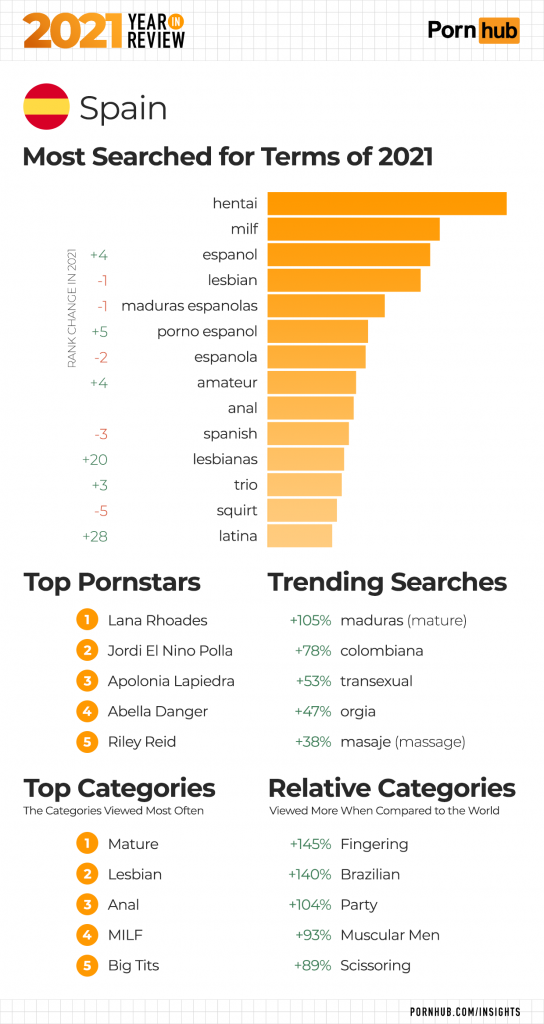 12. Australia
'Hentai' and 'lesbian' remained the #1 searches in Australia, while 'Asian' moved up one spot to replace 'MILF' in 3rd. Trending searches in 2021 included 'milf amateur' (+434%), 'big tits big ass' (+429%) and 'squirting' (+410%). When compared to the rest of the world, visitors from Australia are +136% more likely to view the Scissoring category, +102% more into Asian videos and +81% more into the Popular With Women category.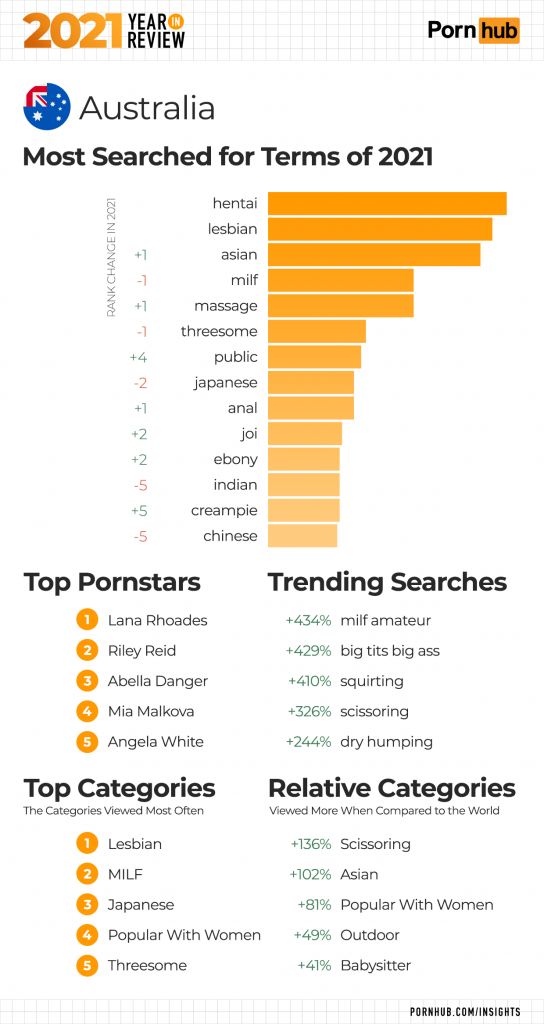 13. Poland
The top 3 searches in Poland continued to be 'Polska', 'Hentai' and 'MILF' for 2021. Trending searches included 'wielkie dupy' (+339%), 'sugar daddy' (+265%) and 'cipka' (+189%). Compared to the rest of the world, Polish visitors are +221% more likely to view the Uniforms category, +185% more for Czech and +170% more for SFW content.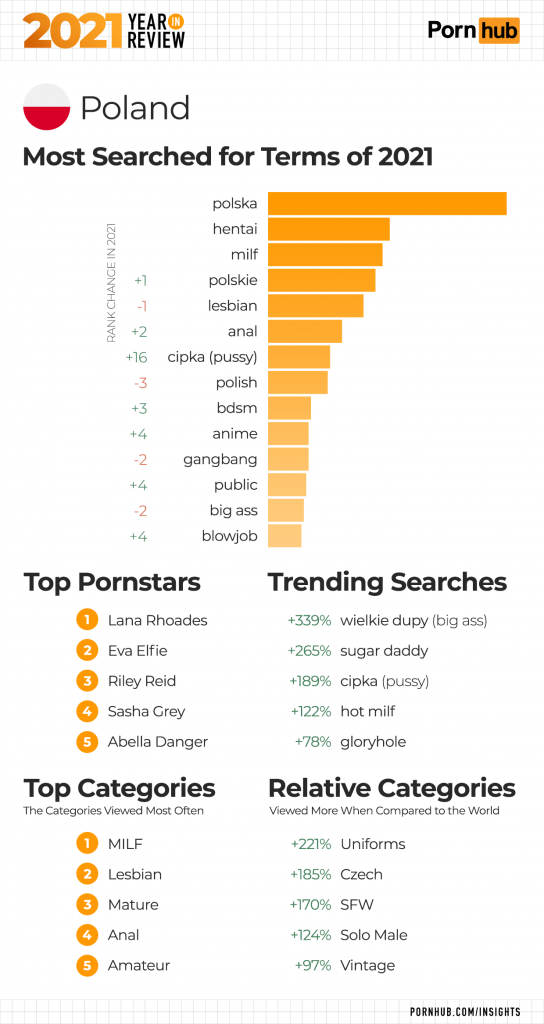 14. Ukraine
Once again, visitors from Ukraine get right to the point and search most often for 'sex'. Searches in Cyrillic script saw huge increases in 2021 with terms meaning 'hard', 'squirt', 'blowjob' and 'massage' all become top localized searches. Trending terms in Cyrillic included 'close up' (+241%), 'cuckold' (+224%) and huge tits (+172%).
When compared to the rest of the world, Ukrainian visitors are +728% more likely to view the 'Russian' category, +157% more into 'Fisting' and +112% more for 'Party' videos.
15. Netherlands
For 2021, 'MILF' moved up 2 positions to become the most popular search in the Netherlands, while the previous favorite 'Dutch' moved down 2 in rank. Other terms with rank changes include 'massage' (+4), 'asian' (+12) and 'squirt' (+10). Trending searches included 'turk porno' (+535%), 'gay porn' (+520%) and 'swap' (+284%). When compared to the rest of the world, Dutch visitors are +89% more likely to view the Popular With Women category, +80% more into Scissoring and +56% more into Outdoor videos.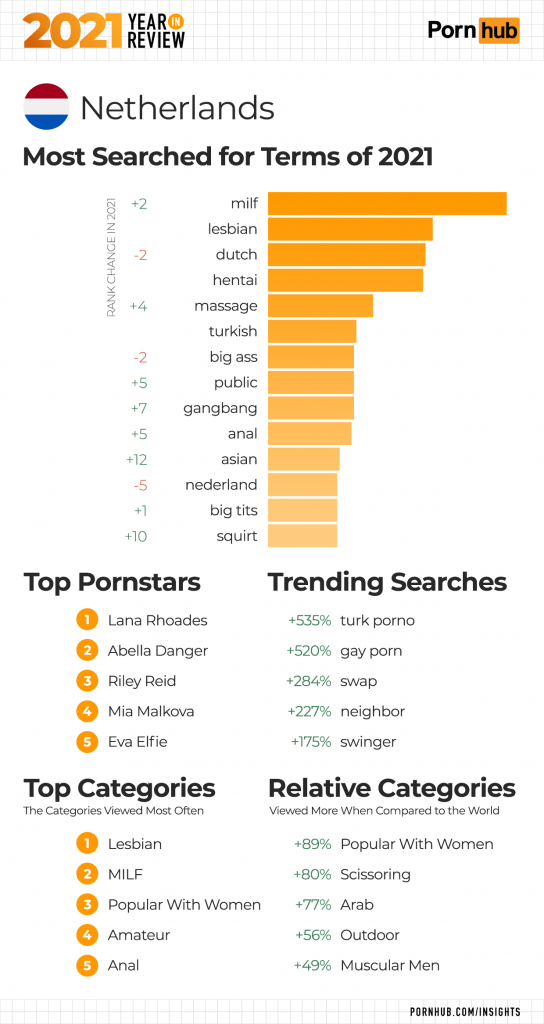 16. Argentina
In Argentina, the number 1 search remained 'Argentina'. Searches for 'colonas' (big ass) moved up 24 spots and 'casero' (referring to homemade videos) moved up 47. Trending terms for 2021 included 'gloryhole' (+324%) and 'trans' (+183%). When compared to the rest of the world, visitors from Argentina were +143% more likely to view the 'Brazilian' category, +117% more into Pornhub's 'Verified Models' and +104% interested in the 'Pornstar' category.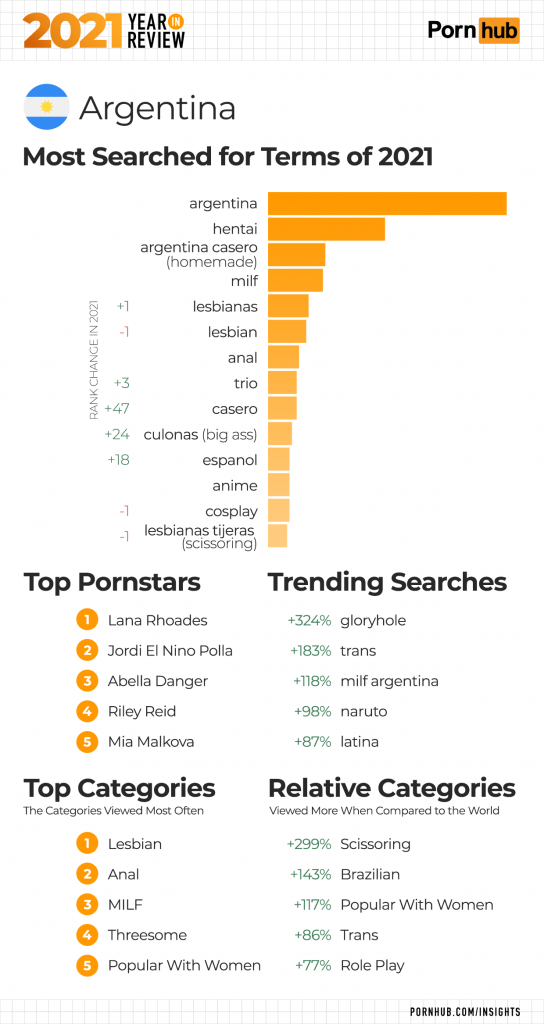 17. Colombia
In 2021, 'hentai' moved up 3 spots to become the most searched term in Colombia, leaving 'colombiana', 'colombia' and 'milf' to take up the following 3 spots. Searches for 'trans' saw a big increase by +144% in 2021, as well as a +129% increase in 'trio' and +95% increase in 'romantico' searches.
When compared to the rest of the world, visitors from Colombia are +321% more likely to view 'SFW' content, +206% more into 'Brazilian' and +142% more into the 'Latina' video category.
18. Russia
In 2021, the Cyrillic spelling for Russian became the number one search in Russia, followed by 'hentai' and 'MILF'. Terms with big rank changes included 'bdsm' (+23), 'anime' (+14) and 'furry' (+13). 2021's trending terms in Russia included Cyrillic for 'big boobs', 'big ass', 'gentle sex' and 'cum inside'. When compared to the rest of the world, Russian visitors are +171% more into Solo Female videos, +123% more into Hentai and +102% more into Scissoring.
19. Sweden
The top 3 searches in Sweden remained 'Swedish', 'MILF' and 'Svensk' for 2021. The rest of the list had several big gainers including 'asmr' (+24), 'Svensk porr' (+75) and 'asian' (+18). Trending searches included 'female gloryhole' (+957%), 'Czech gloryhole' (+377%) and 'cum on belly' (+293%).
Sweden is one of the few countries to have a male pornstar as their favorite, in this case it's Johnny Sinns. When compared to the rest of the world, Swedes are +69% more into watching the Scissoring category, +58% more into Anal and +53% more into Cartoon.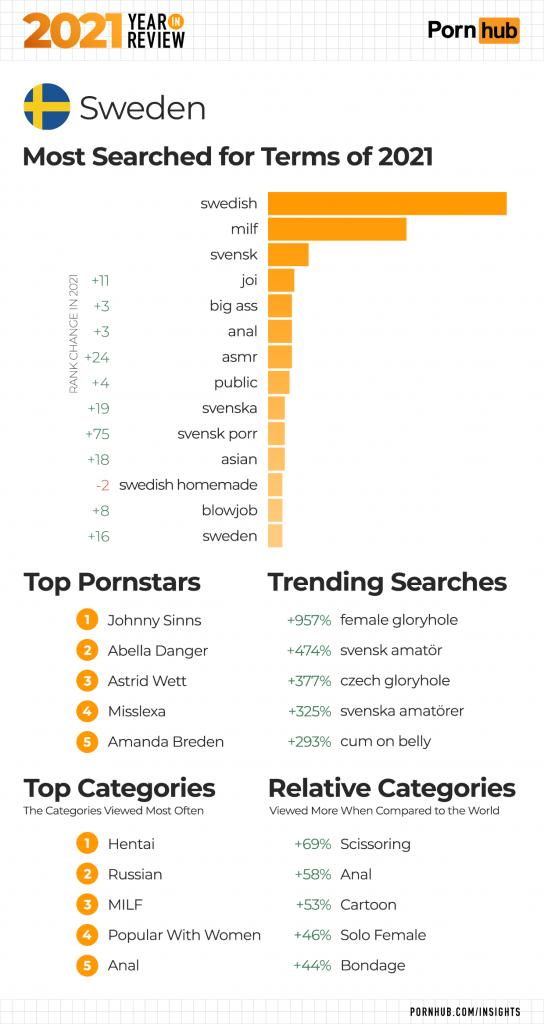 20. Chile
In 2021, searches for 'MILF' moved up 4 positions to become the #1 search in Chile. Big rank changes include 'Argentina' (+11), 'culonas' (+24), 'lesbianas' (+10) and 'Naruto' (+30). Trending searches included 'Jordi El Nino Pola' (+318%) who is also Chile's most searched pornstar, ahead of Yinyleon and Esperanza Gomez. When compared to the rest of the world, visitors from Chile are +351% more likely to watch the Scissoring category, +123% more into Brazilian videos and +80% more into Big Ass.