The country of France ranks 21st worldwide for population, but turns in an impressive 6th for traffic to Pornhub. So our friends at Vice France asked Pornhub's statisticians to take a closer look at how France's visitors enjoy watching Pornhub.
As in many other European countries like  Germany, Norway and the Netherlands, the people of France enjoy searching for porn featuring their fellow citizens. The top search term is "France", followed by "Francaise" and "maman Francaise". Also popular is "beurette", a common French word to describe someone of Arab descent.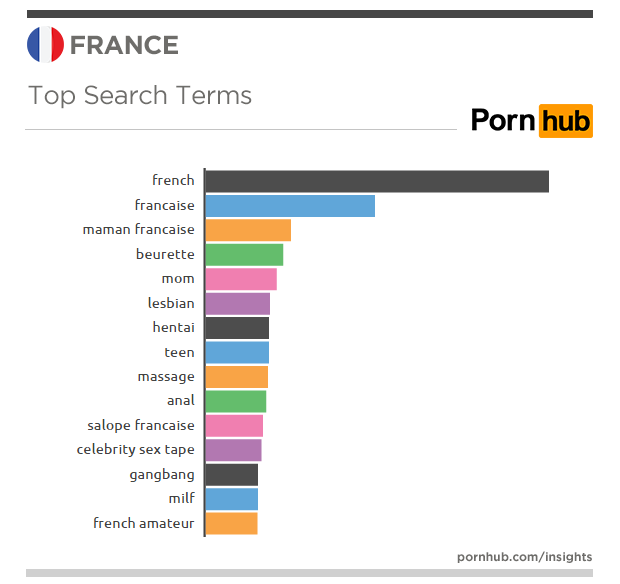 Pornhub has nearly 100 video categories, including "French" so it's no surprise to find that it's the most viewed category in France. The next most popular categories include "anal", "lesbian", "mature" and "teen".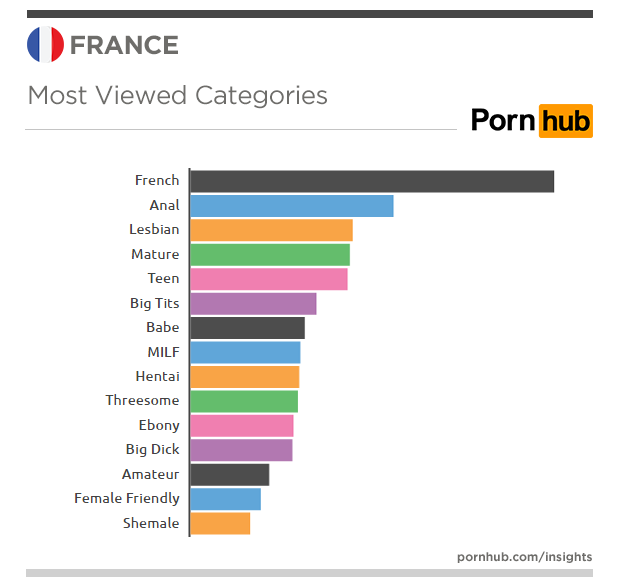 Porn tastes can differ greatly by a country's region, and France is no exception. By looking at the top relative categories – those viewed more in a particular region when compared to the rest of the country – we can see what regions in France stand out. While much of the country has a strong affinity for "French", the Ile de France region and it's multicultural capital of Paris are far more likely to search for "ebony" porn compared to the rest of the country.
Aquitaine, Poitou and Lorraine like to view more "mature" videos, and the entire South of France enjoys "Anal". Along the border with Germany, the region of Alsace is more likely to view the "bondage" category compared to the rest of the country.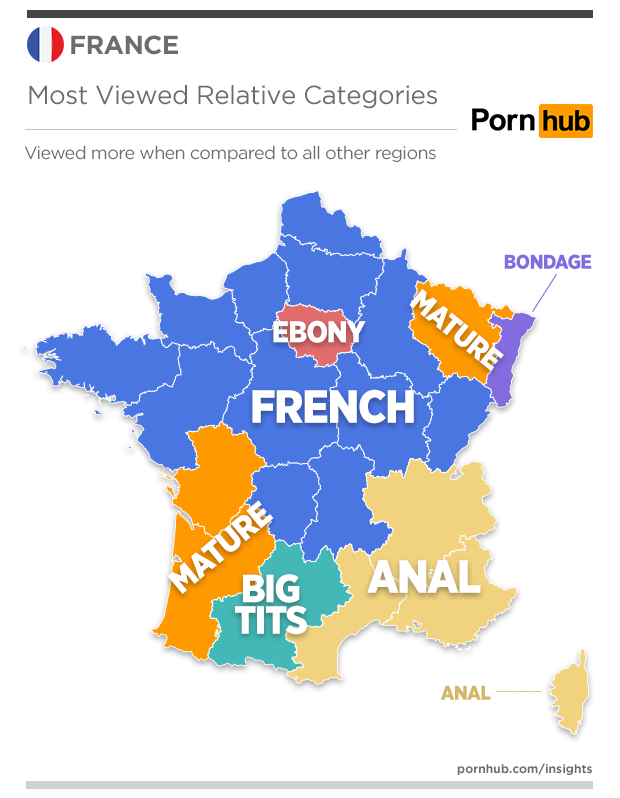 As with most of the world, France's most searched for pornstar is Kim Kardashian, but Marseilles born Clara Morgane comes in at third place. Other French-born pornstars favored in France include Anissa Kate and Katsuni who were both born in Lyon, and Nikita Bellucci originally from Paris.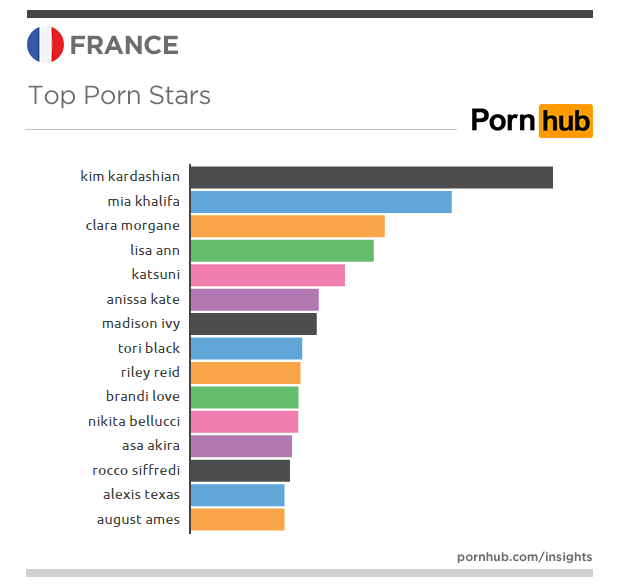 The average age of Pornhub's visitors from France is 38 years, which is 3 years older than the worldwide average of 35 that we found in our 2015 Year in Review.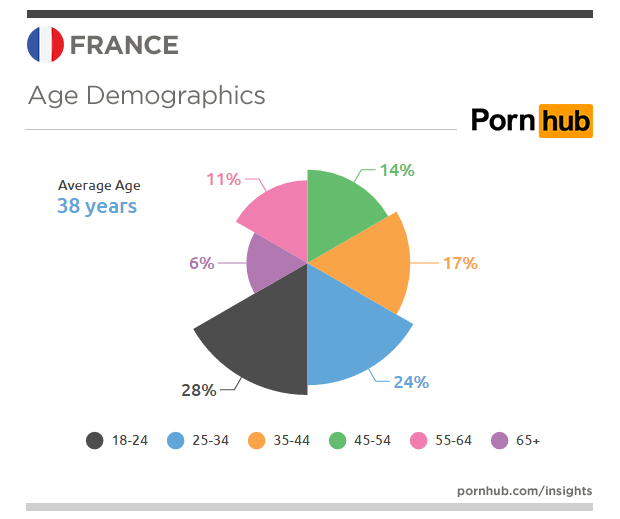 Only 20% of France's visitors are women, which is much lower than the worldwide average of 24%, although neighboring Germany is even lower at only 17% women. Women in France do however enjoy visiting Pornhub for 9 minutes and 43 seconds, which is 35 seconds longer on average than their male counterparts.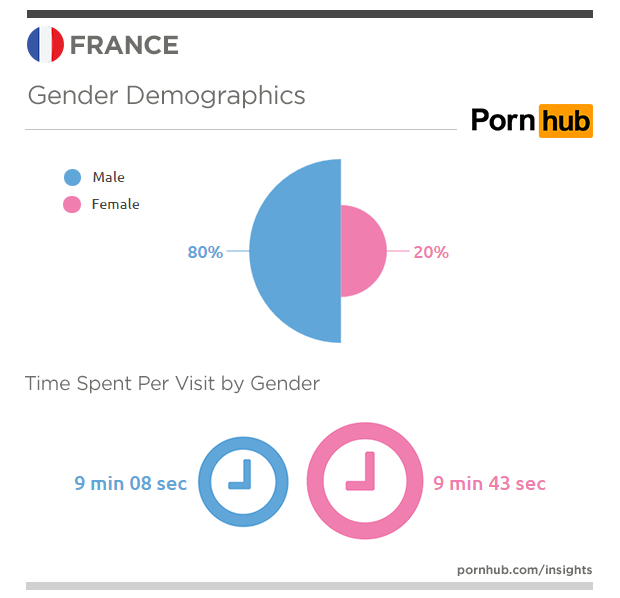 We discovered in our What Women Want study that the type of porn viewed by men and women can differ greatly. In France, both men and Women view the "French" category more than any other, but women are 106% more likely than men to view "Gangbang" videos, and 95% more likely to view "Double Penetration". Men on the other hand are 50% more likely to view the "Ass" category, and the "MILF" category 44% more.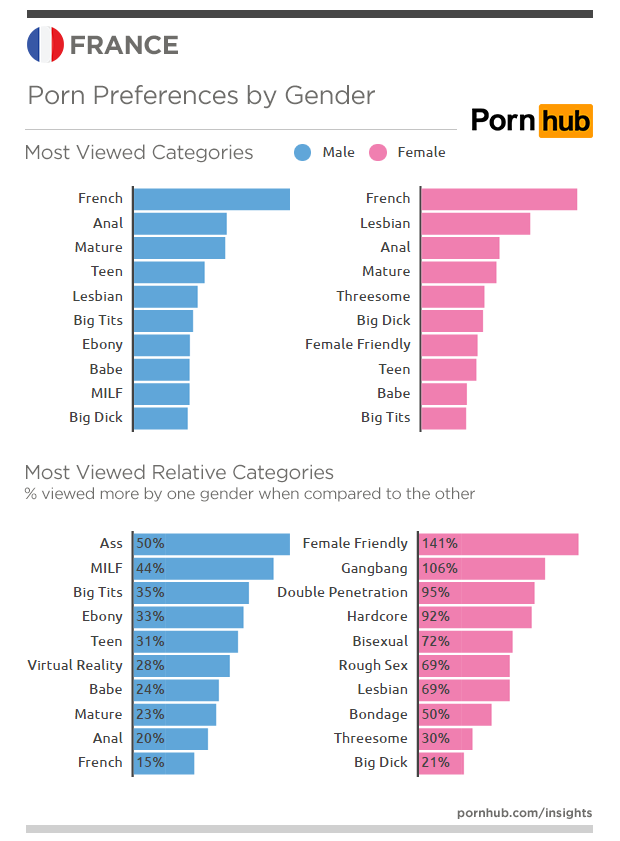 The average French visitor spends 9 minutes and 15 seconds on Pornhub, which is just 5 seconds less than the worldwide average of 9 minutes 20 seconds. Broken down by region, the residents of Nord-Pas-de-Calais come and go 23 seconds faster, and the capital region of Ile-de-France lasts 9 seconds longer.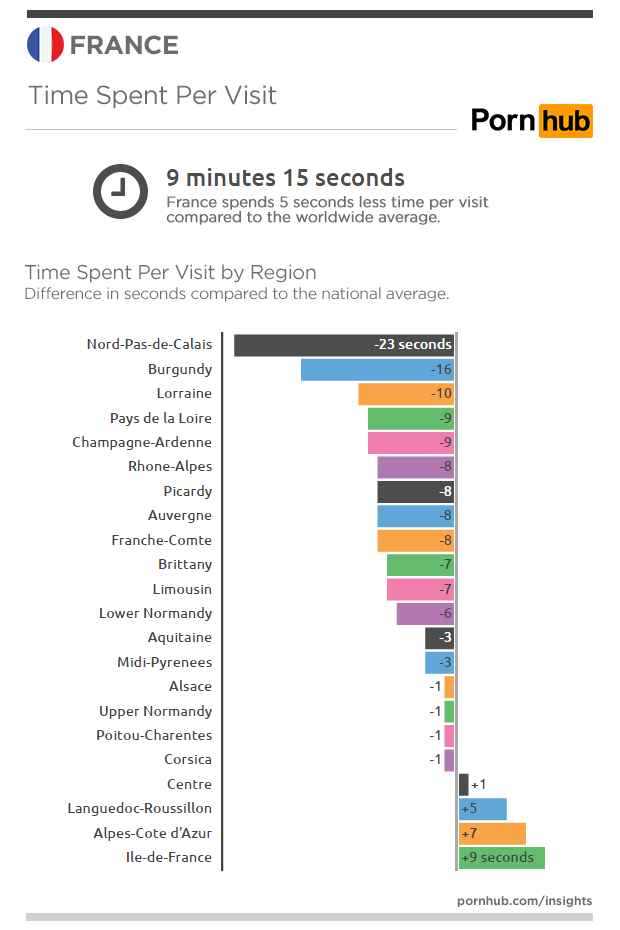 We hope you enjoyed this edition of Pornhub Insights. As always, let us know your thoughts in the comments!