Olá from beautiful Portugal! With recent trips to Spain and Italy under our belts, we couldn't wait to get back to work in this part of the world, so as a part of an exclusive collab with our friends at Jornal de Negocios the Pornhub statisticians gave Europe's westernmost country a thorough top to bottom exam. The results are in, so let's take a look at how the Portuguese get down with the best site in the world. 
PORTUGAL AT A GLANCE
Let's start off with a quick overview of some of the initial data that stood out during our research. First off, Portugal joins countries like the United Kingdom and the United States in a trend that we observed during the compiling of our 2014 Year in Review, wherein the most visits to Pornhub tend to occur towards the beginning of the week, then slow slightly just as the weekend hits. Portugal also appears to get the job done a little faster than the rest of the world, as their 8 minute and 36 second average time on site shaves a solid 40 seconds off of the 9:16 worldwide average.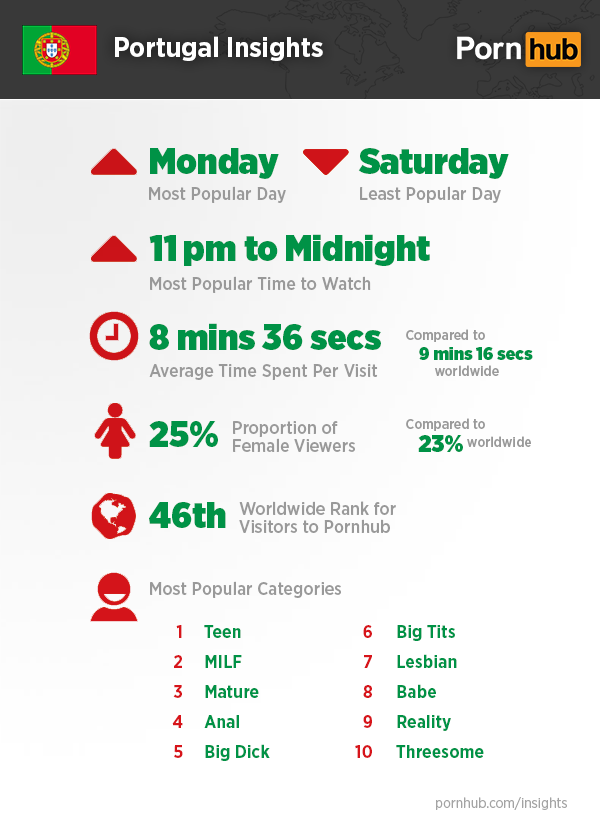 The country that ranks 46th for most visitors to Pornhub wins some girl power points with their strong 25% proportion of female viewers beating out the worldwide average by a notable 2 percentage points. India and Russia boast similar figures in regards to their gender proportions, according to the anonymized demographics data provided by our analytics software. Though the 'Teen' category tops the list for most viewed in the land, it appears that the oldest country in Europe definitely has a thing for the older crowd too, as made evident by the 'MILF' and 'Mature' categories nabbing the 2nd and 3rd place slots. Speaking of age, let's take a look at Portugal's traffic breakdown by age group.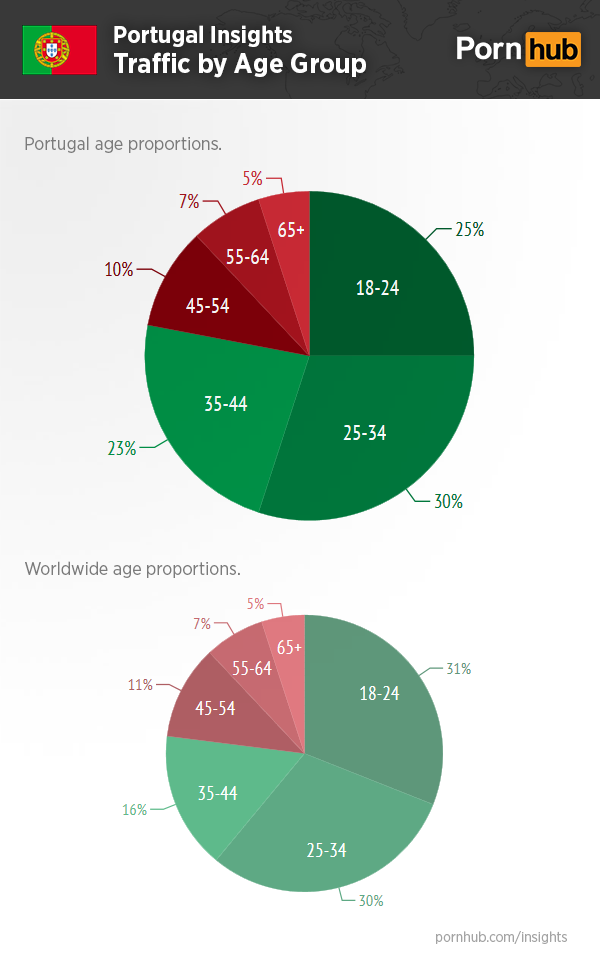 These two charts compare Portugal's age proportions with world averages. Clearly, the two are quite similar, with slight differences noted in the 18-24 and 35-44 age groups, meaning that Portugal's profile here closely resembles those of countries like Italy and Canada, as opposed to others like India which has a much higher proportion of younger viewers, or Japan, which has higher numbers of older visitors.
PORTUGAL'S TOP PICKS
Virtually every time that we analyze a specific country's top searched terms on Pornhub, that country's nationality will generally show up high on the list. People enjoy watching what their fellow country folk get up to in the bedroom, and we've seen this happen everywhere from Denmark to Mexico. This is definitely also the case in Portugal, with nearly half of the top 20 searched terms featuring a variant on the country's name, including 'tuga' in second place, a slang word used by the Portuguese in self-reference.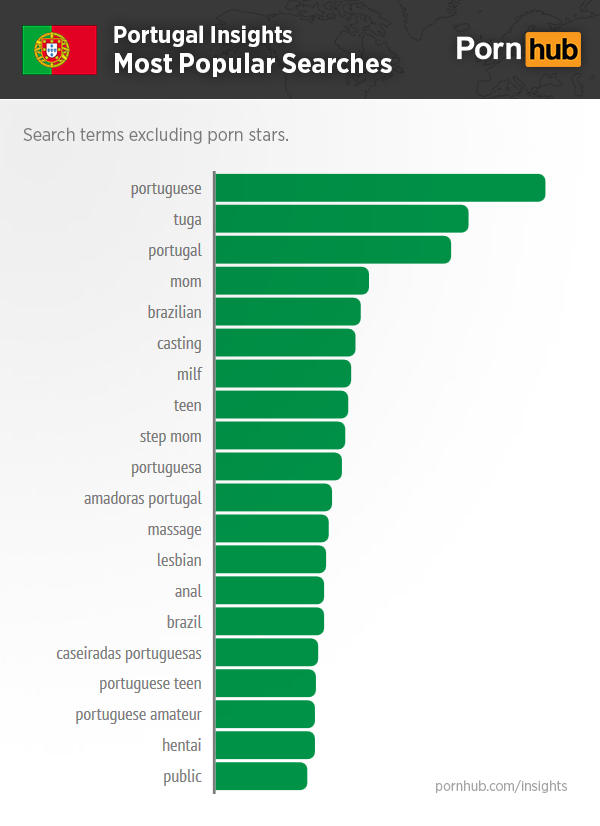 What really stands out on this list are search terms 'brazilian' and 'brazil'. We've seen instances of countries having searches involving their neighbors like with Chile and Argentina or Scotland and England, but this is something we're observing for the first time on Insights. Brazil is, of course, one of Portugal's largest and most prominent former colonies, where Portuguese remains the official language. Portugal appears to check in regularly with Brazil's bedroom antics, though according to our our previous research on the country, Brazil is kind of into it's own thing for now. Let's move on to which porn stars the world leaders in cork production pop one off to the most.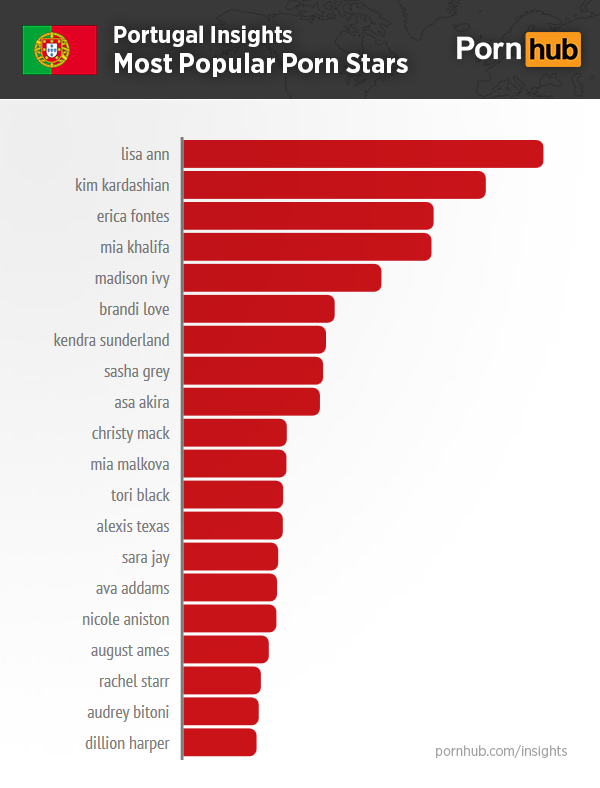 MILF queen Lisa Ann (NSFW) tops off the list here, followed by porn star turned reality goddess Kim Kardashian in second place. It's hard to say whether Portugal's sweetest export is their famed Porto wine, or blonde bombshell Erica Fontes (NSFW), but the latter nabs 3rd place for her homeland's most searched for porn star on Pornhub. For the most part though, it seems that the Portuguese prefer porn stars hailing from the other side of the pond, with American babes like Brandi Love (NSFW), Christy Mack (NSFW) and Sasha Grey (NSFW) making up most of the list.
RACE TO THE FINISH
Though the average time on site in Portugal is just over 8 and a half minutes, this figure varies considerably from region to region. For instance, in northern  Viana do Castelo the average time on site dips by a considerable 23 seconds. This is perhaps because the region is home to an important naval repair facility so folks up there are likely spending a little more time preventing the next Titanic, leaving them with a little less time to spend on Pornhub. In the capital region of Lisbon on the other hand, visits are extended by 15 seconds.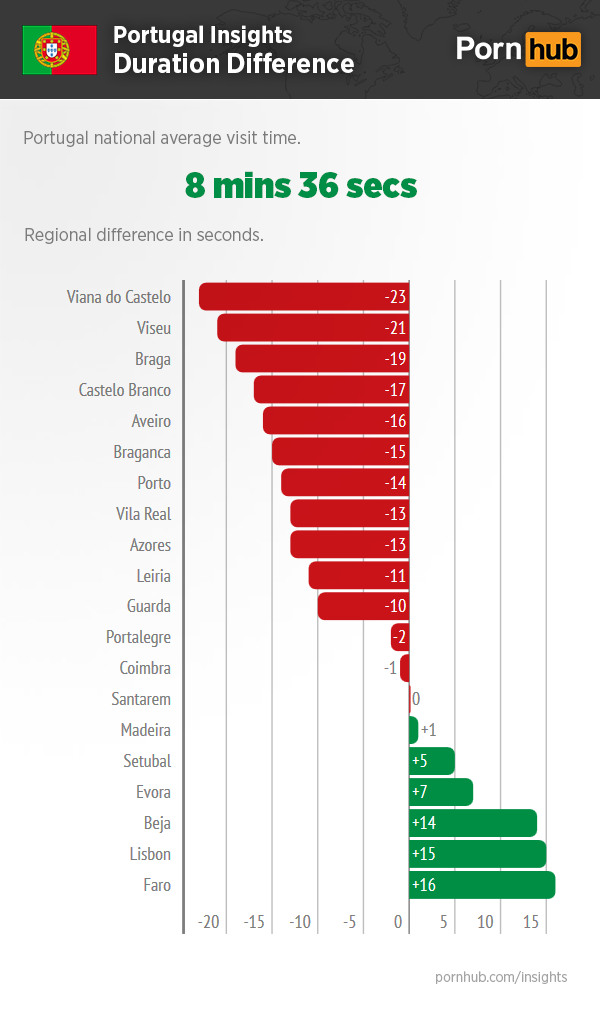 Major changes in weather like Storm Juno in the US and sporting events like the World Cup have also proven to affect the way that people use Pornhub. Another one of these major influencers happens to be holidays like Christmas and Easter, when many of our regular viewers are perhaps traveling or spending time with family, causing traffic to drop.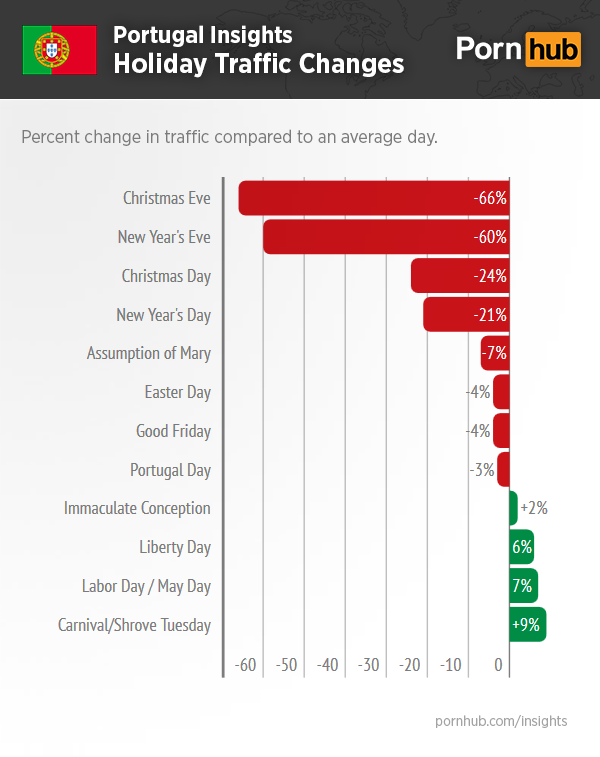 In Portugal, the most notable change occurs on Christmas Eve with a staggering 66% drop in traffic, compared to just 38% on the same day in the United States. Traffic also drops by a considerable 60% on New Years Eve, which is close to the 59% and 56% drops we've recorded in Italy and Brazil.
TECH TALK
We'll sign off with a quick look at which devices the Portuguese prefer to use when they're checking out Pornhub. As far as tablets are concerned, Portugal is well aligned with the rest of the world in that 10% of their traffic originates from these types of devices, vs 11% on a global level.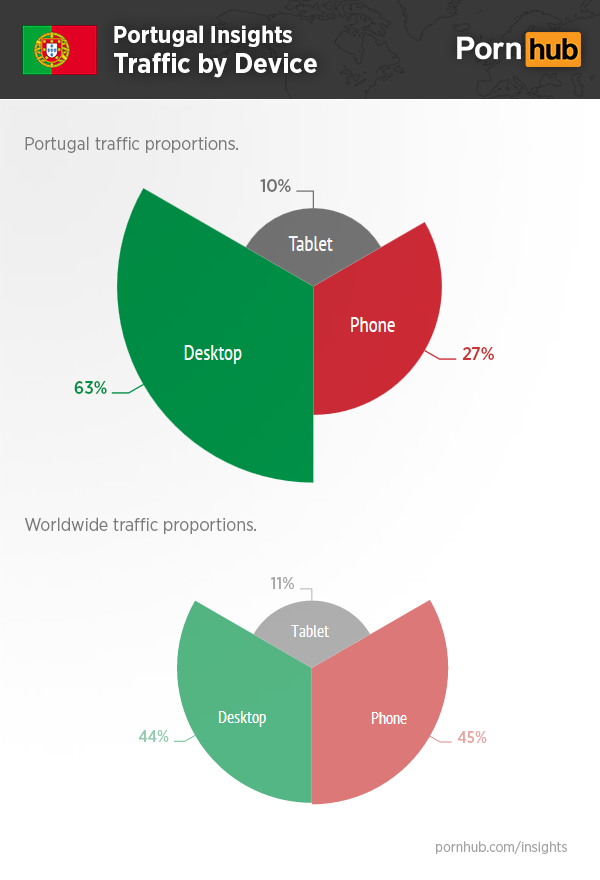 Much like countries such as Germany and and Brazil, however, the Portuguese are still diehard PC fans for the most part, as some 63% of traffic comes from computers, meaning that just 27% originates from smartphones. In our 2014 Year in Review, we noted that mobile usage had increased considerably from the year before, so it will be interesting to see if this trend will carry over to Portugal when we wrap up at the end of this year.
With that we'll say peace out to Portugal. We've got tons more Insights posts lined up to come your way soon, so be sure to check back regularly!