Every year, we get together with family to enjoy great food, share some laughs, and watch football. This begs the question, where does porn viewing fit into this equation?
As the largest adult website in the world, Pornhub is thankful to accommodate over 35 million daily visits from our friends around the world. That being said, we're always a little bit disappointed when people choose family time over Pornhub time, each and every year on Thanksgiving.  Of course we kid – family time is important – but so is watching porn!
To see just how drastic this annual turkey-related traffic-exodus is, we recalled our dutiful Pornhub statisticians, who, after apologizing to their families, set about crunching the numbers.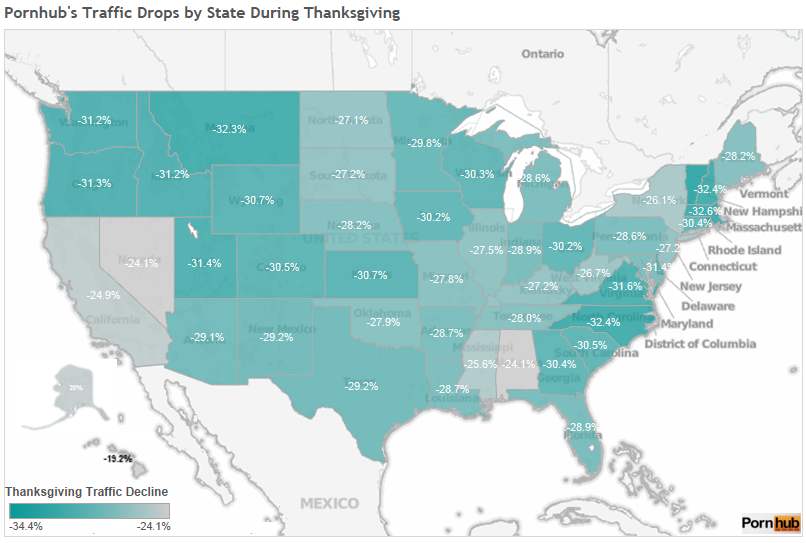 Our turkey-hungry, mashed potato deprived team traded their gravy for coffee and were able to show that Thanksgiving is indeed all about family!  There was an average of 30% less traffic coming to Pornhub from the United States on Turkey day 2012, where traffic drops ranged from 19.2% in Hawaii to 32.6% in Massachusetts.
Are you all really too busy to come see your good friends at Pornhub? Ok, we get it, it's cool… We'll let it go as long as you come back right after your festivities end… You are coming back right?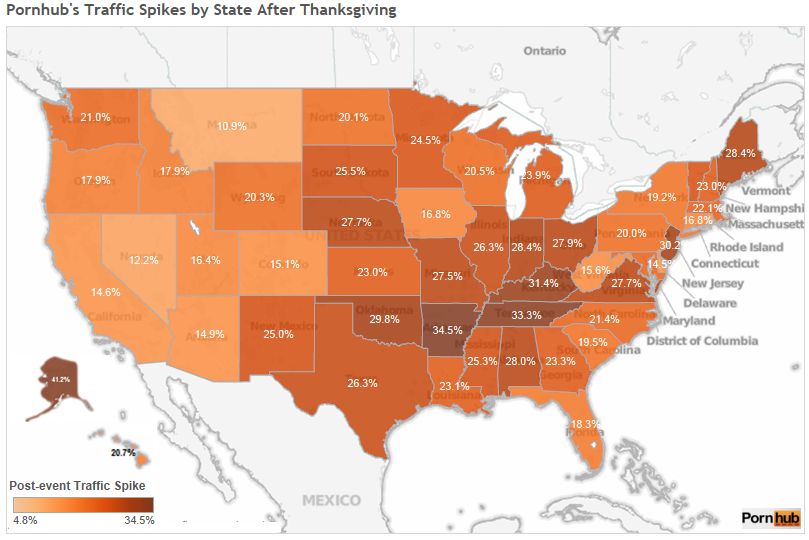 Welcome back! We knew you couldn't stay away for longer than 24 hours! Just as we noticed a country-wide drop the day of thanksgiving, a large spike was seen the very next day – 22.3% above November averages. The day after Thanksgiving must have been freezing cold in Alaska, where people flocked to Pornhub, warming themselves up (and our servers) with a 41.2% increase in traffic.
Have a look at the following chart, which compares Thanksgiving traffic to a regular Thursday, broken down by hour.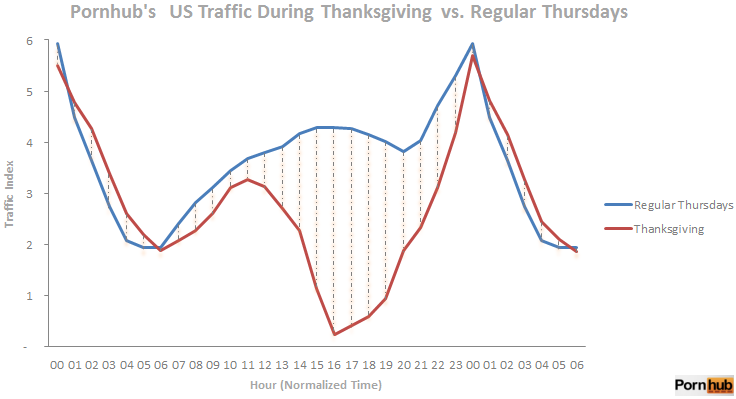 As we can see, the day's traffic starts out pretty normal. It begins to dip around noon-hour, when the first football game starts, and turkey hits the oven. The drop is pretty consistent until about 4pm when a rising trend begins into the wee hours of the night.
As we showed in an earlier post, when national holidays and world events take center stage, people tend to save their porn viewing for later in the day – and Thanksgiving is no different.
So when you remove your belt and unbutton your pants after dinner, think of us!  Gobble Gobble!