Eae galera! With the arrival of the much anticipated Carnaval do Brasil, the Redtube team decided it was time to crunch the numbers and look at the viewing habits of our fans in Brazil, the country ranking 2nd in terms of traffic volume to our site. The trends in searches and traffic during Carnival drastically change. As you will see, Brazilians can take the party from the streets to the Redtube search bar.
Furthermore, we are also offering our Brazilian fans some general data on their porn habits. Thanks to our statisticians, we discovered that Brazilians enjoy being on top. As you'll notice from our coverage, Brazil seems to excel in more than one explored trend! Without further ado, let's see what the numbers had to say, starting with Carnival trends.

Curta bem o Carnaval!
Redtube Statisticians decided to dig deep and look at the impact of traffic and trends that occur on our site during Carnaval do Brasil. As you can see, searches that include the word "Carnival" saw an incease of 441% on February 17th 2015, which marked the final day of Carnival last year.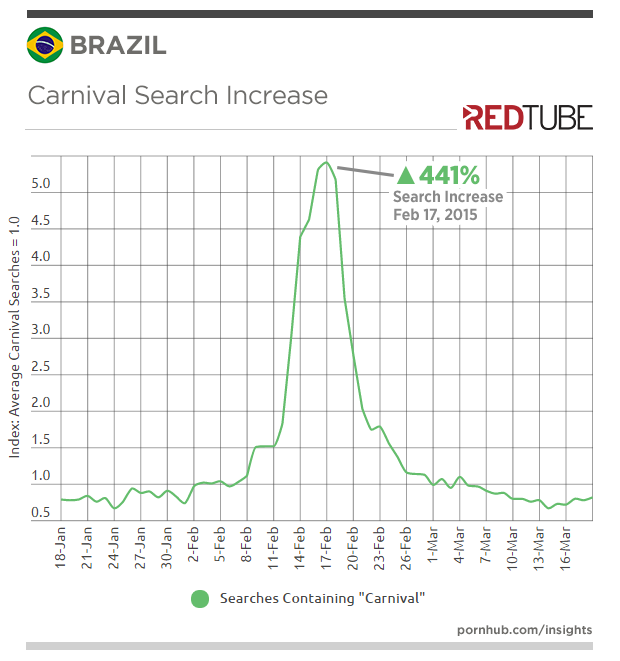 Although "Carnival" sees an immense increase in search, we also see an important 17% drop in traffic during Carnival Festivities. This drop is then followed by a 3% increase in traffic once the festivities come to an end. Could this mean that when the party is over, our Brazilian visitors take some much needed alone time?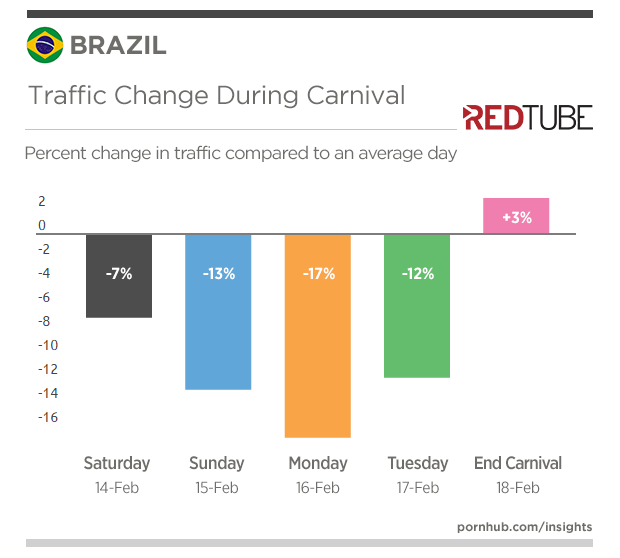 Seeing the impact in general traffic, we also looked into regional traffic changes occurring in Brazil during the Carnival. The biggest drop is noticed in Rio de Janeiro, with a 19% decrease in traffic. Overall, during Carnival, it seems Brazilians have less time on their hand(s).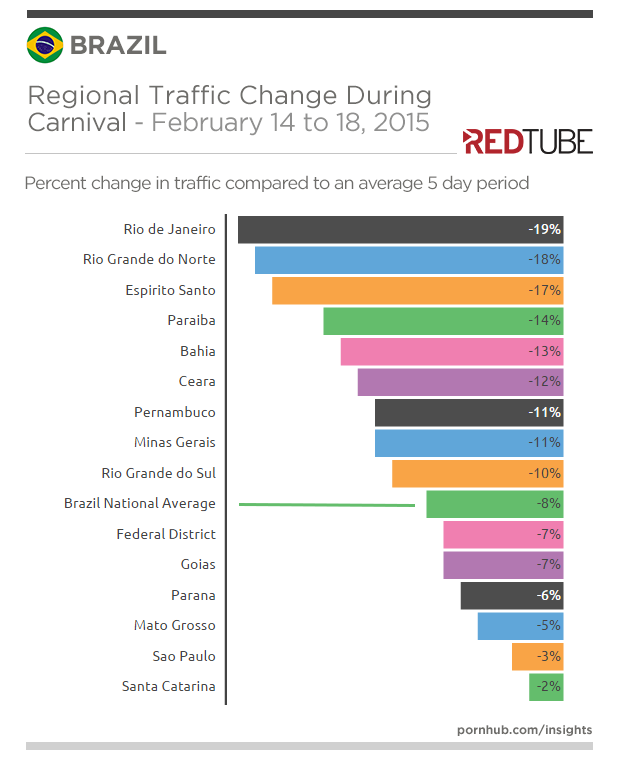 In the case of the most popular Carnival searches, the average viewer is interested in all kinds of porn related to the event. After "carnival" which is the top searched term, Redtube visitors make all sorts of interesting searches, from "carnival panteras" to "orgy carnaval" and "carnaval amateur party". The Carnival helps bring people together, and two of the top 5 popular Carnival searches include some other forms of wild group activity. Coincidence?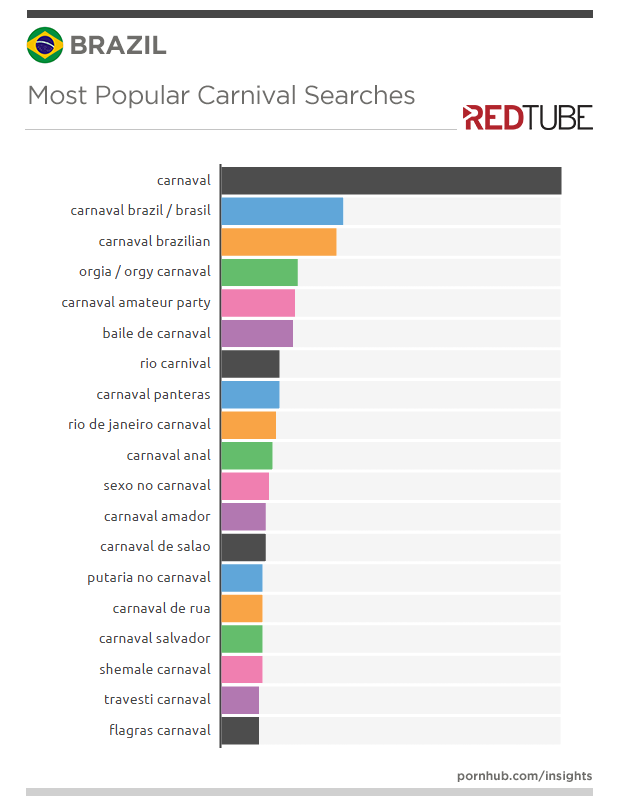 "baile de carnaval" searches increase 717% during the Carnival when compared to an average time period. Our most searched for porn star in Brazil, Júlia Paes, also rises in popularity with the search "julias paes carnaval" seeing a 444% increase. It seems that the Redtube search trends have a direct correlation with Brazilian enjoying the Carnival festivities.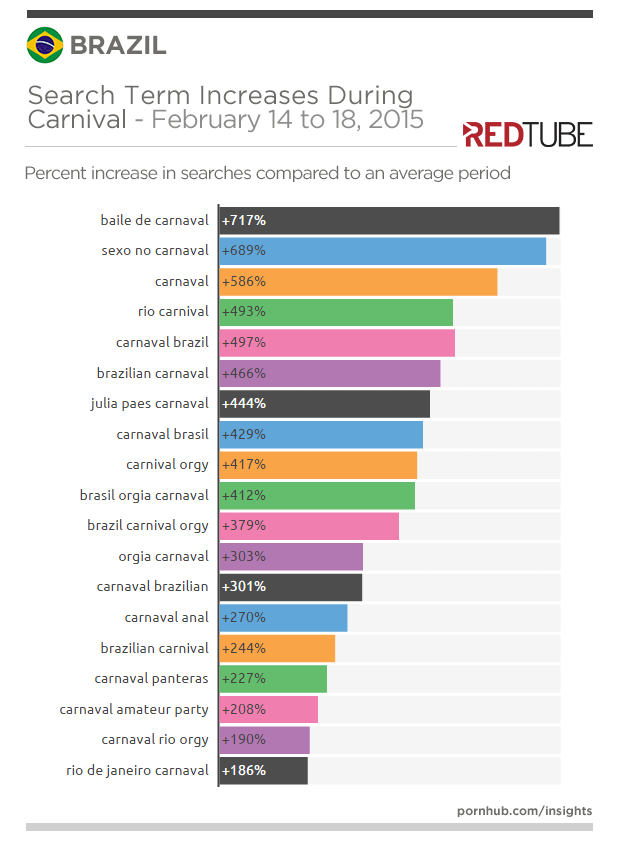 Back to Basics
Our Brazilian fans seem to innovate in more than one way when it comes to porn. Our statistics show that Brazil has an 8% higher proportion of female visitors when compared to the world average. Valeu ladies! Brazilians also prove that they are heads and shoulders above the device game: 65% of users visiting Redtube use their mobile phones, which is 15% above the world average. Lastly, Brazilians seem to know how to make pleasure last longer. The average Brazilian visitor will spend 31 seconds longer on Redtube than the rest of the world. Impressive!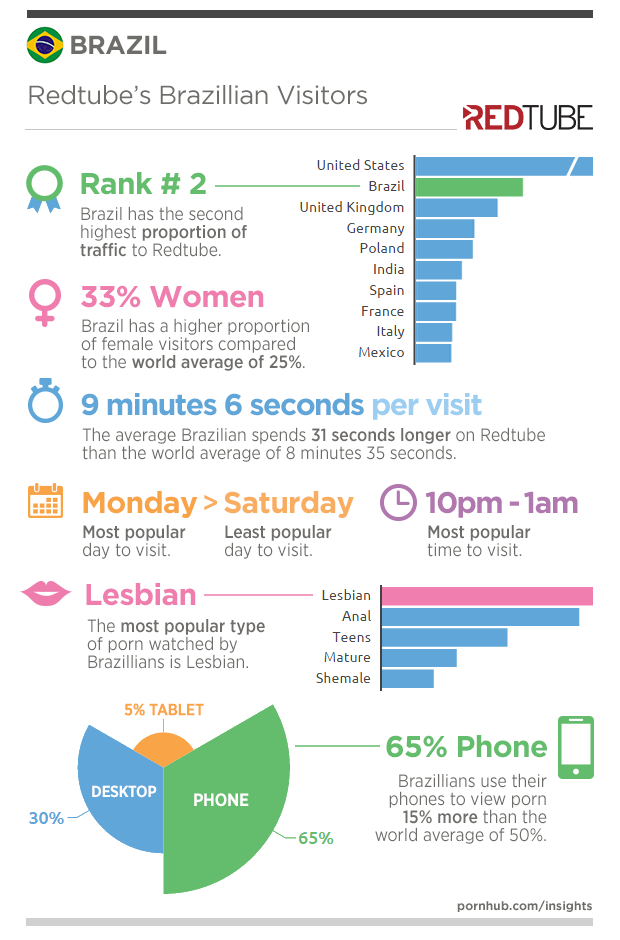 When analyzing the Redtube categories most viewed by Brazilians, "lesbian" snatches first place, followed by the "anal" and "teen" categories, respectively taking second and third place. Brazilians are also 89% more likely to visit the "Shemale" category, compared to the rest of the Redtube world. We know your kink, Brazil. Our statistics do not lie!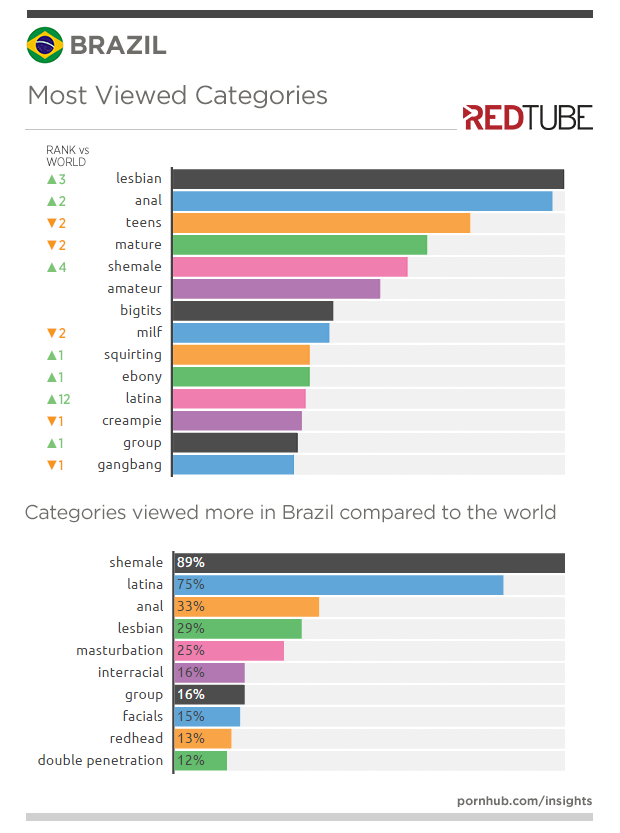 Wild Searches
Patriotism seems to be strong in Brazil with search terms like "brasil", "brasileira" or "brazilian" making the top of our list, but one Redtube search term particularly caught our eye in the top 10: "hentai" which is animated Japanese porn. It should come as no surprise. After all, Brazil has the largest Japanese population outside of Japan, where this content is popular.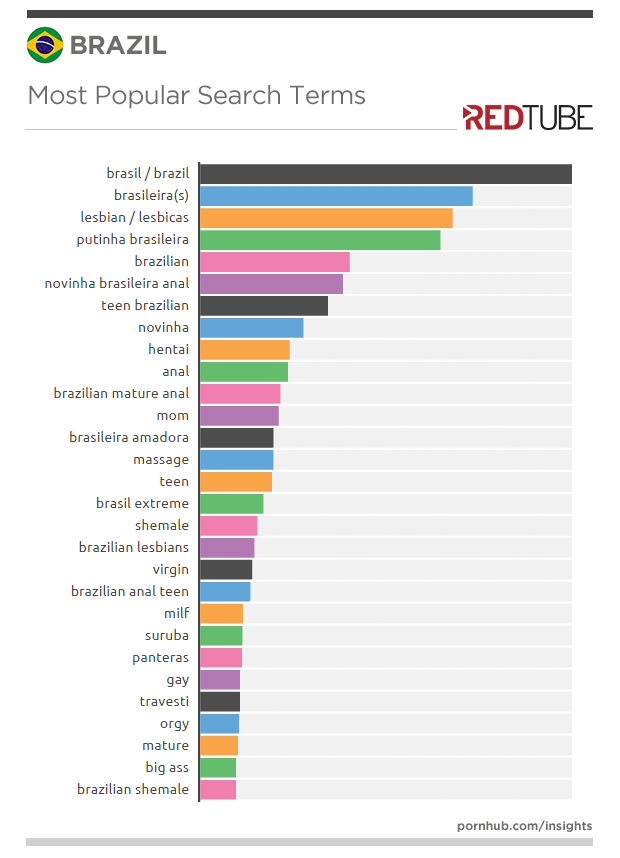 An interesting relative search term stuck out to our statisticians: "panteras". Does that pique your curiosity? In Brazil the term "panteras", or "panther" in English, is the equal of our known "cougar". It stands for an older, voluptuous and seductive woman.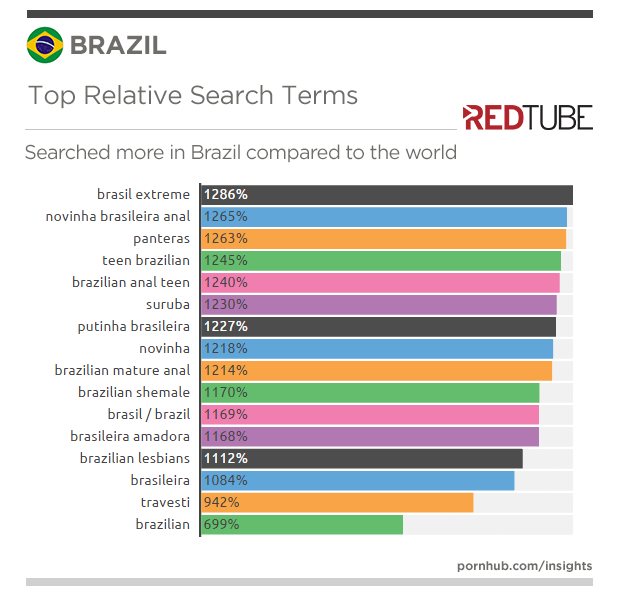 The crown for most searched porn star in Brazil goes to home girl Júlia Paes, it seems that Brazilians love supporting their local talents. Not far behind are megababe Alexis Texas claiming second place, and Lebanese porn hottie Mia Khalifa in third.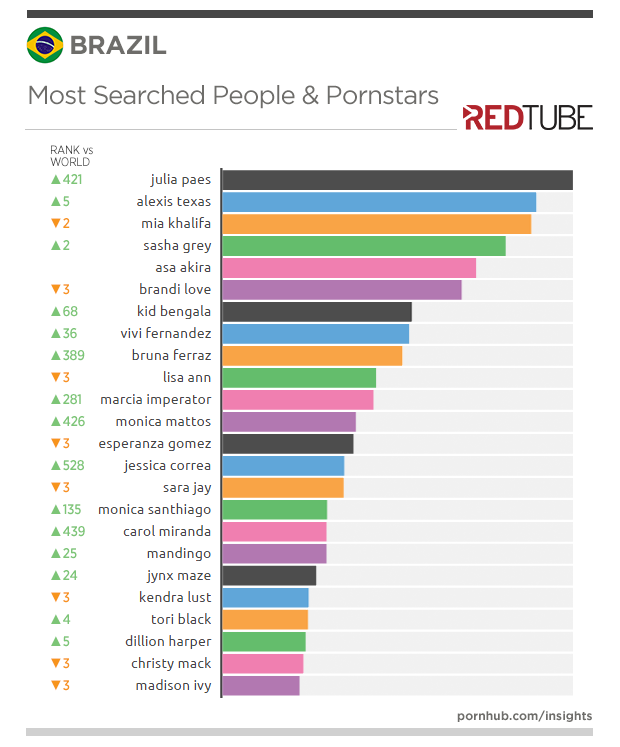 As it turns out, our dear Brazilians are quite the early bloomers. We decided to explore age demographics and noticed that there is a much larger proportion of viewers aged 18-24 in Brazil when compared to the world average. 71% of Redtube users are millennial-aged compared to 54% worldwide.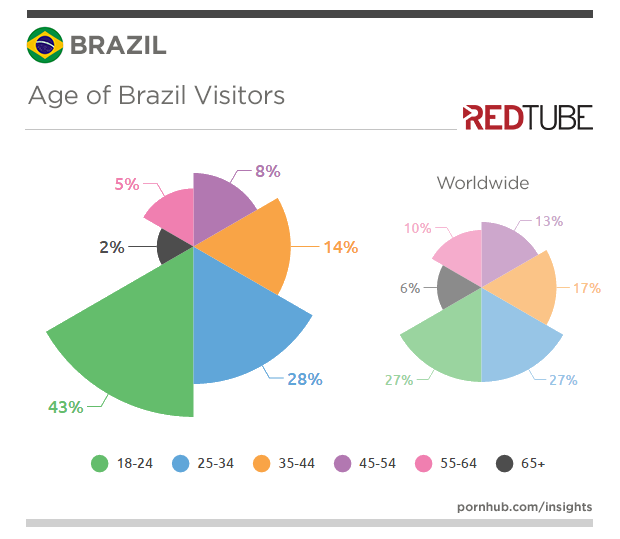 Since 65% of Brazilian users visit Redtube using their mobile phones, the results of our device usage by region come as no surprise. That being said, an honorable mention goes out to Manaus: with and impressive 74%, you have the highest percentage of users on mobile phones than the other regions of Brazil we analyzed, big fans of porn on the go?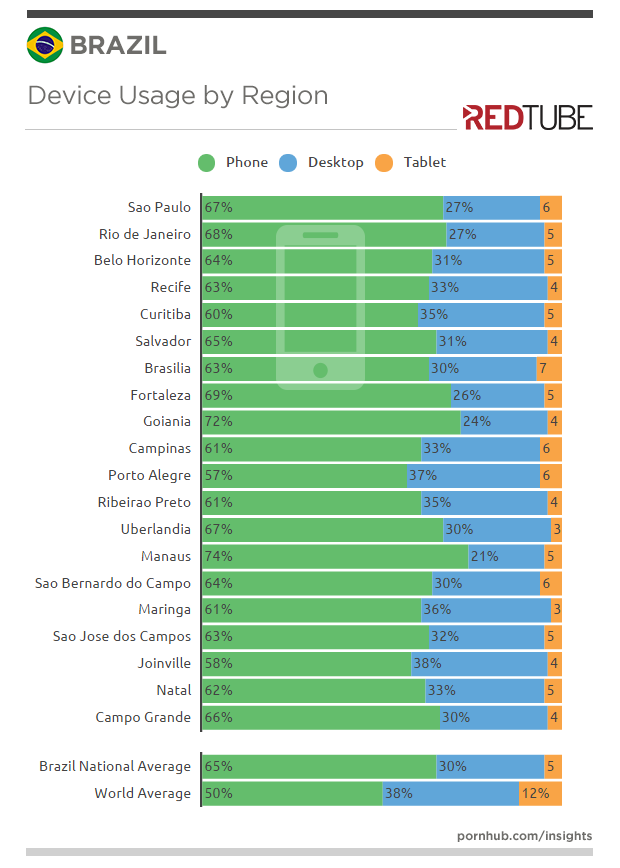 Looking at our top ten traffic Regions in Brazil, the region of Sao Paulo manages to clench first place with 16.1%, doubling the traffic of Rio de Janeiro. Belo Horizonte claims third place with 5.2%. We love you too, Sao Paulo!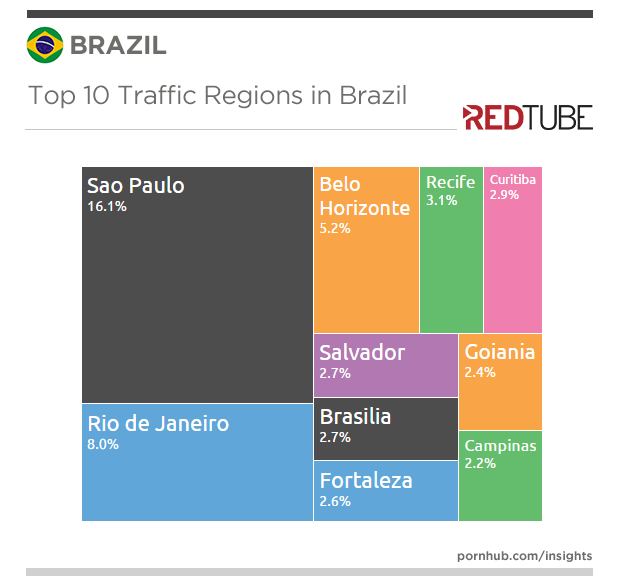 We already know that Brazilians have incredible Redtube stamina, but we thought it would be interesting to compare which regions of Brazil lasted the longest. So which region claims victory? With an impressive 37 seconds above the national average time spent per visit: congratulations to the region of Salvador! Now that's what we call stamina.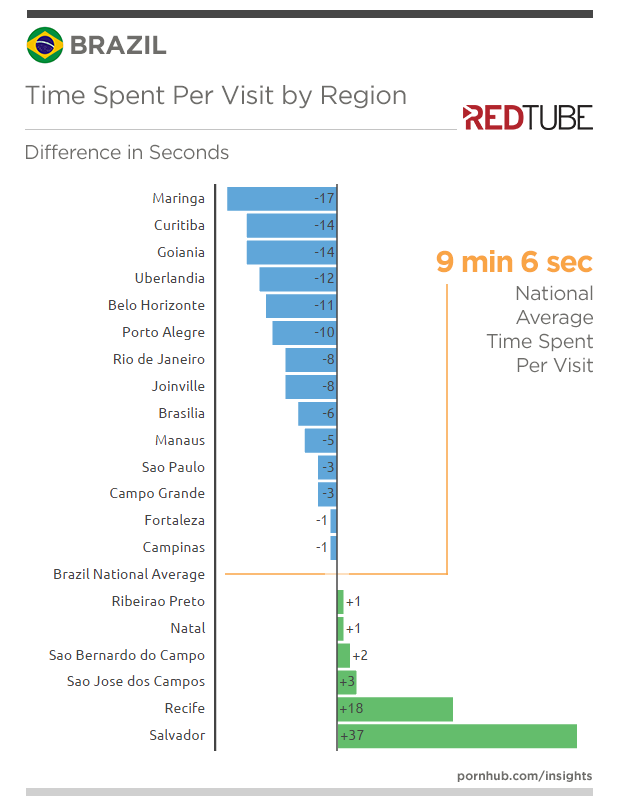 These statistics show that "brasil/brazil" consistently claims the top spot of the most popular regional search in 9 out of the 10 regions we explored with our web analytics tool. Sao Paulo stands alone with the most popular search term being "lesbian/lesbicas".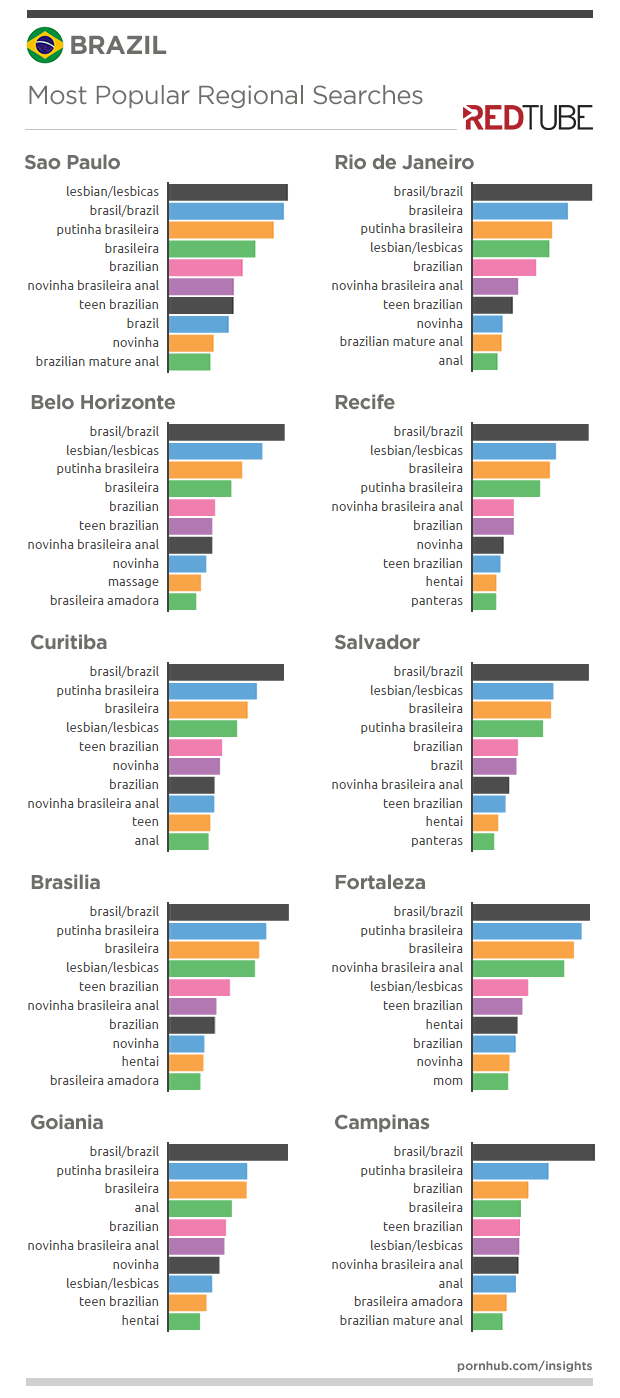 Are Brazilians naughty during the holidays? As it turns out most of you prefer being on the nice list. Redtube traffic drops significantly during big holidays like New Year's Eve and Christmas. Although this doesn't mean we don't still have our fair share of naughty holiday viewers (NSFW) from Brazil.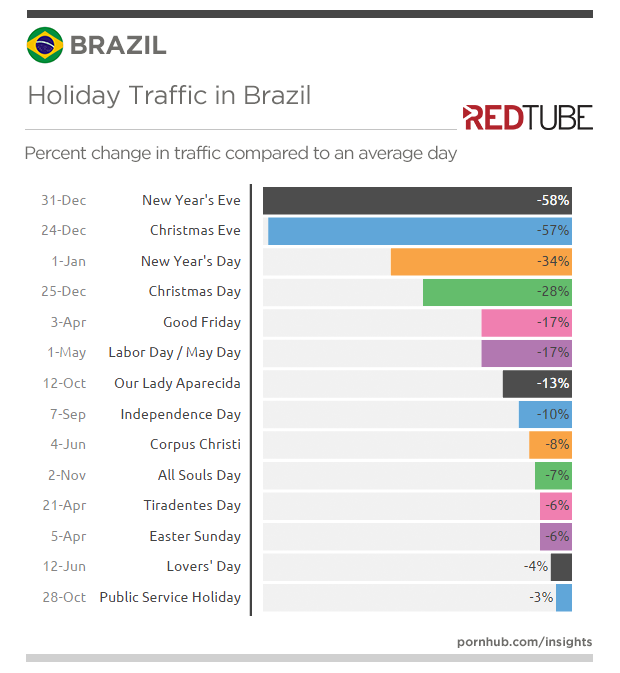 This concludes our data-driven guide of Brazil and Redtube! What do you guys think? Do some of our discoveries shock you? Give us your feedback in the comments below.