Today we've joined with our friends at Cosmopolitan Italy to talk about a "secret" sexual move that has been spreading around lately… Yes, we are talking about the Rusty Trombone!
In fact, at the beginning of March, Cosmopolitan released the artcile 3 Women Share What It's REALLY Like to Give a Rusty Trombone and after this interview, the internet went crazy for it.
( Click here to read in Italian )
So we had a look to see how it affected searches on our website. The days after the article was published, the searches for Rusty Trombone increased by +178% worldwide. But who enjoyed the Rusty Trumpet the most? Apparently, it was Italy!
After Cosmopolitan Italy shared the secret in Italian on March 13th, the searches for the term increased again by +84% worldwide thanks to our Italian friends, as you can see from the chart below.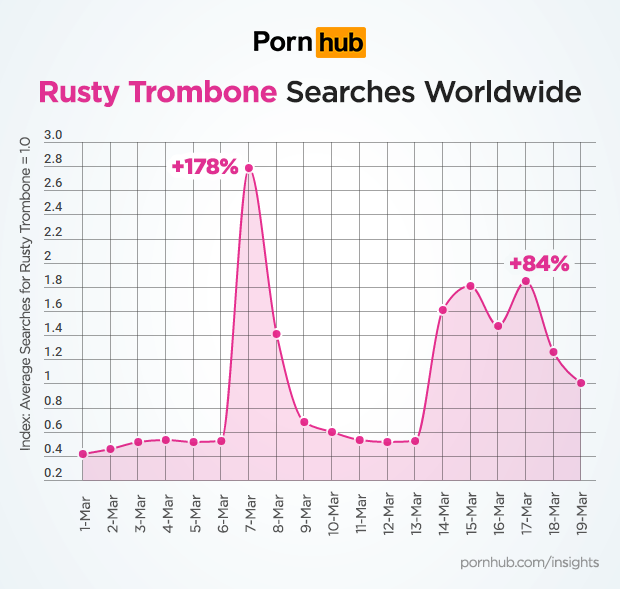 So, let's take a closer look at what happened. The Cosmopolitan Italy article went really viral and apparently our Italian friends are very curious about this sexual position. As you can see from the chart, the day after the article was released, there was a huge increase in searches by +248%. In the days after, the news spread around even more, and it reached +329% in Italy four days later.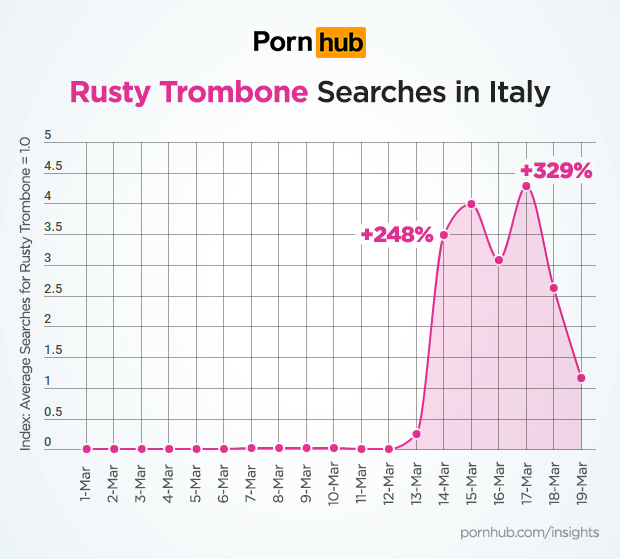 But who searched for it? You will be surprised… it's women! That's right, Italian women proportionately searched for the Rusty Trombone 25% more than men. We suppose the just want to learn how to perform a perfect Rusty Trombone to their partner… and we're pretty sure that Italians will do it better!
Italian Version
Oggi ci siamo uniti alle nostre amiche di Cosmopolitan Italia (link to the article) per parlare di questa pratica sessuale "segreta" che è da poco sulla bocca di tutti…avrete sicuramente capito che stiamo parlando del Rusty Trombone!
Infatti, il 3 marzo Cosmopolitan ha pubblicato l'articolo 3 Women Share What It's REALLY Like to Give a Rusty Trombone, e in seguito a questa testimonianza, tutti sono impazziti per questa pratica un po' taboo.
Abbiamo dato un'occhiata a come questo articolo ha modificato il traffico sul nostro sito. Il giorno dopo la sua pubblicazione, le ricerche per il termine "Rusty Trumbone" su Pornhub sono aumentate del 178% a livello mondiale. Sapreste indovinare chi si è appassionato di più alla pratica? A quanto pare, gli italiani!
Dopo che il 13 marzo Cosmpolitan Italia ha svelato il segreto al Bel Paese , le ricerche per il termine sono di nuovo salite a livello mondiale dell'84% grazie ai nostri amici italiani, come potete vedere nel grafico qui sotto.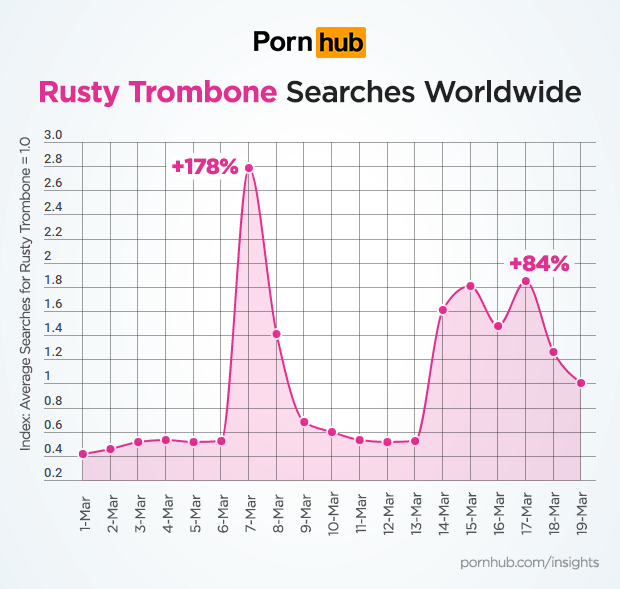 Diamo un'occhiata più da vicino a ciò che è accaduto nello Stivale: l'articolo di Cosmpolitan Italia "Stanotte fagli un Rusty Trombone. E sarà tuo per sempre!" è diventato davvero virale e gli italiani si sono dimostrati molto curiosi. Come potete vedere dal grafico, il giorno dopo la pubblicazione si è verificato un picco del 248% nelle ricerche per il termine Rusty Trombone in Italia .Nei giorni seguenti, la notizia ha continuato a diffondersi e le ricerche hanno toccato il picco il 17 marzo, con un +329% .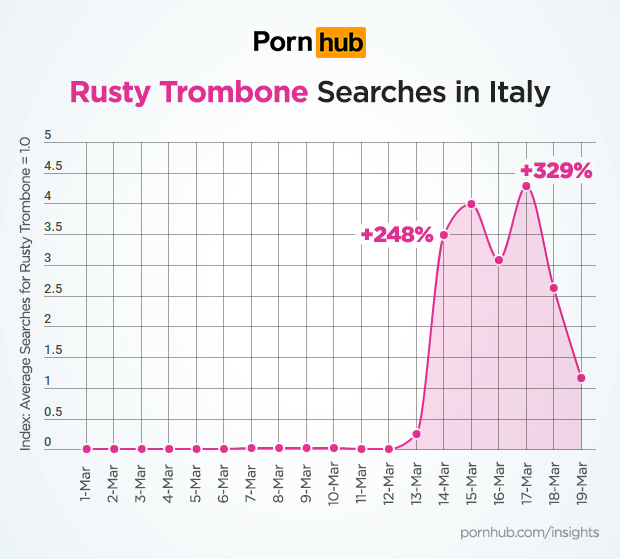 Resterete forse sorpresi nel sapere che sono state proprio le donne a ricercare maggiormente il termine: infatti i nostri analisti hanno scoperto che le donne italiane hanno cercato il "Rusty Trombone" su Pornhub il 25% di più rispetto agli uomini italiani. Possiamo immaginare che volessero imparare come fare un Rusty Trombone perfetto al proprio partner. Siamo sicuri che anche in questo caso "Italians do it better"!
______________
Some graphic resources courtesy of Creative Commons.