We at Pornhub are interested in what causes traffic to fluctuate during certain times, sometimes citing world events, natural disasters, and sports as examples in order to see what draws Americans away from their computers and into the real world – you know, to interact, experience the outdoors… Like the olden days.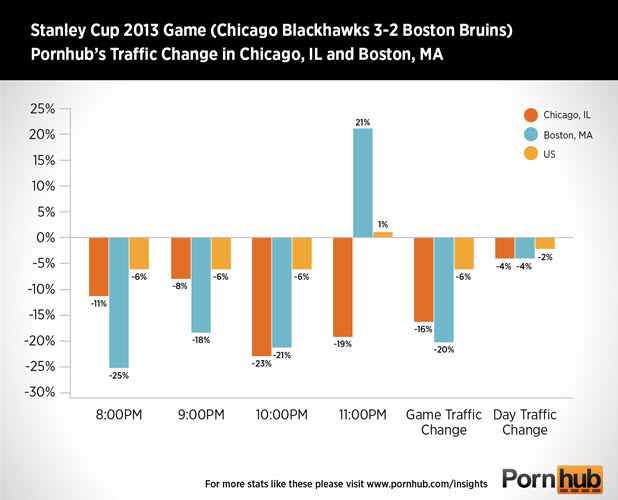 Today, we're focusing on game 6 of the 2013 Stanley Cup Finals between the Boston Bruins and Chicago Blackhawks, specifically looking at the Boston and Chicago regions in comparison to the American average.
Luckily for Boston, it was a hockey game and not a contest of who has more beautiful women, either way.. they still lost.
The above chart shows the immediate impact of the beginning of the game showing traffic drops of 11% in  Chicago, and 25% in Boston compared with the US average of -6%. When the game ended around 11PM, and the Chicago Blackhawks were parading around the ice with the cup, it seems that Boston fans tried to console themselves with some Pornhub binging! There was a 21% spike in Boston, while the national average was a 1% jump. Boston fans…. When the announcers were saying "practice makes perfect"….. They weren't talking to you!
Congrats Blackhawks fans!