Visiting Pornhub is a daily routine for more than 120 million people, but as offices close, and whole communities go into lock-down in the wake of a global health crisis, our daily routines are being disrupted worldwide.
More people are self-isolating, working from home, and stocking up on household essentials, so Forbes asked our statisticians to take a look at how that has impacted Pornhub's traffic and searches during these anxious few weeks of #socialdistancing.
UPDATE: Please see our April 14th Coronavirus Insights for new data.
Skip to:
Weekly Traffic Changes
Hourly Traffic Changes
Coronavirus Searches
Weekly Traffic Changes
Pornhub's statisticians first looked at how the daily level of traffic has changed since the outbreak of Coronavirus. Comparisons were made to an average traffic period in early February. Because traffic varies depending on the day of the week, each day was compared to the same day during the average period.
It became evident that as people were spending more time at home, either self-isolating or working at home, that traffic to Pornhub had risen. Worldwide traffic to Pornhub was up 11.6% on March 17th.
Italy was the first European country to close it's borders and put into effect a nation-wide quarantine. The following chart shows how Italy's traffic changed over the last few weeks. The drastic increase of 57% on March 12 came after Pornhub offered free Premium service to all of Italy, an offer that was clearly well received by home-bound Italians.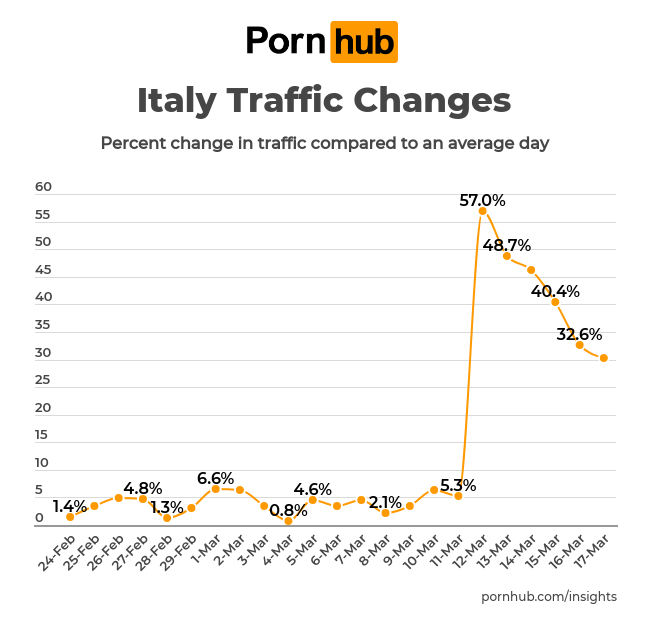 The same offer of free Pornhub Premium was made beginning March 16th to the countries of Spain and France. The following charts clearly illustrate that people all over Europe were happy to have distractions while quarantined at home. Traffic from France was up 38.2% on March 17th and 61.3% in Spain as millions of people signed up for their free Pornhub Premium service.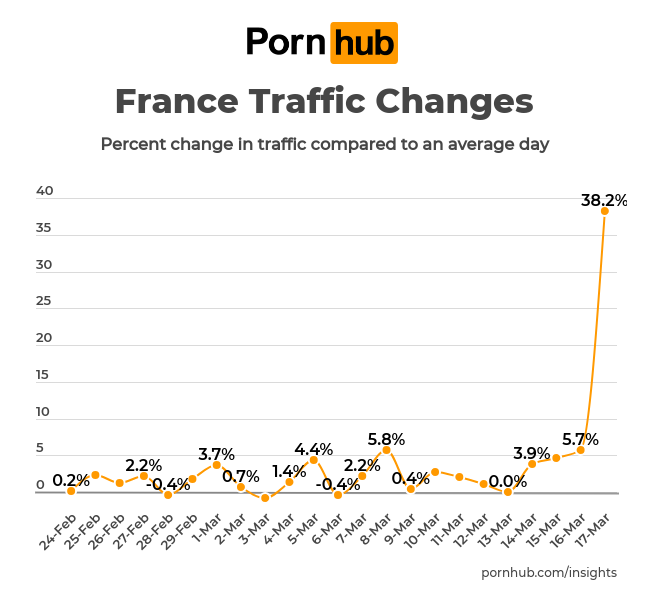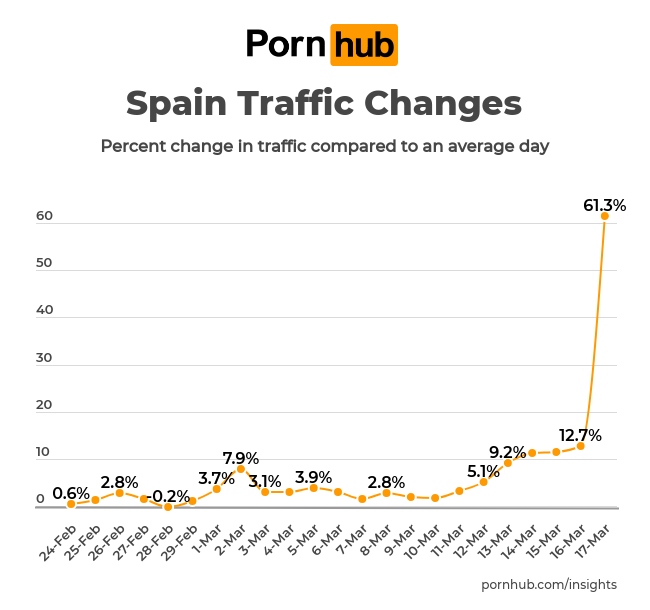 If you're in one of the affected countries, you can find out how to can get Free Pornhub Premium access by visiting the links for Italy, Spain or France.
Isolation efforts began later in North America, but the following charts show that more visitors from the United States and Canada were staying at home and logging into Pornhub. Traffic from the United States (Pornhub's largest market) was up 6.4% on March 17th, and 7.2% in Canada.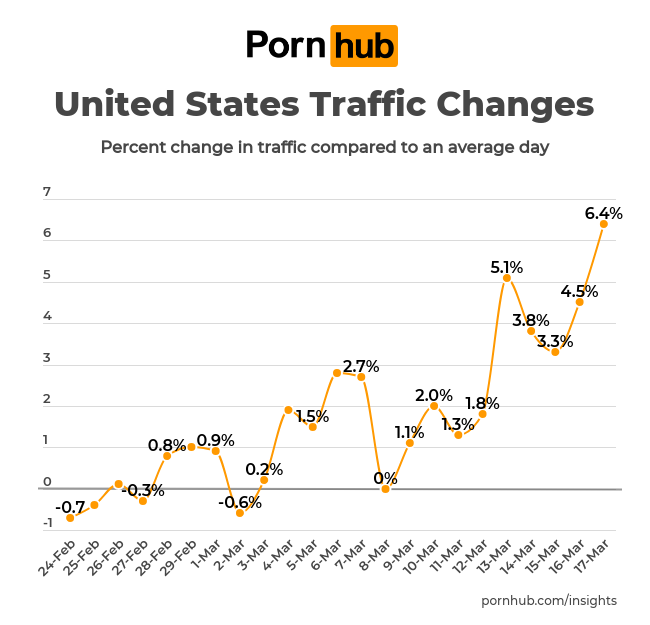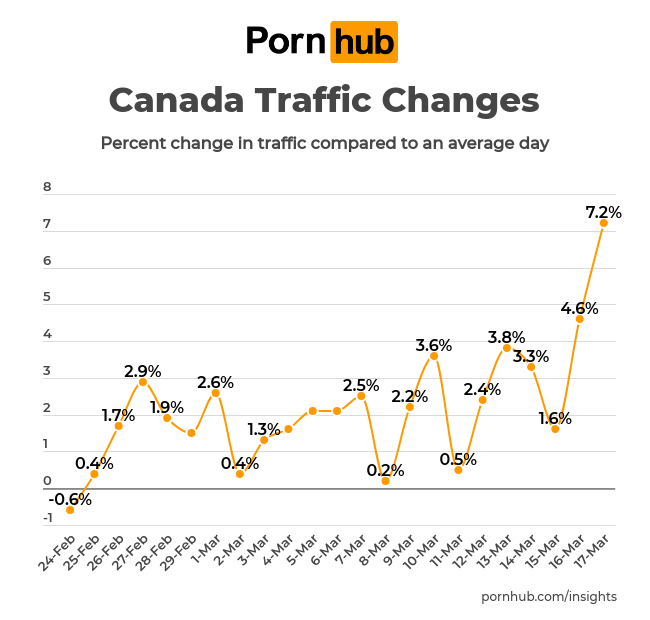 Below you will find more countries that Pornhub's statisticians have been following closely, to see how traffic has increased over the last few weeks. Or if you would like to see how hourly traffic has shifted, you can skip ahead to the Hourly Traffic section below.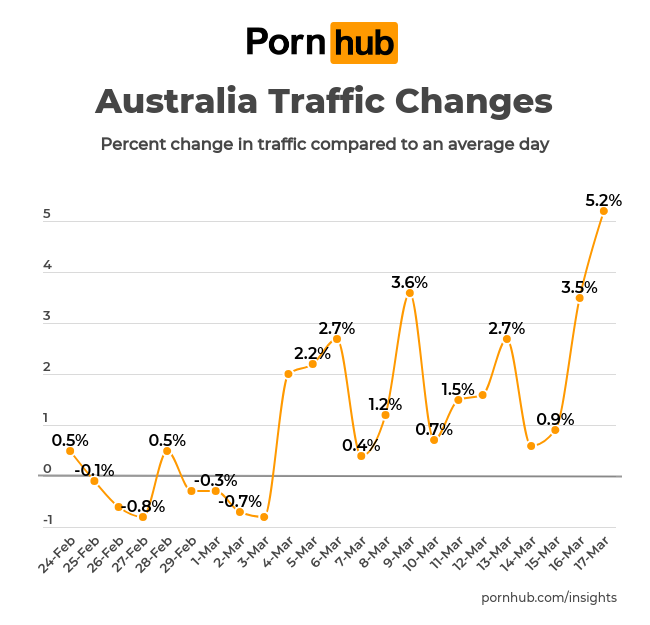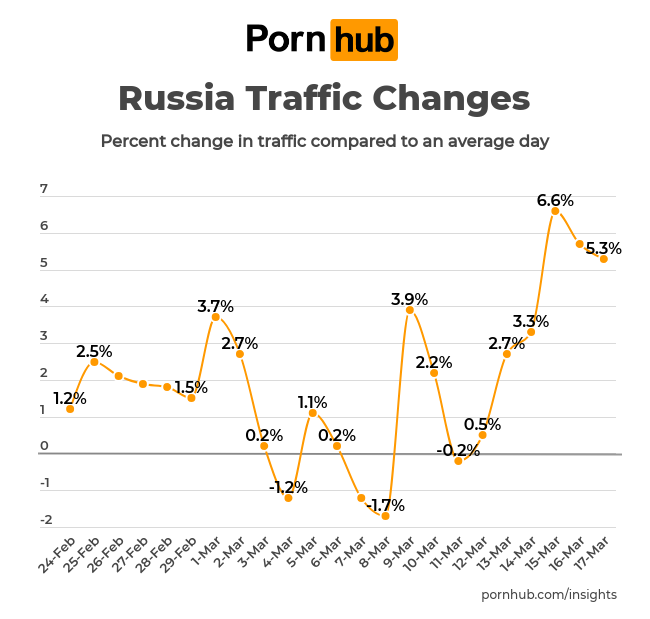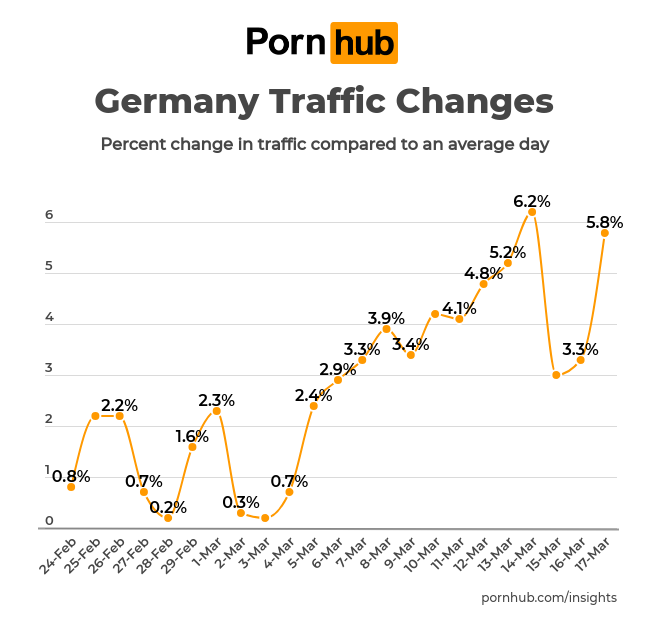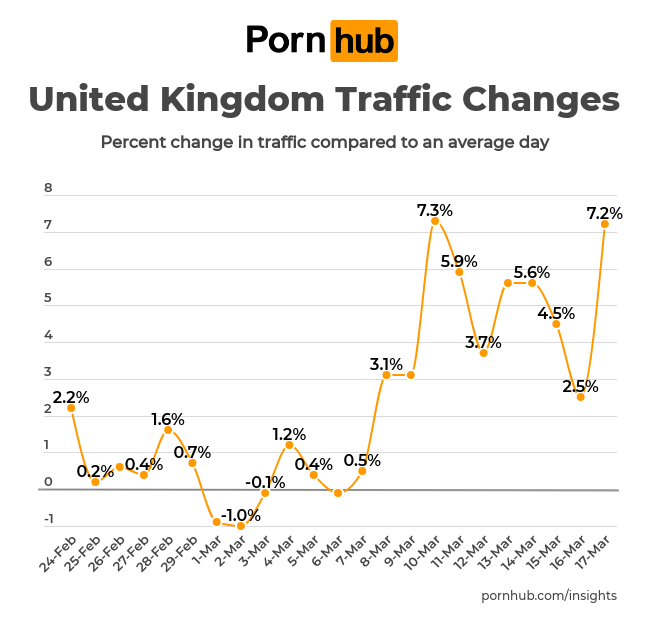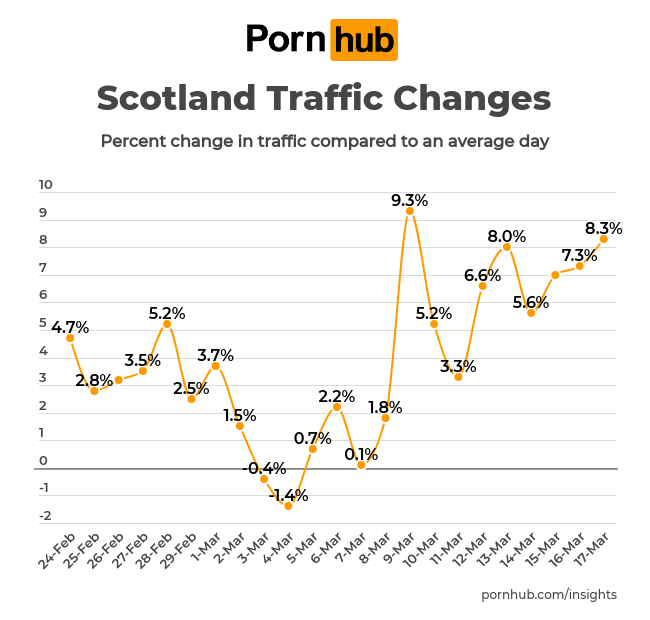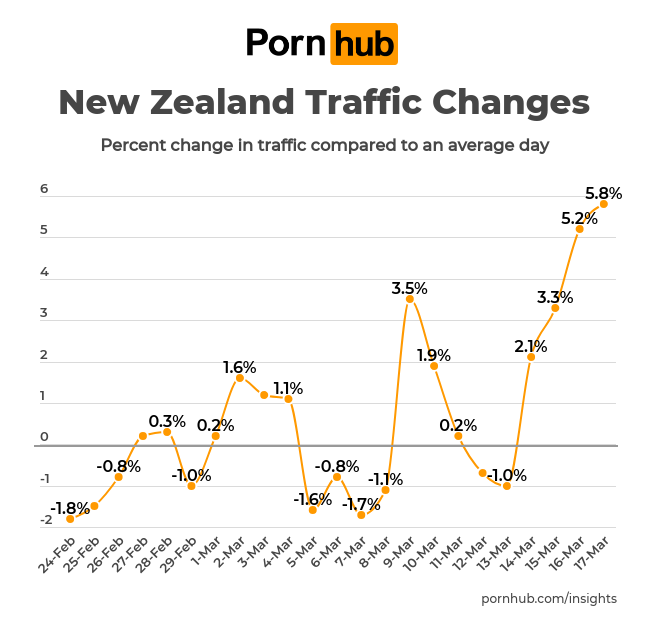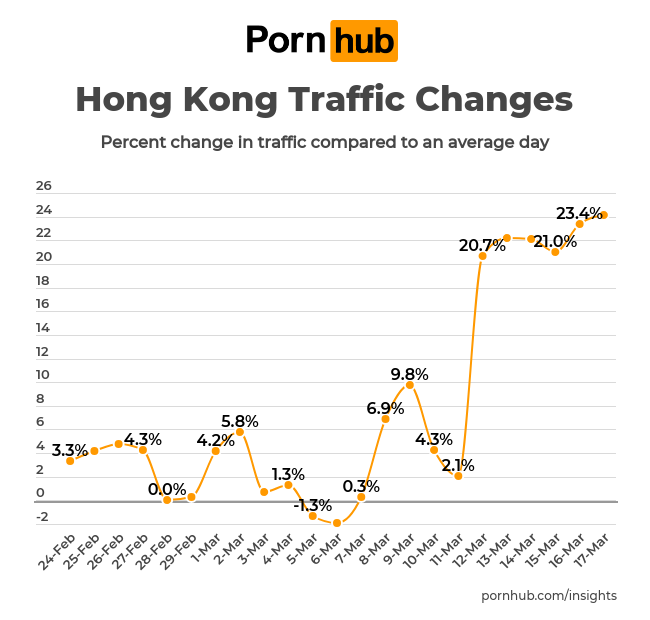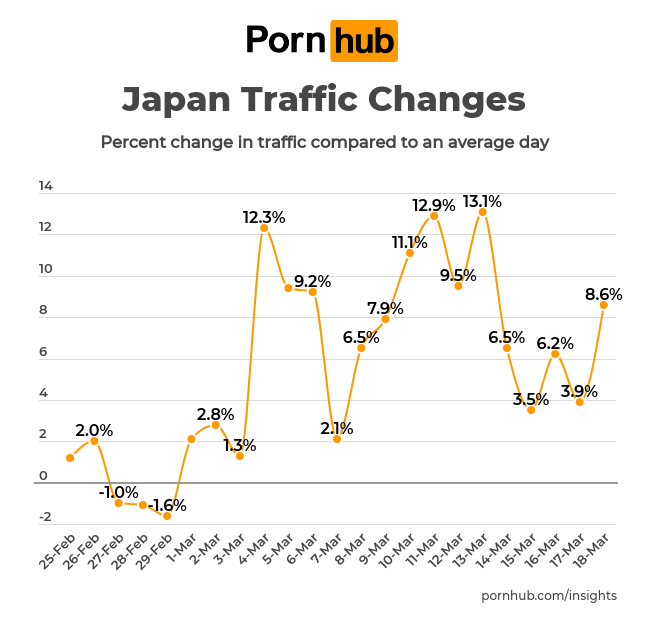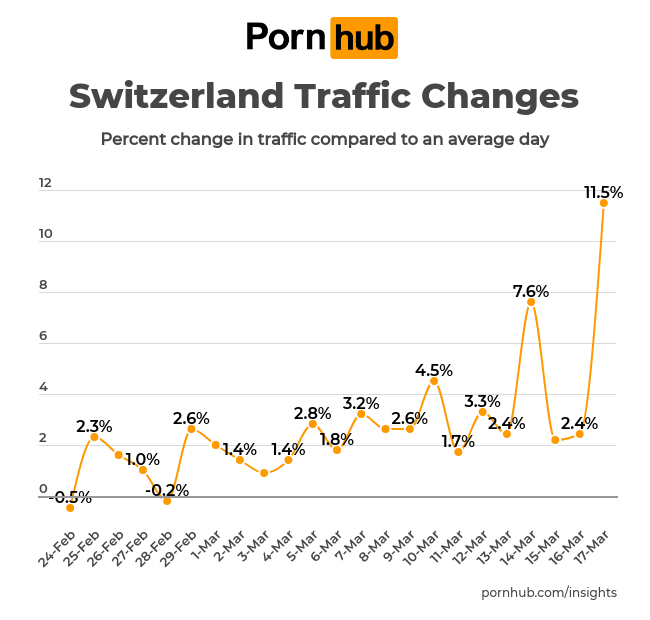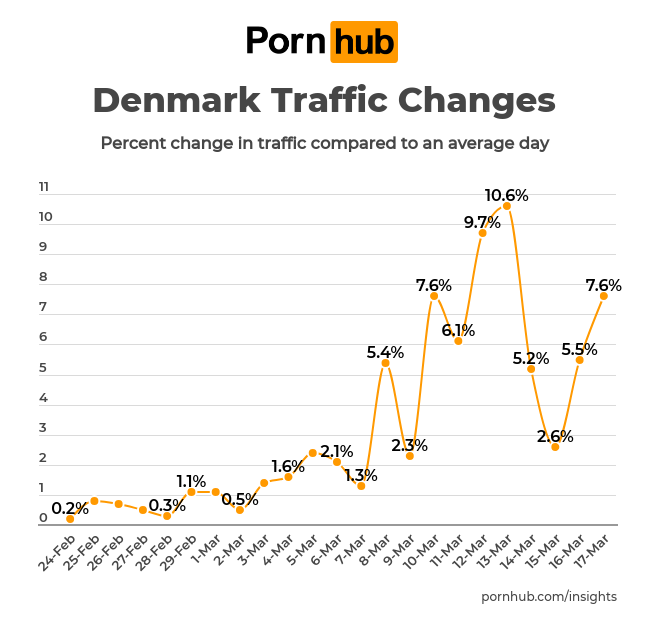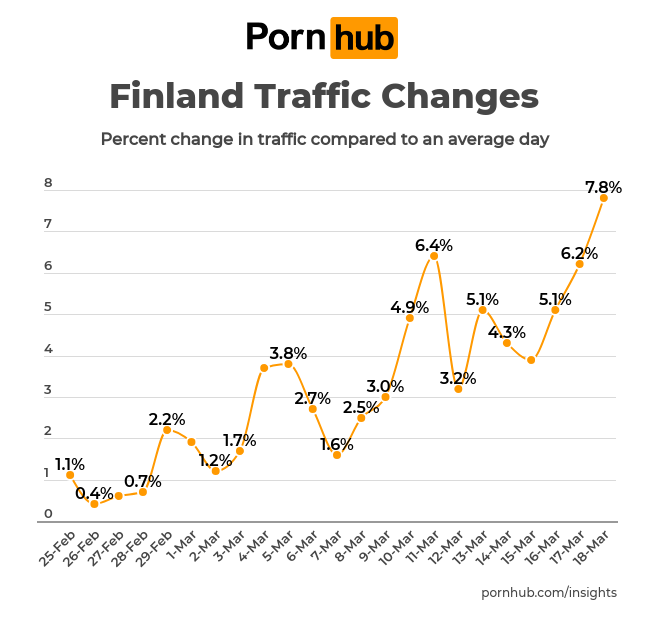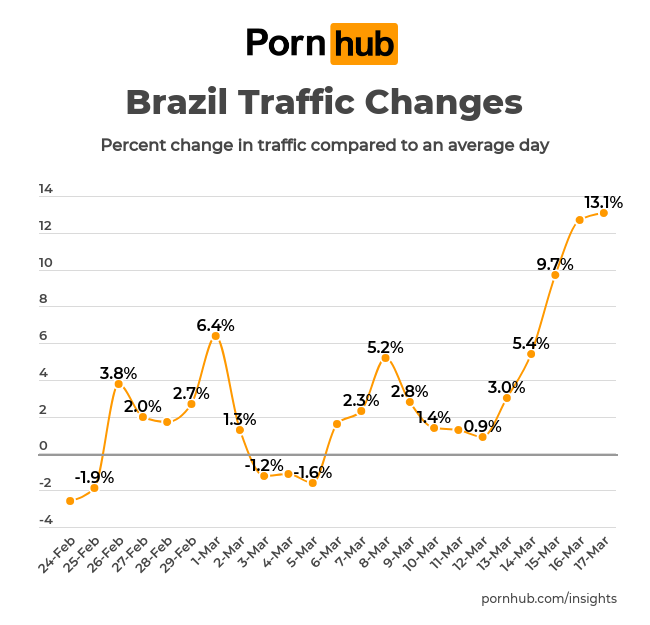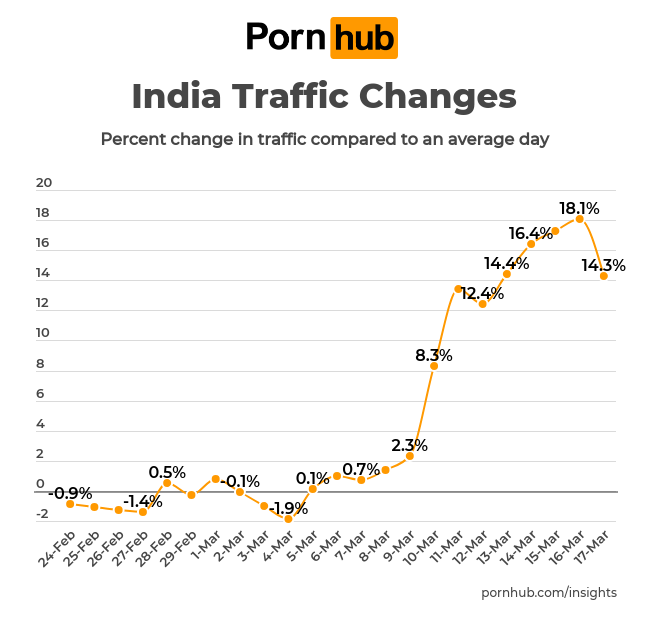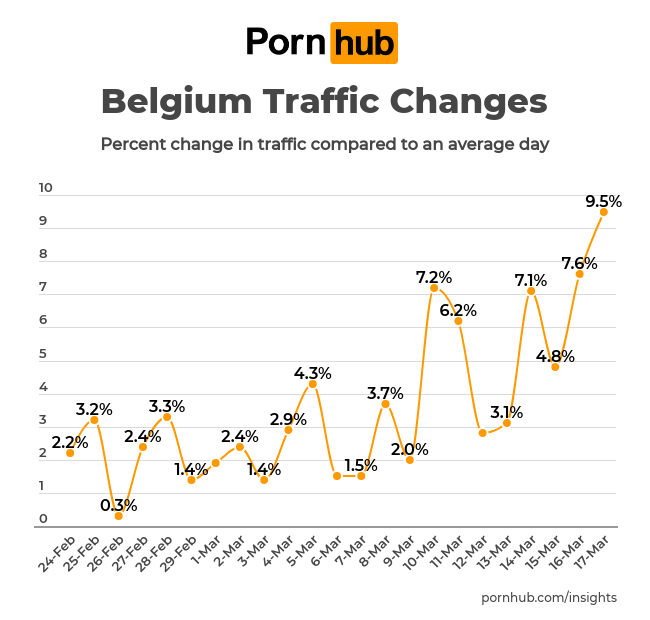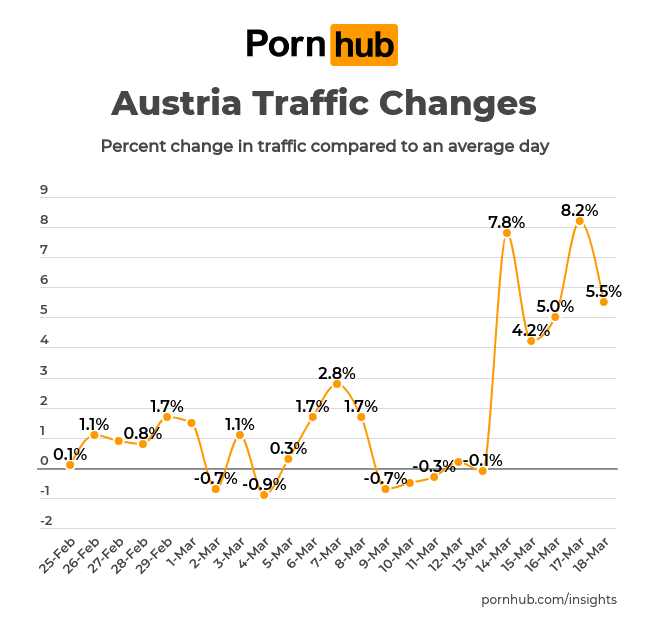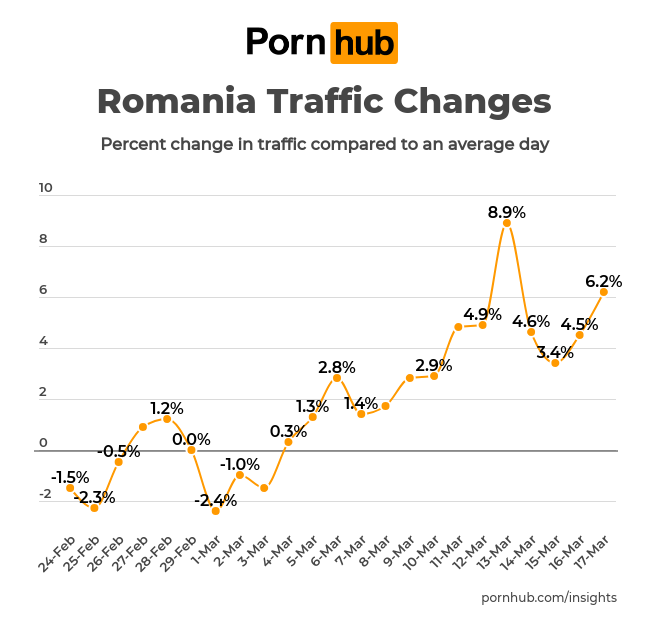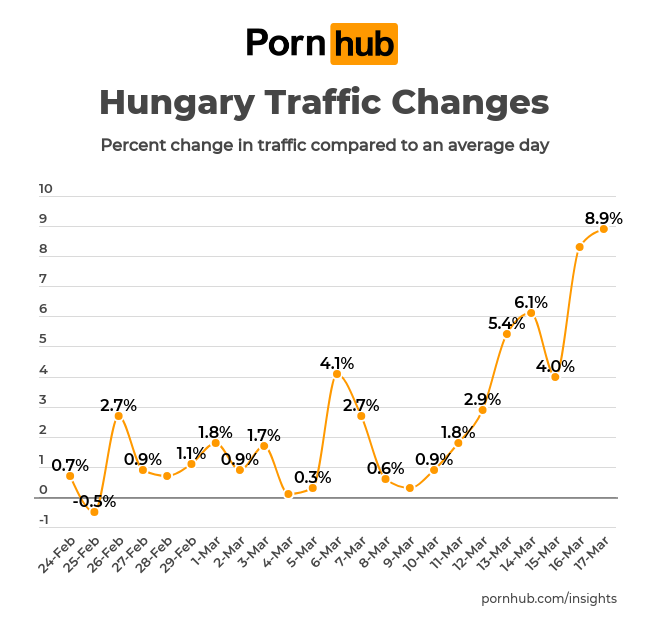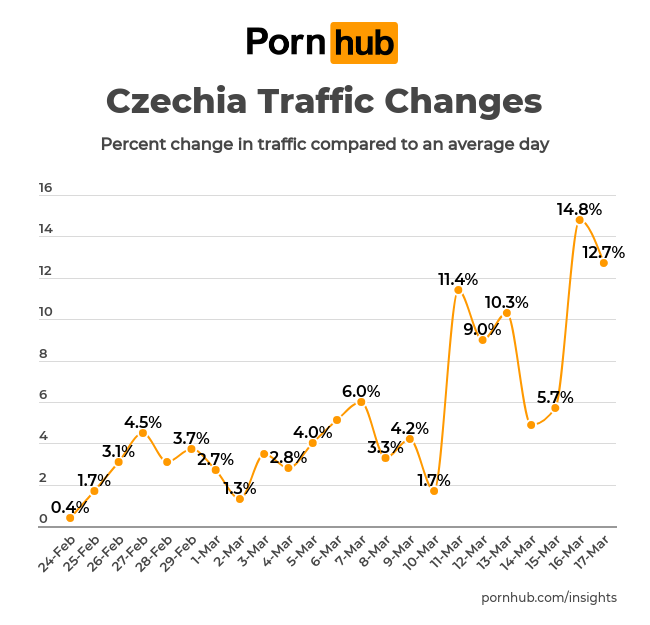 Hourly Traffic Changes
As the Coronavirus spread around the world, Pornhub's traffic clearly grew, but perhaps more interesting, we found that people were choosing to visit Pornhub at different times.
The following chart from Pornhub's 2019 Year in Review shows the times of the day that people typically visit Pornhub. Peak times are 10pm to Midnight, while early morning traffic is lower while most people are still asleep.
During certain events like the Government Shutdown and Polar Vortex, our statisticians previously found that people will change the time of day they visit Pornhub when they stay at home and don't have to go to work. Hourly changes during the Coronavirus outbreak follow the same trends.
Traffic on March 17th was up all over the world, but we can easily see what times had the most significant changes when compared to an average day. The largest increase of 31.5% happened in the early morning around 3am, while the gain at 7am was a nominal 1.4%. We can surmise that people stayed up later because they didn't need to go to work in the morning and also slept in a little longer. Traffic at 1pm was 26.4% higher than normal when people may otherwise be at work.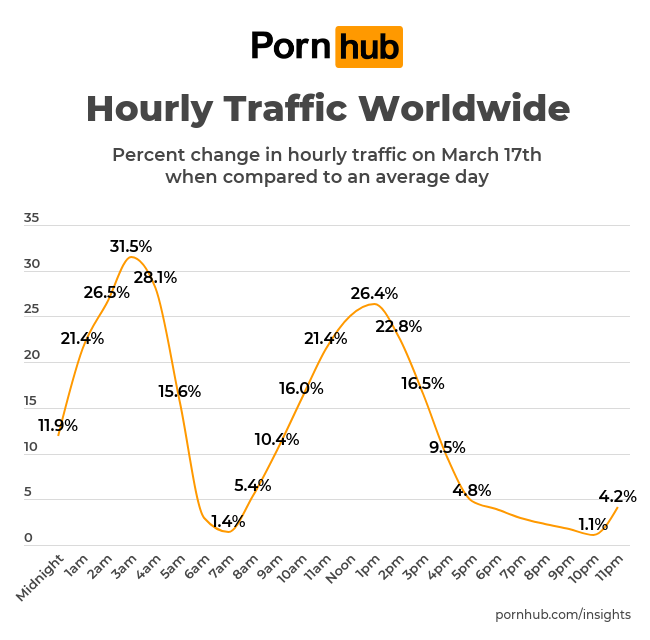 Note: All data is adjusted for local time-zones, and each hour is compared to the same hour on an average day.
Traffic across all of Europe followed a similar trend as more people were working and staying at home, and many borders began to close. Overall European traffic was up 8.2% on March 17th, with the biggest increases from 2am to 4am, followed by a -1.4% dip at 7am. Afternoon traffic was 26.4% higher at 1pm. Traffic was adjusted for the individual time zone of all European visitors.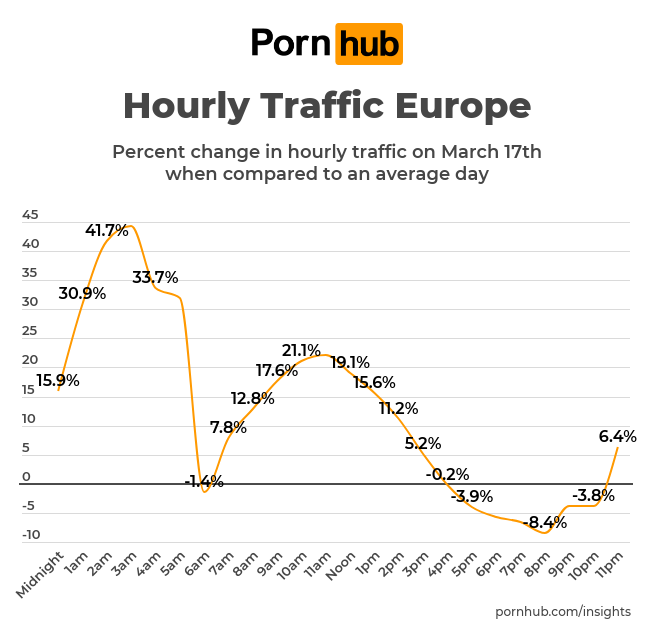 North America began isolating the public later than Europe, but we can see in the following chart that many visitors from the United States quickly adjusted to their new at-home life by March 17th.
Traffic was a massive 40.3% above average at 3am, before dropping -11.9% at 7am. That was followed by a 26.8% increase mid-afternoon. Evening traffic was 11% below average during the usual peak traffic hour of 11pm. Overall, this resulted in a 6.4% increase in U.S. traffic on March 17th.
As most of the country was required to stay inside, Pornhub's statisticians found major changes in Italy's hourly traffic. On March 11th, traffic at 2am was 47% higher than normal and remained 25% above average even at 5am. By 6am, traffic had dipped -16%. But 10am traffic had grown 10% above normal levels and remained above average until mid-afternoon. Evening traffic at 9pm was 12% higher than 9pm on an average day.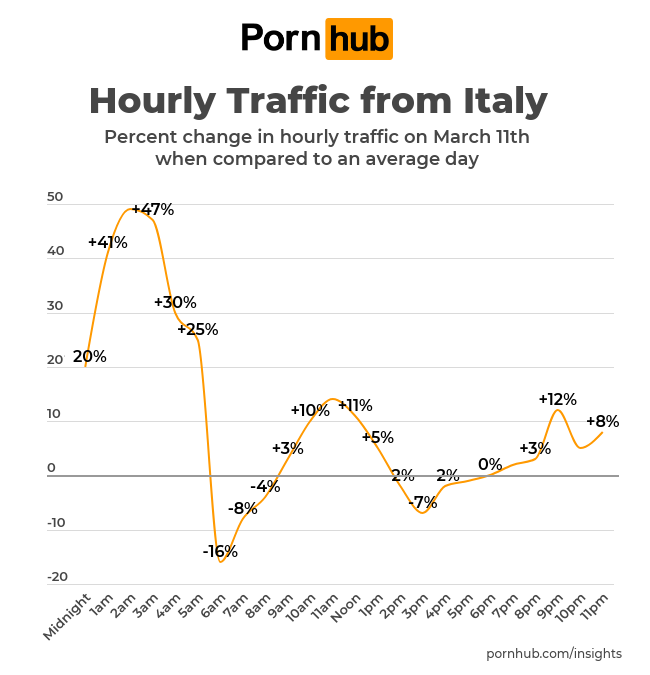 The United Kingdom saw an 8.4% traffic increase on March 12th when compared to an average day. Traffic was 8.8% above average at 3am, then dropped as far as 8.4% below average from 6am to 9am. Afternoon and evening traffic was much higher than average, peaking at plus 16.6% at 9pm.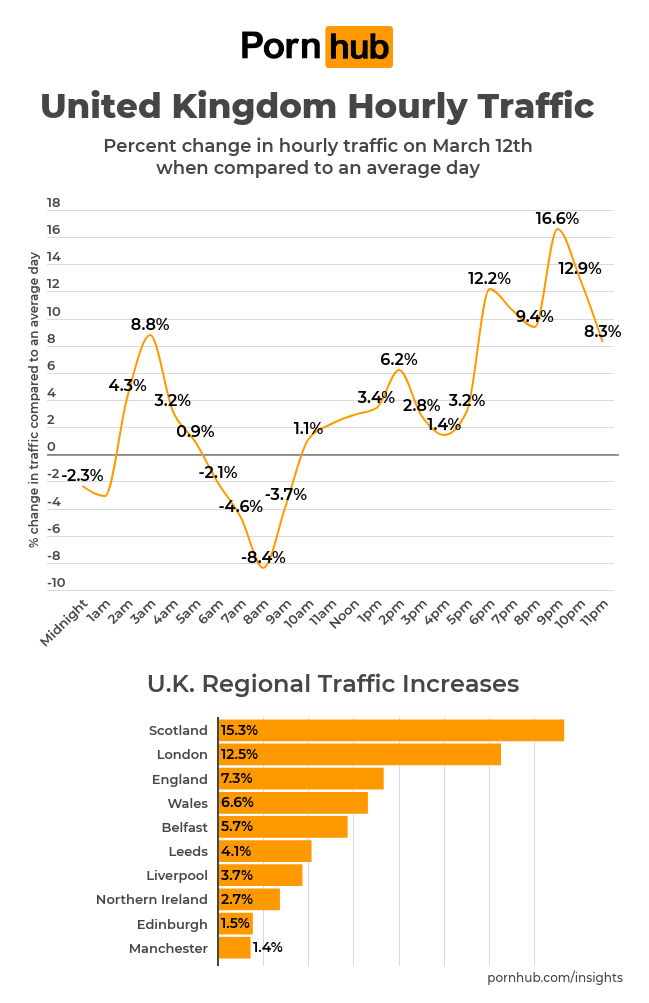 Scotland had the biggest increase in the U.K. by 15.3% on March 12th. While England's increase was 7.3%, traffic in London was up 12.5% above average.
Traffic from Spain was 6.1% higher than normal on March 12th. After midnight traffic increased up to 10.1% at 3am. Early morning traffic was much lower than average, followed by a slight increase in the afternoon and a 6.5% increase at 7pm.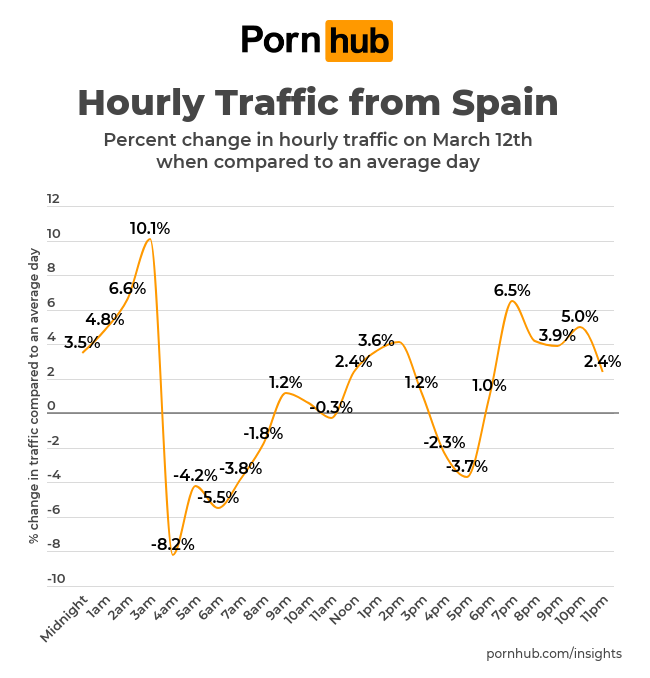 German traffic was up 6.7% on March 12th when compared to an average Thursday. The peak increase occurred at 1am by 21.6%. As we found with other countries, traffic dipped in the early morning, then rose above average in the afternoon when people would otherwise be at work.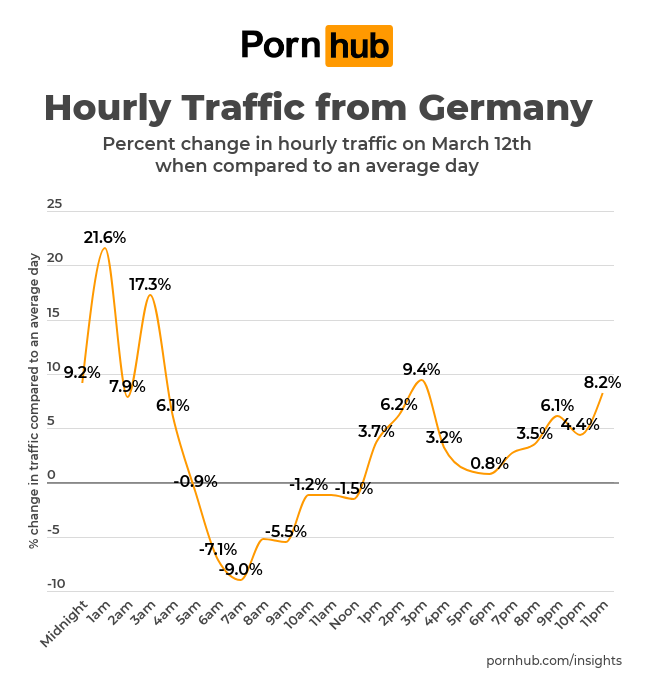 Hong Kong saw similar traffic increased on March 12th. When compared to an average day, traffic was up 6.2%, including a nearly 30% increase at 1am, and a 12.8% increase at noon-hour.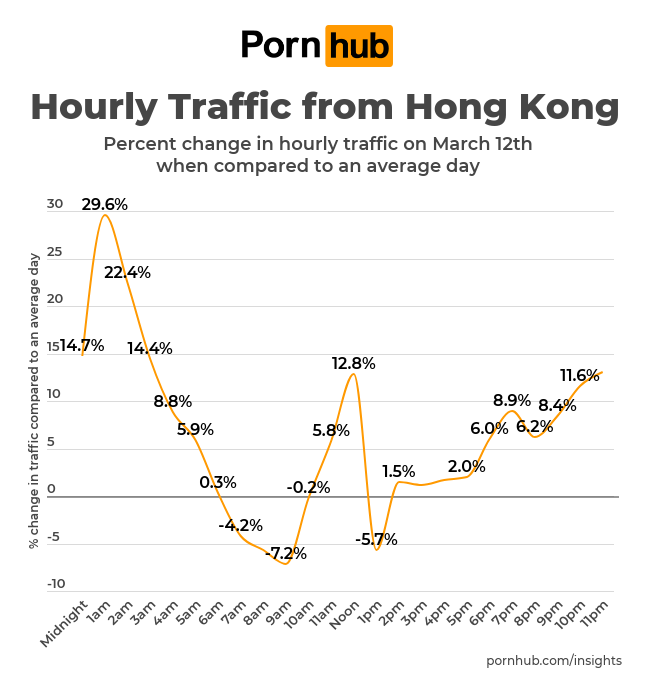 On average, South Korea's traffic was only up 2.7% above average, but that included a massive 43.2% increase at 3am, followed by a -23% decrease from 8am to 9am. While afternoon traffic stayed slighly below that of an average day, late afternoon and early evening was up to 7% higher than normal levels.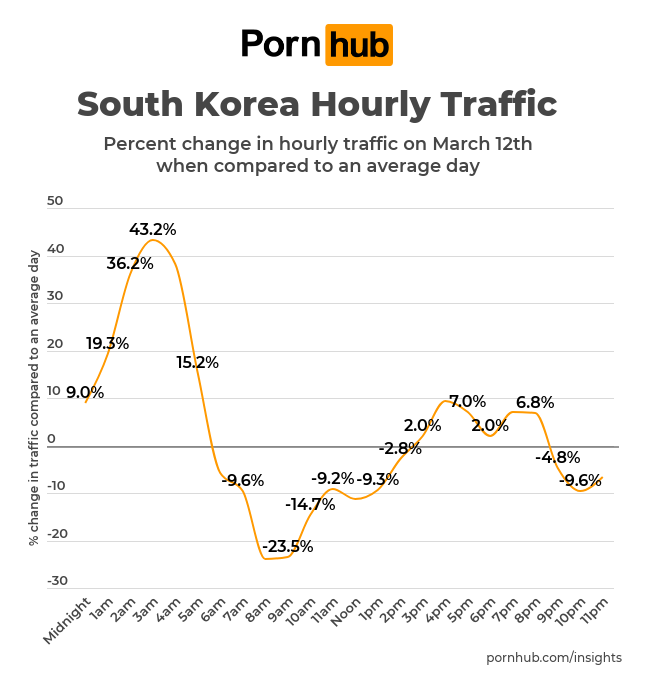 Traffic in Switzerland was up 5.2% above average on March 12th, but our statisticians found some of the largest hourly traffic changes from Swiss visitors. A 20% increase occurred at 3am, followed by a nearly identical dip at 7am. Traffic was then up another 18.9% at 10am, remained up through the afternoon and into the early evening.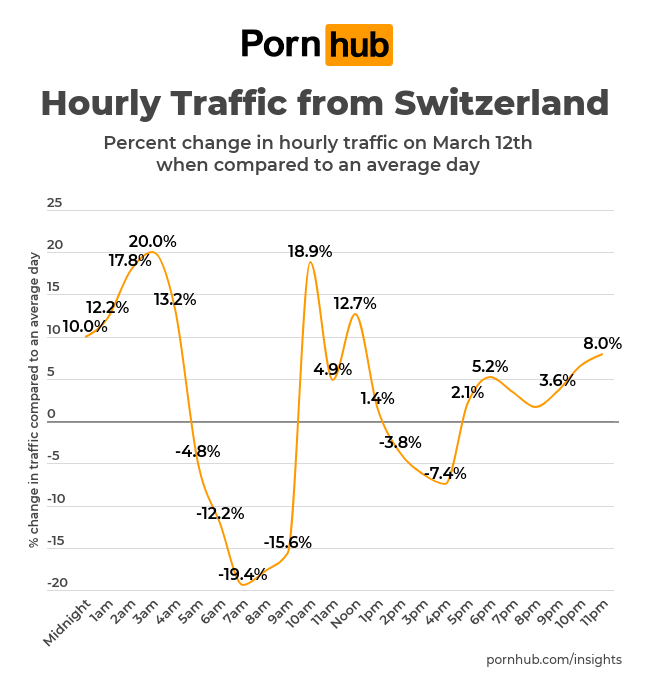 Traffic in Demark was 4.9% above average on March 12th, with a 19.7% increase at 3am, followed by a 13.3% drop at 8am. Through most of the afternoon and early evening, traffic was much higher than normal across Denmark.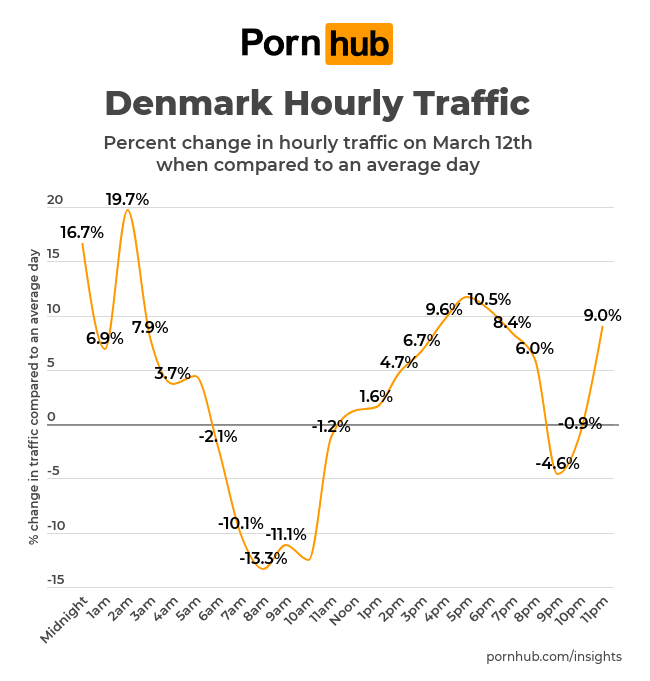 On Friday, March 13th traffic from the Netherlands was up an average of 11.2%. That included a 32.1% increase at 1am before a slight dip from 7am – 8am (one of the country's top times to visit Pornhub). Traffic was then up though the rest of the day, including a 14.2% increase at 11pm.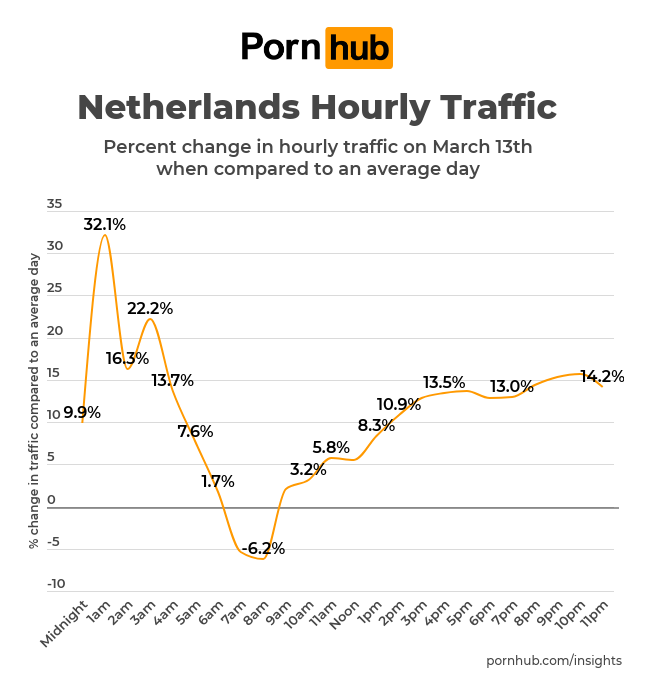 Croatia's average traffic change on March 13th was a rather mild 2.6% when compared to other European countries, but it experienced some of the most pronounced late-night and early morning traffic changes. Mid-day traffic was actually below average for a typical Friday, but our statisticians found a significant increase from 7pm to 11pm.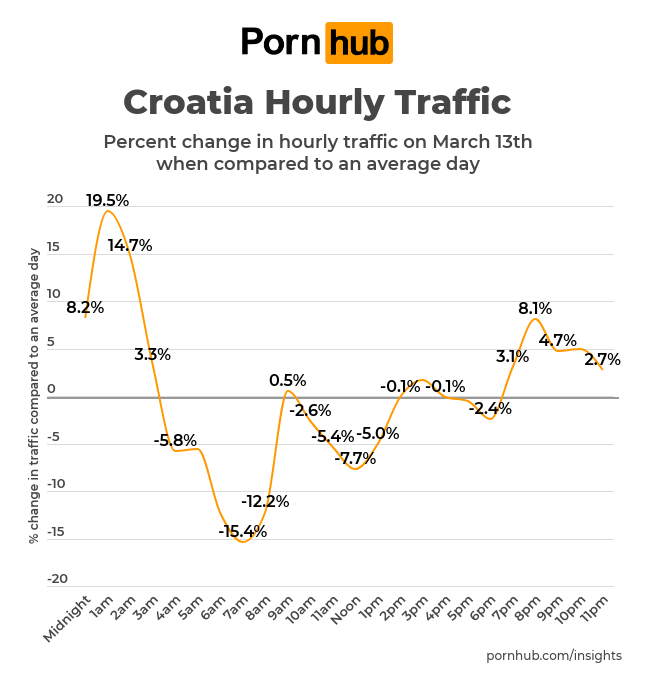 Overall traffic was up 9.6% in Belgium on March 13th, when compared to an average Friday. The peak increased occurred at Midnight by 22.7%. While early morning traffic dipped slightly, traffic was up through the rest of the afternoon and evening.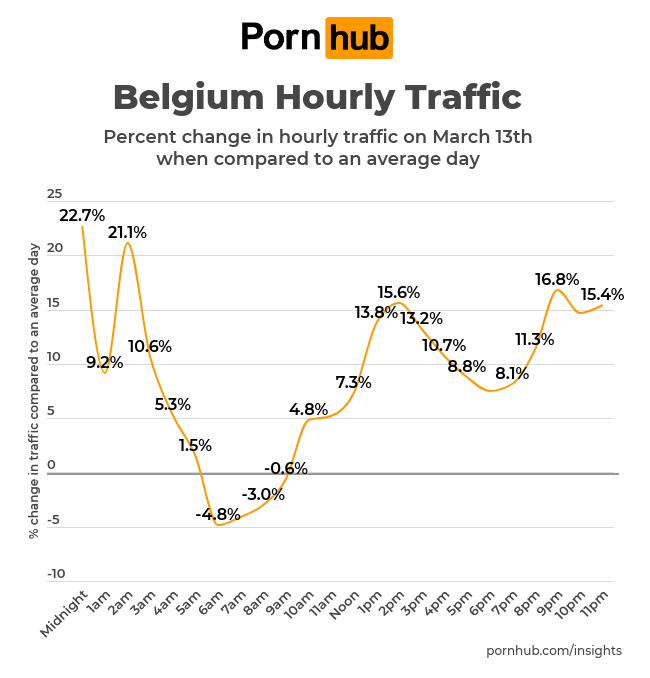 Coronavirus Searches
Searches containing "coronavirus" and "corona virus" first appeared on January 25th and continued to grow. In the past 30 days, our statisticians recorded more than 9.1 million searches containing either "corona" or "covid". Searches peaked on March 5th at 1.5 million.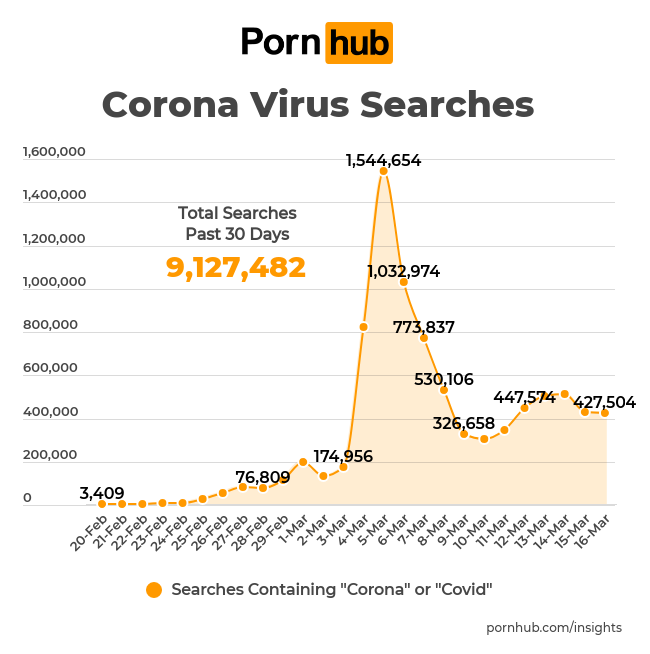 When compared to the rest of the world, visitors from Slovakia are 119% more likely to search for Coronavirus on Pornhub. Searches are more than 80% more popular in Bulgaria, Ireland, Malaysia and Serbia.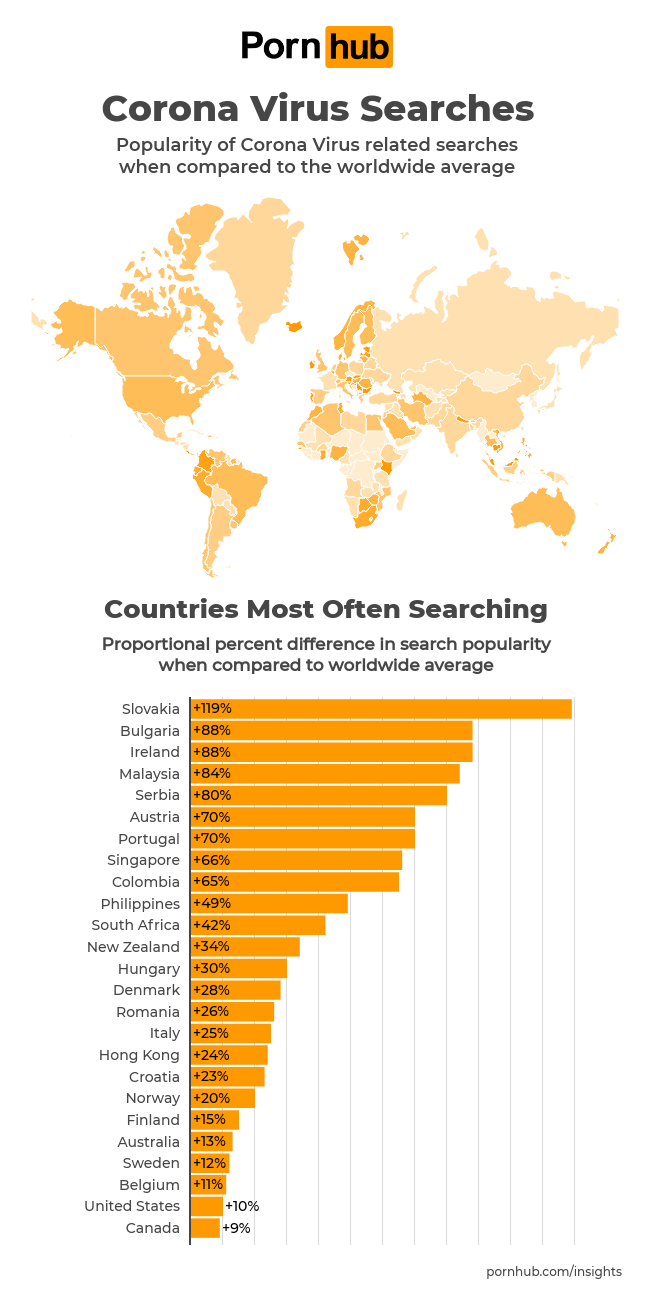 In the United States, it's visitors from Washington, D.C. who are the most likely to search for Coronavirus on Pornhub. In fact, D.C. visitors are proportionately 33% more likely to search. Visitors from New York are 24% more likely to search, 22% in Washington state and 18% more in West Virgina. Folks from North Dakota are the least likely to search by -43% when compared to the rest of the country.