For many people, porn is all about fantasy – either to escape from reality, or to turn real life situations into sexy encounters. Nowadays, Pornstars must be masters at not only banging, but acting out roles to properly set the scene.
Our friends at Digg wanted to know what occupations were the most searched for among Pornhub users when they're looking to escape the drudgery of everyday life. Our (mostly dirty) minds immediately thought of several cliched porn professions, like pizza delivery boys and plumbers.
To see what users are really searching for, we asked our trusty Pornhub Statisticians (a porn profession in it's own right) to dig through the data (for Digg) and let us know the results. Read on to see what the Top 12 sexy jobs are on Pornhub.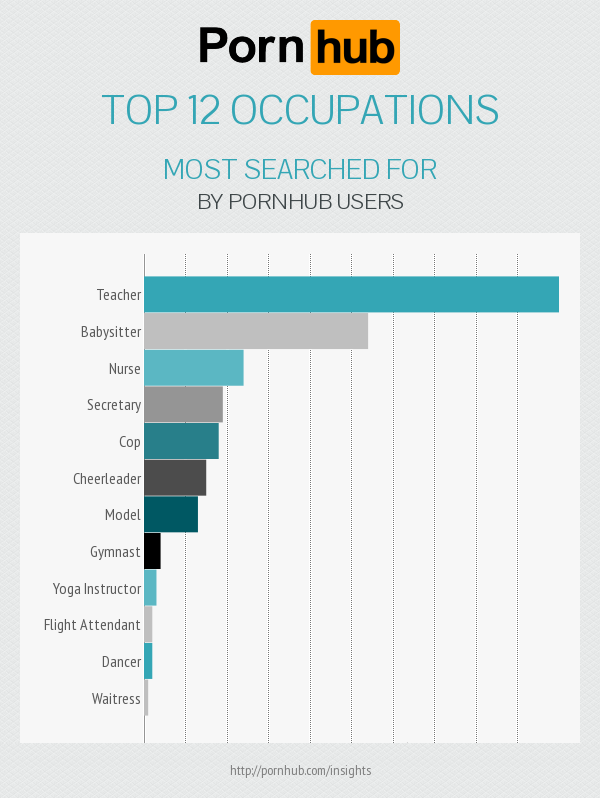 As it turns out, pizza boys and plumbers may be cliches, but they're not all that popular. The number one occupation that Pornhub users search for is "teacher", which nearly doubles the next most popular one, "babysitter". They are followed closely by "Nurse", "Secretary" and "Cop", and a few others you might expect like "cheerleader", "model" and "gymnast".
To arrive at these results, our statisticians grouped some search terms. For example, "teacher" also included words like "professor" and "tutor". "Babysitter" was grouped with "nanny", and "cop" also included "police".
Some occupational terms showed up in our last collaboration with Digg – The Top 5 Searches in US Cities. "Yoga" for example, was quite popular on the US West Coast in cities like Portland, OR.