If there's one thing the internet has taught us, it's that everyone has an opinion. As Pornhub has grown from a video tube site to a social community of porn lovers, the number of video comments has increased exponentially in the last few years. The popular tumblr page Pornhub Comments on Stock Photos is a hilarious example of the expressive commentary that Pornhub videos can elicit.
The Pornhub statisticians thought it would be interesting to examine the archive of comments, to see what trends might emerge. What words are used the most? What emoticons are the most common? What topics are discussed? Read on to find out!

Popular Words in Comments
Surprisingly, only one word from George Carlin's classic comedy bit "Seven Words You Can Never Say on Television" makes it into Pornhubs Top 25 comment words. That word is of course 'fuck', which managed to hit number 3 on both our list and Carlin's.
The 5 words that appear most often in Pornhub comments are: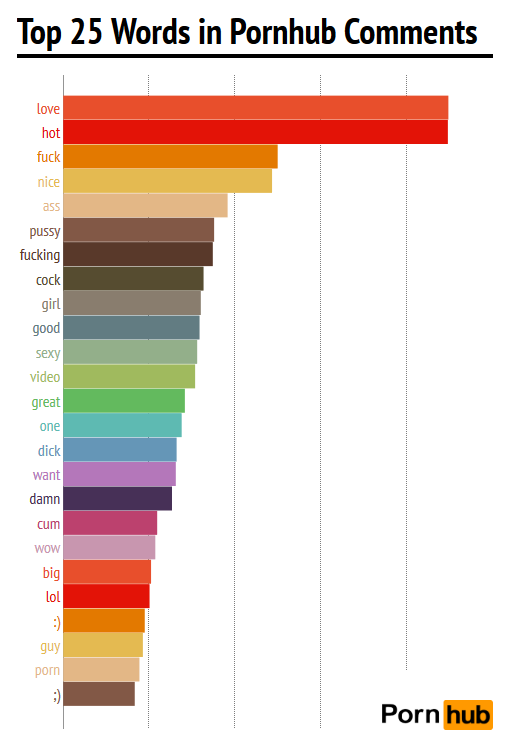 Many of the words that fall into the Top 25 are positive expressions such as: love, nice, good, great, wow and lol. In fact, we had to look way down to number 77 before we found the first negative word (which was 'bad'). The only verbs found in the Top 25 are love, fuck and want.

Comments on the guys and girls appearing in the videos are pretty much even. Male terms like 'cock', 'dick' and 'guy' appear a bit further down the list than their female equivalents of 'pussy'and 'girl', but we'll be nice and give 'ass' to the ladies side for the win.
Most Used Emoticons
Smiley is the most common emoticon used in Pornhub comments, followed by a wink. The Top 4 emoticons are all positive, whereas number 5 is an unhappy face.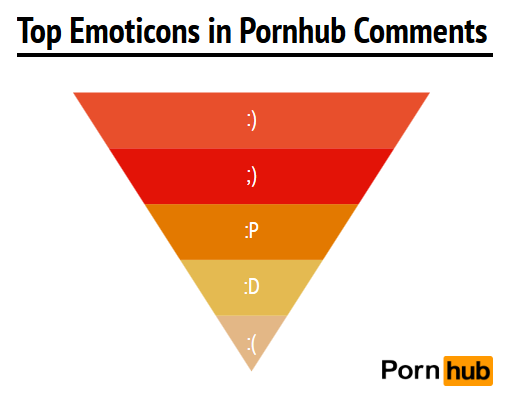 If we compare Pornhub's emoticons to the ones used on Twitter, the unhappy face rises to number 3 on the social media giant's list.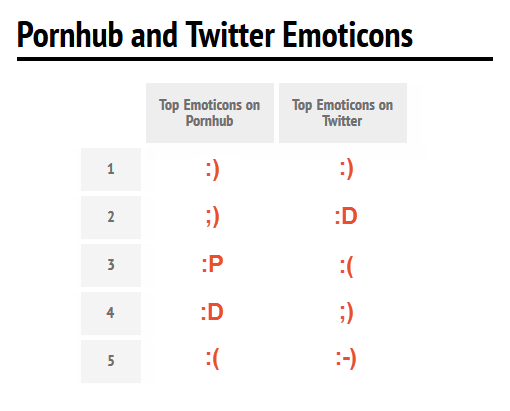 The emoticons may be more positive than Twitter's, but we wondered about the sentiment of Pornhub comments in general. To figure this out, we used an open source list of 4000 words with either a positive or negative connotation, and then compared it to the complete database of Pornhub comments. What we found is that 67% of the comments on Pornhub are positive and only 33% are negative.

It would seem that Pornhub users are far less likely to be trolling the site with negative comments than other social media sites, but we do have another theory. The average Pornhub user visits our site for just under 9 minutes. If the first video they watch isn't takin' care of business, they're unlikely to stop and comment before moving onto another.
When they do find a video that does the trick, their post-orgasm bliss means they're much more likely to be complimentary of the video that got them there. Of course, there are many of us who watch porn videos purely for the storyline. Wink, wink, smiley face.
Most Discussed Pornstars
Lisa Ann is the most searched for pornstar on Pornhub, so it's only fitting that she is also the most discussed pornstar in comments. Lisa has had more of her videos watched than any other star on Pornhub; an amazing 16 million views. She received nearly 3 times the number of comments as the next nearest, Sasha Grey (who has had 11 million of her videos viewed). The most talked about male pornstar is James Deen who ranks number 27 in popularity on Pornhub.
Most Talked about Sex Positions
Blowjob and anal are by far the most discussed sex positions or acts in Pornhub comments. Interestingly though, blowjob is quite far down the list of popular search terms at number 45. Anal is the second most talked about, but number 13 for popular searches.

Masturbation, kissing, doggy, hand job and missionary don't even make our top 100 search terms list. So it looks like some things (besides anal) are better talked about than watched!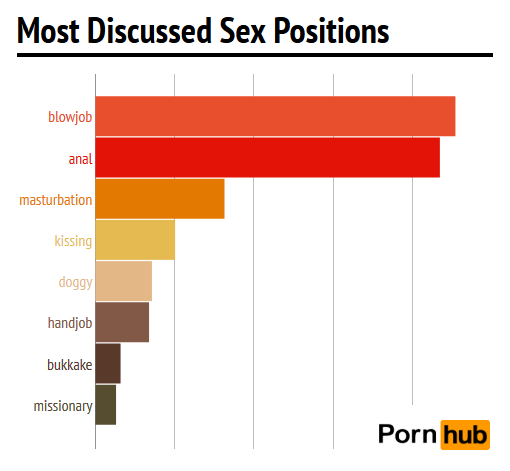 Some terms were grouped to get a better idea of the context versus the specific words. For example, 'masturbation' includes all of the following words: jerking, masturbating, jerkingoff, jerkoff, jilloff, jilling, stroking, jack, jackoff, wanking, wank, fap, fapping, fapped, masturbated, jerked.
Most Discussed Race and Ethnicity
The most common ethnicity or race discussed in our comments is black, followed by white. Because these are also colors, it was not possible to differentiate between (for example) "hot black girl" or "long black hair". The rest of the list are more definitive ethnicities including Asian, Italian, Indian and Arab.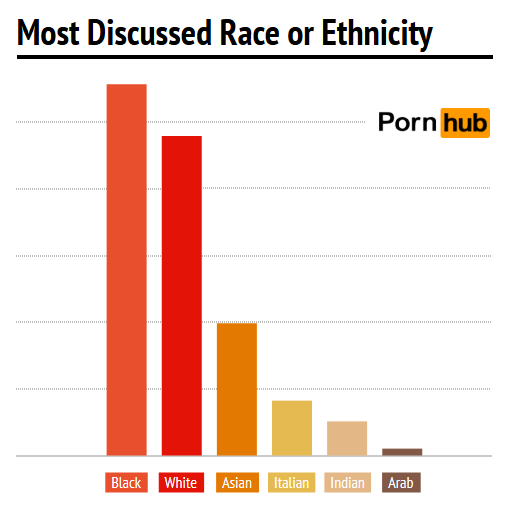 We hope you enjoyed these insights into Pornhub comments. Stay tuned for more to come. And the next time you're done fapping, consider tapping a comment of your own!