Today the Pornhub statisticians are inviting you to come and czech out one of the most important porn-producing countries in the world: the Czech Republic. Known for it's abundance of castles and gorgeous landscapes, this Eastern European country is also the homeland of some of the most beautiful babes in the business. Read on for this exclusive look at how the Czech get it on with Pornhub.

QUICK STATS
As we have seen in several other countries and as surveyed in our 2014 Year in Review, people tend to flock to Pornhub as the work week begins, while traffic tapers off a little as the weekend begins. The Czech Republic follows suit here with Mondays proving to be the most popular day for Pornhub, while Saturdays see traffic slowing slightly. Czechs are also rather efficient in getting the job done with their 7 minute and 56 second average time on site, compared to the worldwide 9 minute and 16 second average. In this sense, the Czech are more aligned with nearby Russia where they spend an average of 7:47 on the best site in the world, as well as Brazil where site visits tend to last around 7:51. It's the ladies of Bohemia and beyond who really have it on lock, however, with their impressive 25% share hold of viewership, a proportion which they have in common with India and Finland, as well as the 'Female Friendly' category claiming second place as most popular within the country.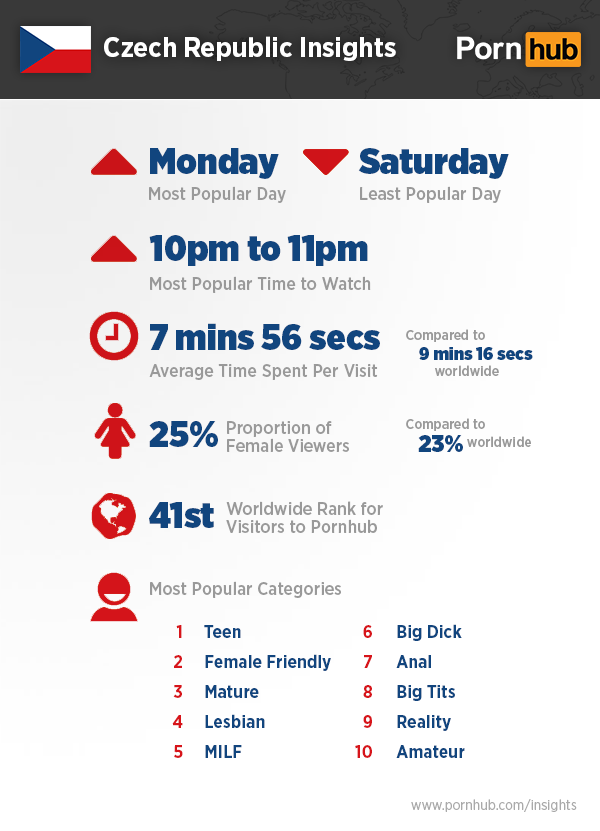 Did you know that the largest castle in the world is located in the Czech Repulic? The Prague Castle occupies an impressive 70 000 m2, indicating a Czech love for the large which also manifests itself in the 'Big Dick' and 'Big Tit's category both landing within the nation's top 10 most viewed categories.
MAKING IT LAST
On a regional level, most of the country sticks close to the average just under 8 minute mark in terms of how long they tend to spend on Pornhub. The highland region of Vysocina dips considerably below, with a 7:27 average time, perhaps because the inhabitants there are otherwise spending their time enjoying mounds of another type in one of the area's 2 mountain ranges or taking in the sights at one of their 3 UNESCO world heritage sites.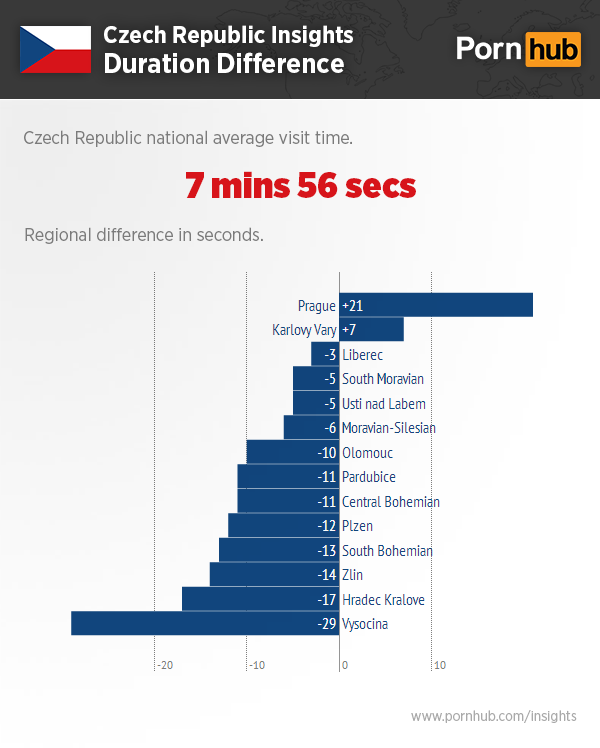 In the capital city of Prague on the other hand, they go for a luxurious 8 minutes and 17 seconds generally, when they visit the best site in the world, surpassing the national average by a considerable 21 seconds. Click around on the interactive heat map below to see how each region compares!
WHAT ARE YOU CZECHING OUT?
We've seen it before and we'll see it again; in any given country like Spain or nearby Hungary for instance, the top porn searches will generally relate to the country itself. Here in the Czech Republic, we see this trend continuing with 'Czech' taking the top spot by a long shot, followed by 'Czech amateur' in second. In fact, 'Czech' is also a popular search term outside of the Republic's borders, as we have observed in countries such as Chile, Germany and the Netherlands where they are also searching for copious amounts of Czech flavored content. Back to the country in question, 'Czech party,' 'Czech bitch' and 'Czech public' all also appear on the list of top search terms as do terms like 'casting' and 'public'. These last few may be indicative of the good people of the Czech Republic sampling some of their locally produced goods, as porn heavy hitters like Fake Agent (NSFW) and Public Agent (NSFW) are based out of the country.
The Czech definitely know how to have a good time, as indicated by their claim to the title of the country with the highest beer consumption per capita in the world, as well as 'Czech Party' ranking rather high in several of the country's regions. In this drop down interactive chart, we're able to take a look at each region's top search terms, including porn stars. Over in the Plzen, the birthplace of Pilsner beer, national pride is especially high as exemplified by the top 4 searches containing the word 'Czech'. All that beer has got to go somewhere though, and interestingly enough 'squirt' and 'piss' happen to rank 7th and 9th place in this region, and even higher in Pardubice where 'squirt' takes 2nd and 'piss' takes 7th place. Historically speaking, the Czech tend to perform better at the Olympics in land-based events but their love for water sports definitely shines through in their top searched porn terms.
And now for a look at the leading ladies within the Czech Republic. Once again, the Czech are proving to be big fans of their local treasures with native beauties Lola Taylor, Caprice, Tarra White, Nessa Devil and Gina Devine accounting for 25% of the spots of the nations' top 20 searched stars. They do keep it rather traditional in terms of rank, however with MILF queen Lisa Ann (NSFW) claiming the top spot, followed by fellow usual suspects Madison Ivy (NSFW) and Asa Akira (NSFW).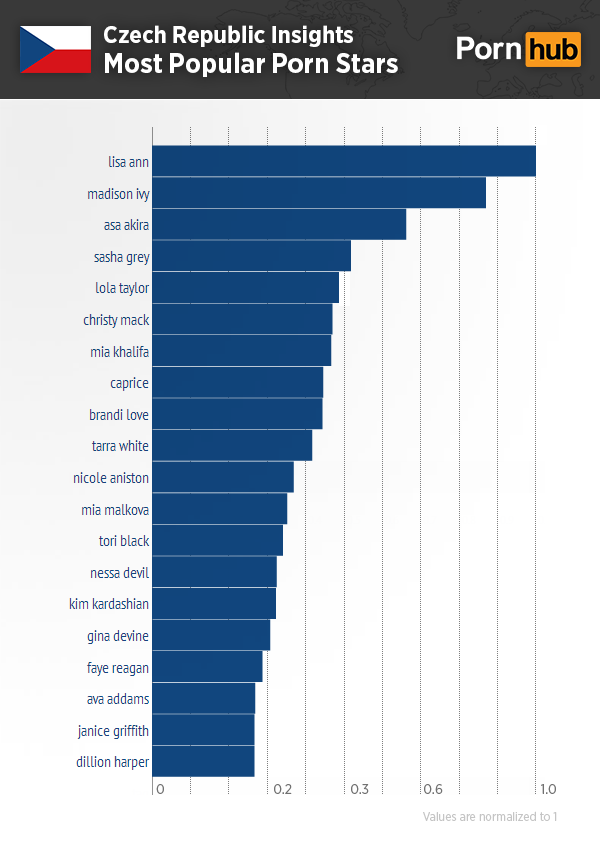 Kim Kardashian ranks relatively low here at number 15, when compared to her worldwide ranking at number 8 as seen in the 2014 Year In Review while recent Internet sensation Mia Khalifa (NSFW) ranks at a respectable 6th place.
TRAFFIC TRENDS
Holidays inevitably interrupt the regular flow of traffic on Pornhub, so let's take a look at how the Czech Rebulic fares during the festivities. On the international level, Christmas Day sees an average drop of 18% and New Year's Eve by 44%. Comparatively, Czech traffic on Christmas Day only dips by about 6% but drops by almost 60% on New Years Eve, a drop magnitude which is typical in most of the European countries we've surveyed. Christmas Eve traffic goes down by about half, while the holiday dedicated to the first Christian martyr, St Stephen's Day, sees Czech Pornhub viewers making sacrifices to the tune of a 30% drop in regular traffic levels.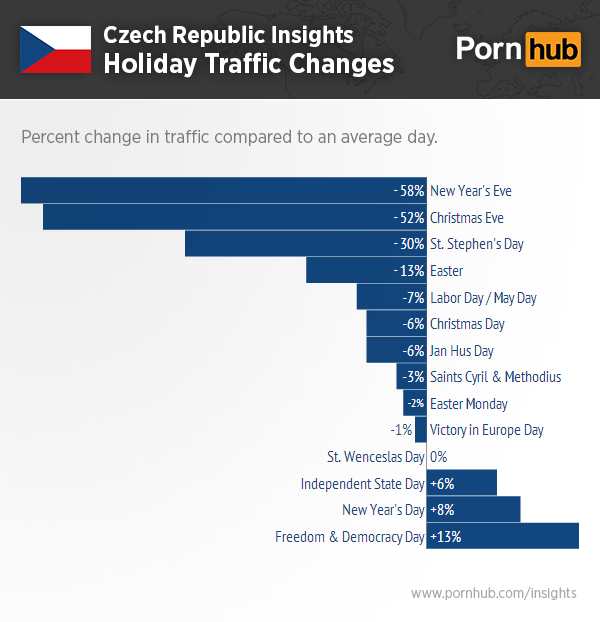 The Czech Republic boasts some of the highest Internet speeds in the world, even beating out the United States, which may explain their rather large share of traffic proportions being allocated to desktops. At a whopping 75%, Czechs beat out the rest of the world by almost 30% with their desktop devotion. Smartphones are taking over as the most popular platform in many countries worldwide but the Czech seemingly aren't quite interested in taking their porn to go, with only 19% of Pornhub visits occurring from these types of devices.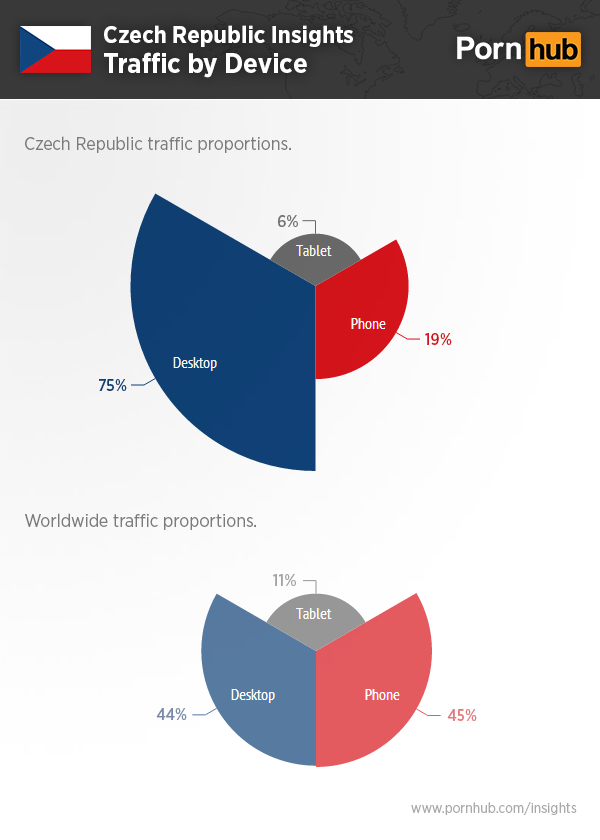 With that, we're checking out of the Czech Republic! Feel free to drop us a line in the comment section below, we want to hear from you. All questions and suggestions are welcome and be sure to check back soon for more awesome Pornhub Insights!