Being single on Valentine's Day can actually be pretty fun, not to mention cost effective. While the paired off among us tend to traditionally, be it happily or begrudgingly, plan dinner dates or overspend on chocolates and roses to show our significant other that we really care and/or didn't forget the Hallmark holiday to begin with, mid-February can give rise to some other interesting pastimes for those of us flying solo. The Pornhub statisticians took a look at how Pornhub users celebrated Valentine's Day last year because self-love is the best kind of love! Let's take a closer look.

I CHOO-CHOO-CHOOSE YOU
We'll begin with some data that shows how Valentine's Day affects general search habits. For one, 'Valentines Day' as a search term impressively manages to break into the top 10 most searched terms overall, coming in at a solid 5th place. We've observed this kind of holiday cheer before as a part of our XXXmas with Pornhub post, when 'Christmas' proved to be the top searched term on that particular day. Though Valentine's Day doesn't quite make it to number one, the ranking is nonetheless impressive for this considerably smaller, non-statutory holiday.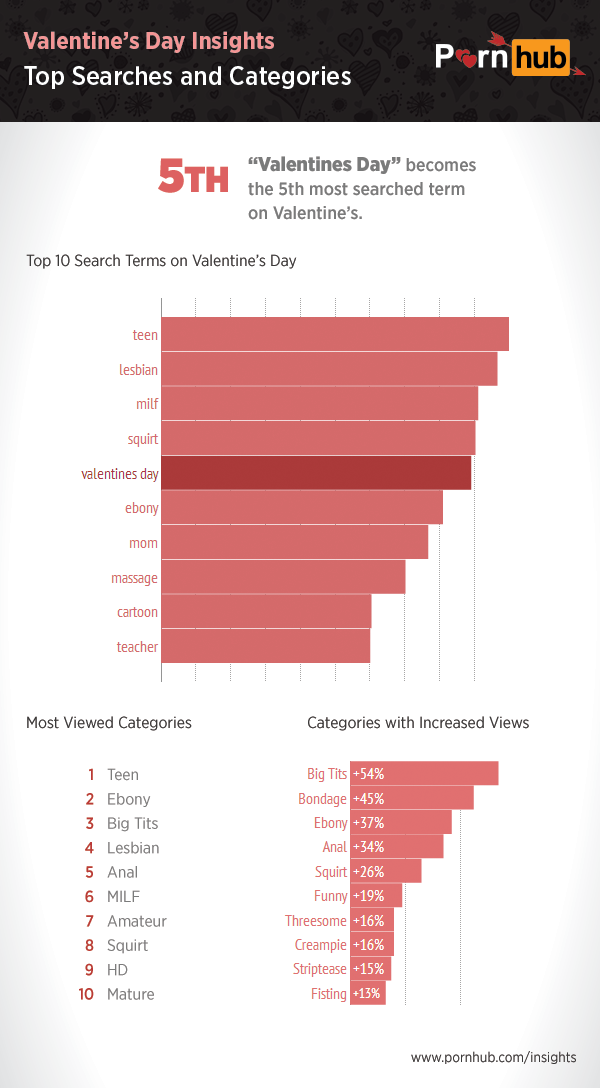 The most viewed categories overall are relatively standard, but there's definitely some interesting stuff going on when we look over to the categories demonstrating significant view increases on V-day. Aside from 45% and 34% spikes in the Bondage and Anal categories, Pornhub viewers treat themselves to some pretty spicy content on Valentines Day, as made evident by categories like Creampie, Striptease and Fisting all seeing around 15% more views. The 19% increase in views in the Funny category indicate that some were perhaps in need of some comic relief alongside the other kind of relief traditionally offered by Pornhub.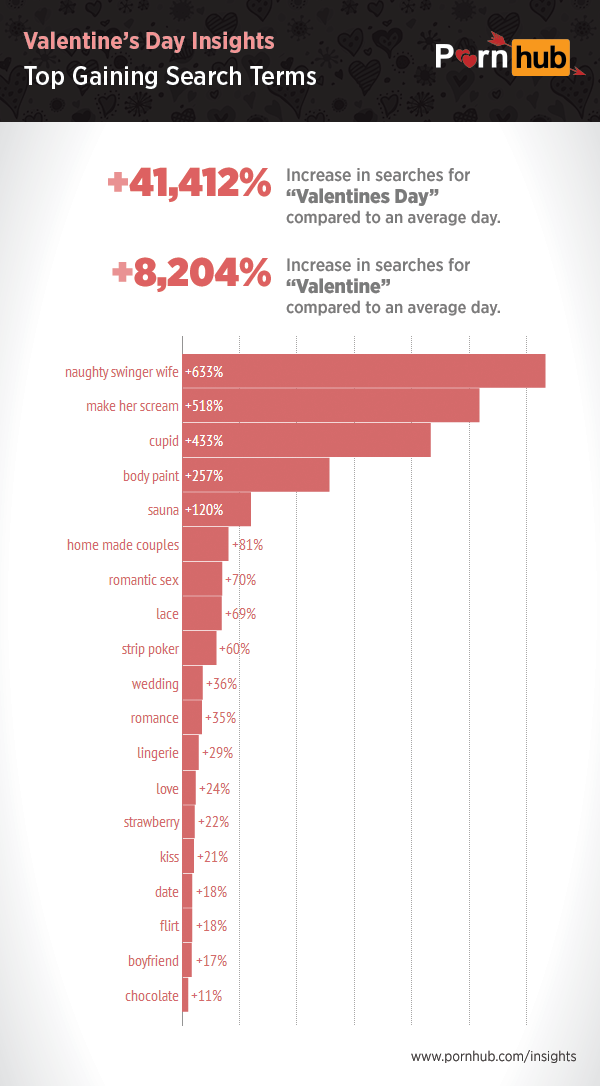 The top gaining search terms on Valentine's Day are also pretty on the festive side. 'Valentines Day' and 'Valentine' both saw astronomical increases in popularity on Pornhub on February 14th, specifically to the tune of 41412% and 8204% respectively, as well as 'cupid' at 433%. We also noticed a piqued interest in some other types of mood-setting content, as searches for  'naughty swinger wife' and 'make her scream' both soared. Some activity-themed searches like 'body paint, ' sauna,' 'romantic sex,' and 'strip poker' all saw some considerable spikes as well but more traditional terms like 'love,' 'kiss' and 'date' only saw increases of about 20%.
STATE OF THE UNION
Our trusty statisticians also took note of traffic changes that occurred on V-Day in each state. Though on a national level traffic only dipped by about 2% overall, sparks really flew in terms of traffic increases in some states while in others things sort of fizzled out. The chart below breaks it all down.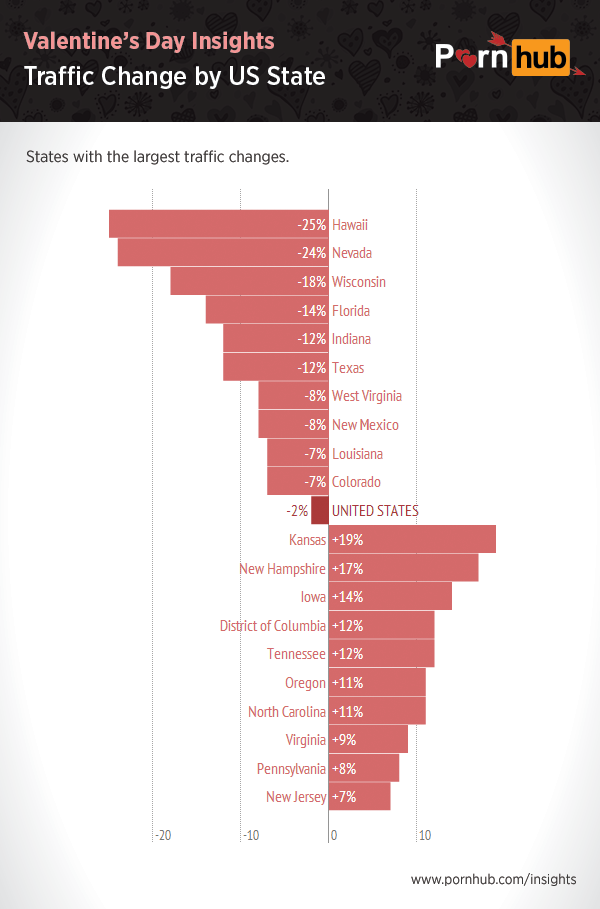 A recent study of the language used on social media relating to Valentine's Day published on Mashable proved Hawaii and Texas to be some of the most romantic states in the country, given the enthusiastic language people in those states used to talk about the most romantic day of the year. Interestingly, these 2 states also showed some of the most significant decreases in Pornhub traffic on Valentine's Day, perhaps saving up their energy for some post-date fun. On the other hand, Kansas and New Hampshire were found to be some of the least romantic states in the US according to this same study. These 2 coincidentally top our list as the states with the biggest increases in traffic on Valentines, so we're glad to see that even if people there aren't feeling particularly festive, they're still giving 'er with some self love. Check out the heat map below to see how traffic was affected in your home state!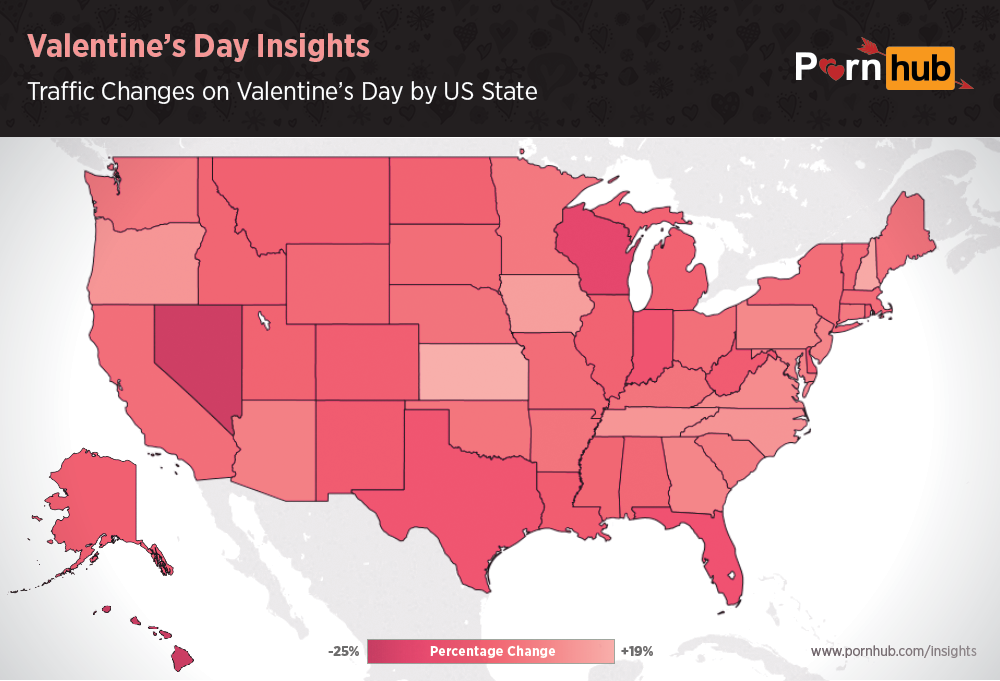 V-DAY IN THE UK
Our statisticians also observed that Pornhub users over in the United Kingdom were up to some festive searching of their own variety on Valentine's Day, though some interesting similarities to the United States were also noted. For instance, just like across the pond, 'Valentines Day' made it to #5 on the top searched terms overall on that day.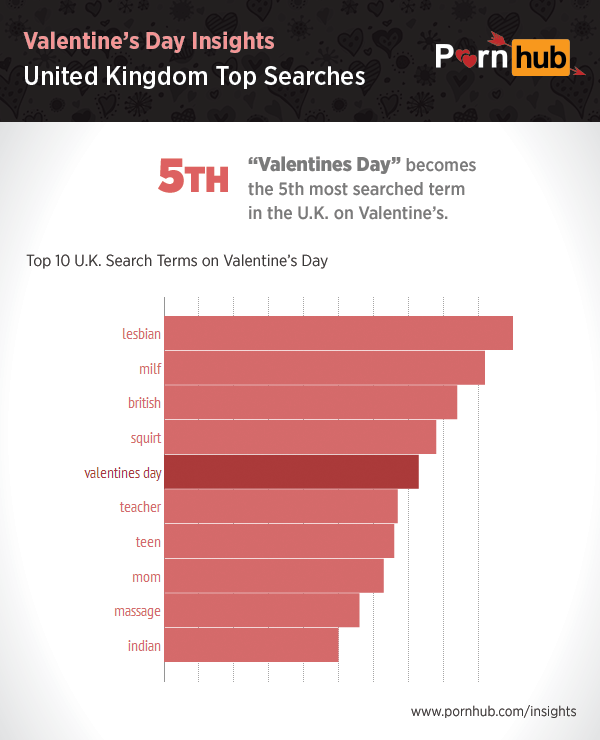 There are some additional similarities to the US searches profiled earlier, such as the huge increase in 'Valentine's Day' and 'Valentine', each searched 21 562% and 19 479% more on the lovers' holiday. As we noticed in our UK Update post, folks from this part of the world definitely bring some local flare to their searches, with slang terms like 'dogging' and the like having made it into the mix. As we can see in the chart below, this trend was also observed on V-Day. Exciting types of bedroom activities like 'bodypaint,' sounding,' and 'sex swing' all increased between 300-550%, as did certain positions like 'titty wank' and '69 couple,' each increasing over 200% in popularity. 'Hangover' interestingly spikes 1450%, perhaps because people were drunk in love, and anticipating an evening of 'surfboard,' which also went up an astonishing 572%. A nod to the pastoral allure of the UK is noted in 'the farmers wife' increasing 464% in popularity, not to mention other native indicators like 'single mum,'british wives,' and 'amateur uk dogging' all also making notable gains.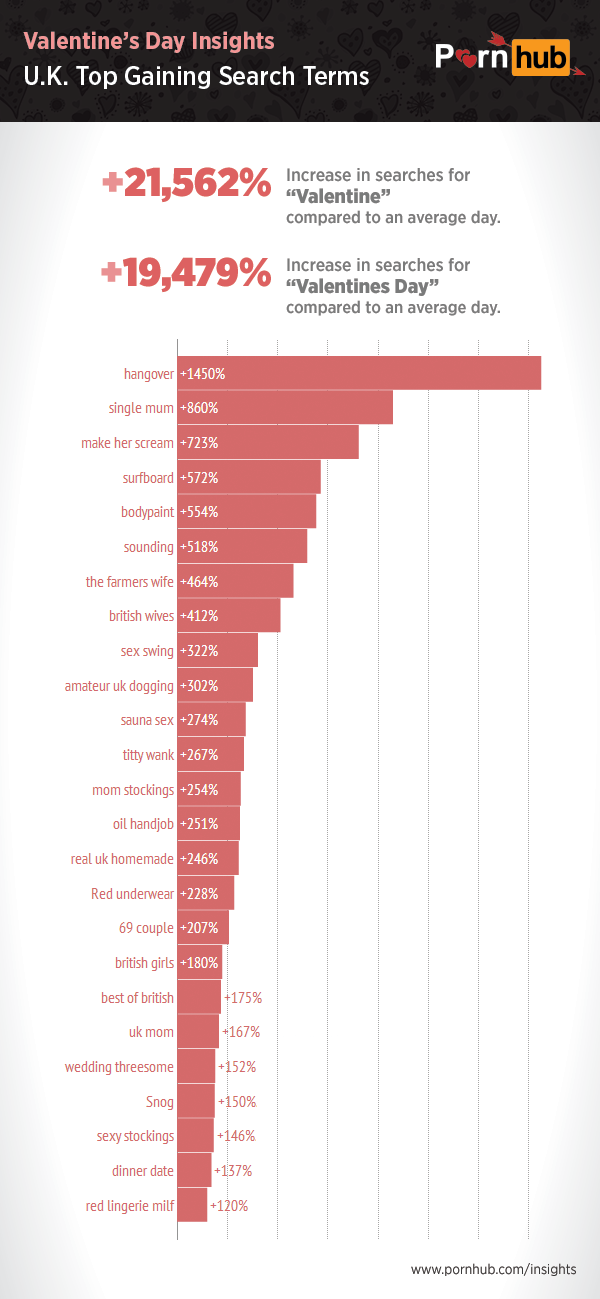 The UK's overall traffic dipped slightly more than over in the US with a considerable 3% drop, though this figure does vary from city to city. Southernmost Plymouth and Oxford show the biggest drops at 11% and 10%  respectively, with the only real increase in traffic having been noted in London. Incidentally, the British capital was heralded as one of the most romantic cities in the Isles in a recent study, Londoners were among the top spending in terms of Valentine's Day related gifts.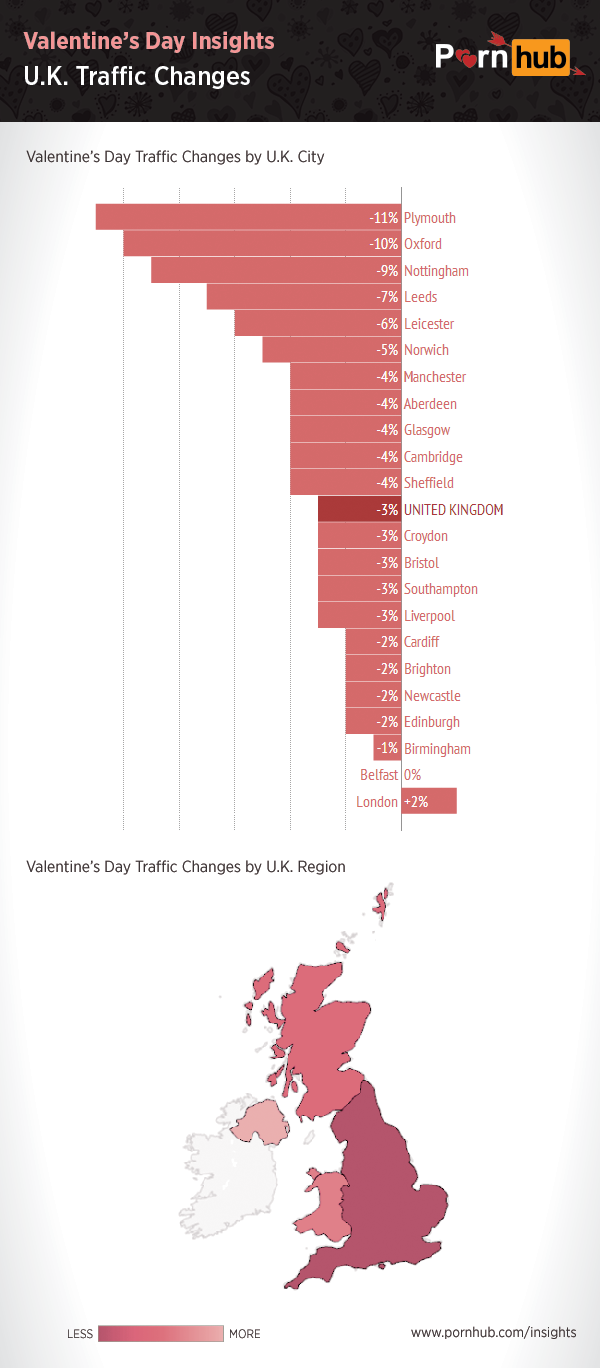 And that's a wrap for our Valentine's Day coverage! Whether you're celebrating alone, with a special someone or with a whole group of special someones, the Pornhub team wishes you all a very happy V-Day and hope you'll be back soon to check out more awesome Insights. Don't forget to drop us a line in the comment section below!