The Pornhub statisticians just can't seem to quit Scandinavia. After stints in both Norway and Finland, we couldn't help but be curious about the Pornhub habits of the inhabitants of the Kingdom of Denmark. As a continuation of our quest to unearth porn stats in all corners of the world, we're digging deep into that Danish Pornhub data to see how the country that brought us LEGO gets down with the best site in the world – let's get started!
REALLY GREAT, DANES!
The country that ranks 31st worldwide in terms of how many visitors it brings to Pornhub happens to have a rather high proportion of female viewers, 28% to be exact according to our anonymized demographics data provided by our analytics software. At an impressive 5 percentage points over the the 23% worldwide average, Denmark joins the ranks here with countries like Brazil and Argentina, whose female viewer proportions stand strong at 28% and 29% respectively. As we mentioned in our 2014 year in review, certain countries that ranked highly on the Global Gender Gap Report, such as Finland and the Phillippines also appeared to have a relatively high proportion of female viewers. Ranking at 5th place of 142 countries, Denmark appears to be further proving our theory.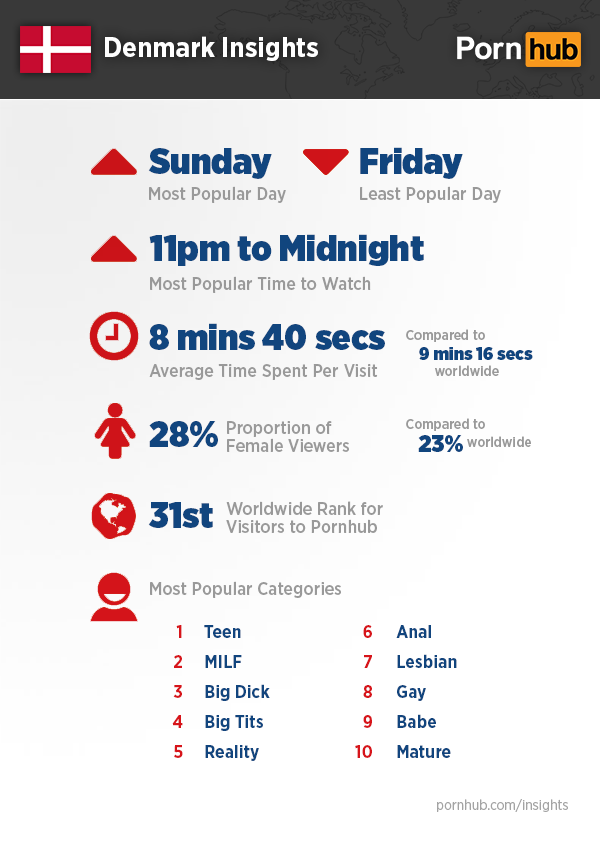 Interestingly, Denmark also breaks the mold when it comes to when they are most and least active on the site. Again as seen in the 2014 Year in Review, Mondays tend to be when people flock to Pornhub, likely to ease into the start of the work week. Sundays are actually the busiest day for Pornhub in Denmark, possibly because they don't feel the sting of the work week starting as badly, in that this country actually boasts one of the shortest work weeks in the world at an average of only 33 hours.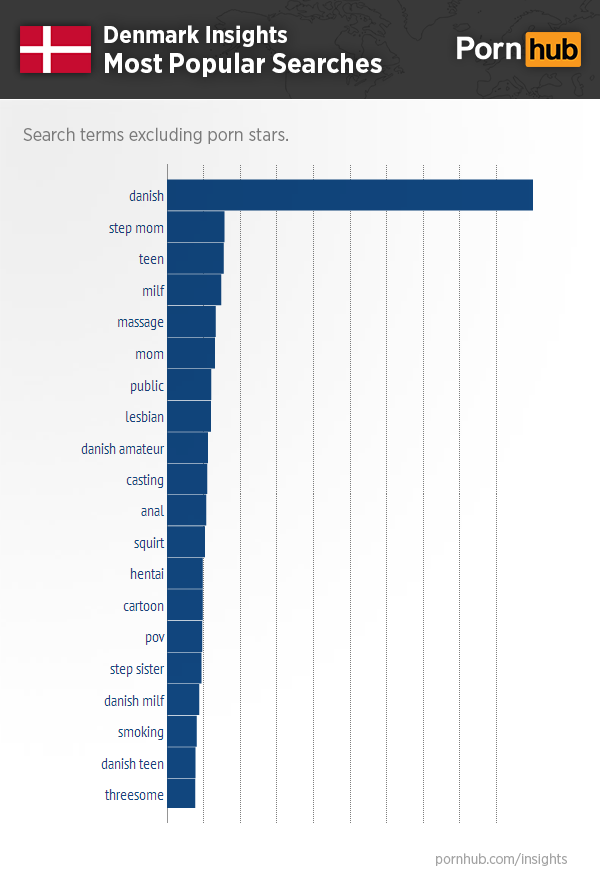 If that's not enough to inspire patriotism, these search terms just might. As we have seen in several countries before like Croatia and the Czech Republic, a country's most popular search terms tend to be oriented around it's nationality. Denmark again proves this to be true with 'danish' leading as the top searched term in the country by far, followed by 'danish amateur,' 'danish milf' and 'danish teen' all finding themselves within the country's top searched terms.
The Danes also show some pride in regards to their own when it comes to the adult industry. Though everyone's favorite porn turned reality star Kim Kardashian tops the list, Danish dames Denice Klarskov and Katja Kean both rank within their homeland's top 20 most searched for stars. Support your local porn stars!
DANE AND DASH
As indicated in the quick stats graphic we started out with, Danes get the job done in around 8 minutes and 40 seconds when they log on to Pornhub. This clocks in at over 30 seconds quicker than the international 9:16 average, but there is quite a range when we look at average session durations throughout the Kingdom. For instance, over in the coastal city of Aabenraa, sessions last a whole 24 seconds less than the national average. According to our research, the city has a significant German population, so this lower than average time may have to do with these expats keeping true to the German 8 minute average session time.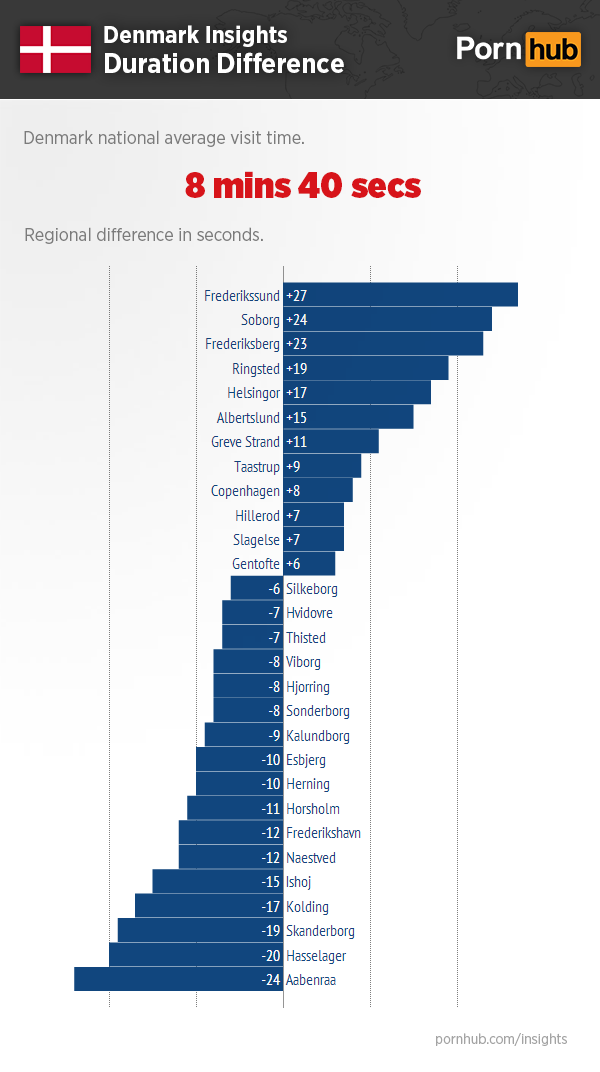 Over in the capital city of Copenhagen, they go for an additional 8 seconds but it's the market town of Frederikssund that really takes the cake with their nearly 30 second gain over the national average. Home to the annual Viking Games, this quaint part of the country's average session duration nearly matches the global 9:16 average.
DANISH DOWNTIME
The holidays tend to cause some pretty significant traffic drops on Pornhub. 2014's Year in Review proved that on average, traffic slows by around 44% on New Year's Eve and around 40% on Christmas Eve. Much like the Netherlands and neighboring Sweden, Denmark's drops are significantly more drastic on these holidays, at 81% and 78% dips respectively. Resurrections of a different type are being celebrated on Easter Monday however, where traffic actually increases by a notable 15%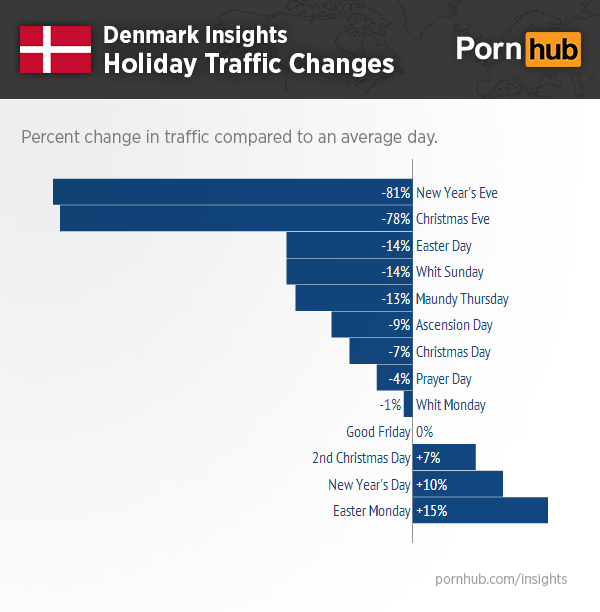 We'll finish off here with a look at Pornhub traffic shares in Denmark by device. Though the Danes are a significant 10% below the worldwide average for smartphone use, they beat out the international average for tablet traffic shares by a significant 6%. Only the United Kingdom, Canada and Australia had really comparable market shares in this regard, but portable porn is something we should all be embracing!
And with that we'll say farvel to Denmark. Are there any countries that you'd like to see profiled on Pornhub Insights? Do you have an awesome idea for a special topic post? Let us know in the comments section below.