What you're doing on Valentine's day depends on whether you're single, dating or married. Whatever our viewers' status might be, the most romantic day of the year has an effect on both traffic and searches on everyone's favorite website for self-love. Last year our Valentines Day Insights focused on searches in the US and the UK, but this year we're expanding into the age and gender demographics of porn viewing on Valentine's.
On February 14, 2015 our statisticians found that searches containing the word "valentine" increased a whopping 3857% above normal search levels. We found hundreds of search variations including "valentines day surprise", "valentines day present" and "valentines day orgy". That mirrors what we've found on other holidays like Halloween and Easter.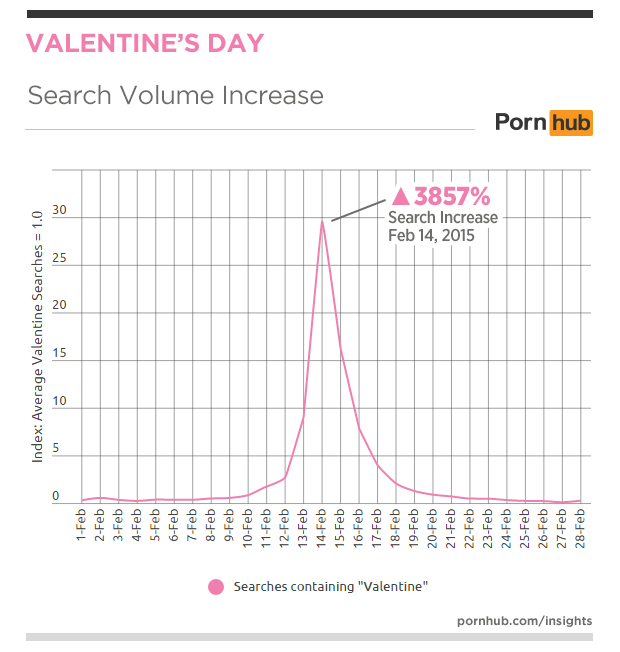 While that number does seem astronomical, keep in mind that searches for "valentine" are relatively low throughout the year. So to get a better idea of what people look for MORE on Valentine's, we scanned our data to find some typical terms that had increases over the normal daily volumes.
All of the following terms are popular year-round, so the percentage increases can mean a significant number of additional searches on February 14th. For an extra fun twist, we broke these percentages down by gender to see if it was men, women or both sexes ramping up their searches.

Interestingly, "dare" and "truth or dare" both increased over 200%, but much more-so by women. Is truth-or-dare a game that couples play on Valentines? Terms with a softer touch like "passionate", "sensual" and "romance" all increase on valentines, mostly by women.
Men tend to search more for terms like "making love" and "seduce". Perhaps this means they're looking for tips to please their ladies on this special night. If that's true, it could mean that women searching 132% more for "handjob" are also looking to please their men.  They might not be so caring if they knew that men were 167% more interested in having a "quickie", and 157% more interested in the "babysitter" they left at home.
Traffic Changes
In western countries where Valentine's Day is most celebrated, we find that traffic to Pornhub drops when compared to a normal day. The following charts break down the hourly traffic changes by gender and age group. In the countries sampled, we adjusted for all respective time zones.
Here we can see that traffic from women drops more on Valentines day compared to men.  For both genders, there are more pronounced drops around 4pm and 10pm, but an increase around midnight.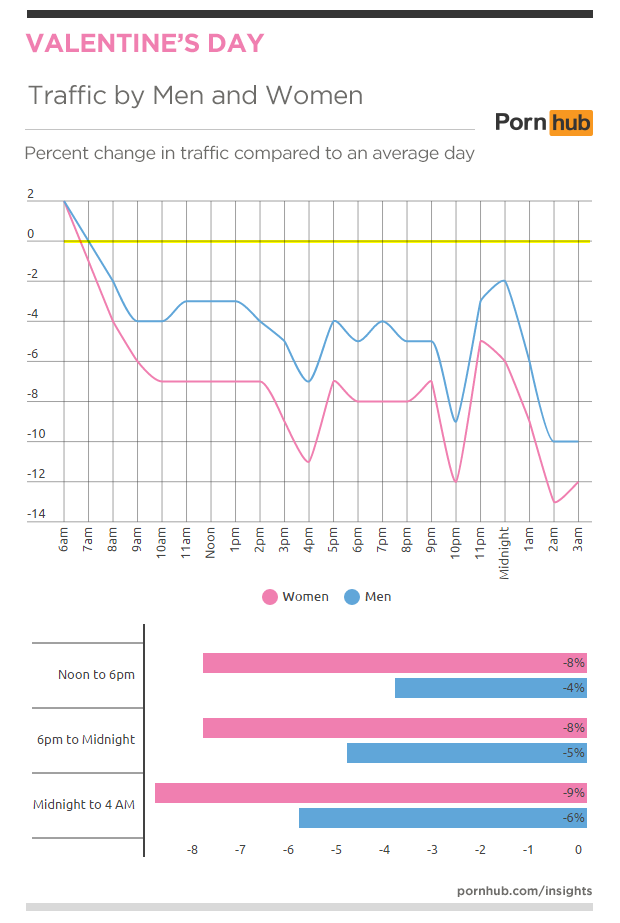 A persons age can also affect whether they're more or less likely to watch Pornhub on Valentine's day. The biggest overall traffic drop comes from people aged 25-34, followed closely by 35-44 year olds. People over 65 years old are the only age group that have an increase in Pornhub traffic on Valentine's Day.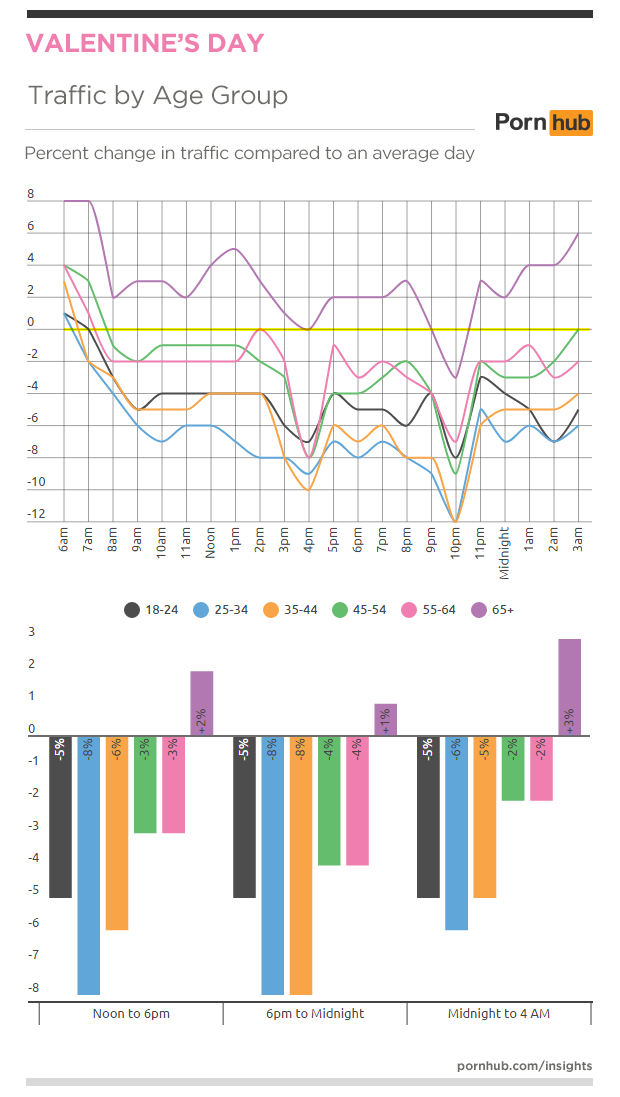 Do you have a special someone who you're willing to give up porn for one day each year?  Or is self-love too important?  Let us know in the comments.