Just around this time last year, our statisticians got heavily into the holiday spirit and presented us with some XXXmas-rated data, showing how searches differed both in the United States and throughout the world during the holidays. This time around, we're honing in on our United Kingdom based viewers with some updated worldwide data to boot. Some pretty interesting search terms tend to trend during Christmas over in the isles and abroad, so let's get into it!
THE NAUGHTY LIST
We'll begin with a look at which Christmas-themed searches are the most popular around the world in general. Appropriately topping off the list here is "Christmas," followed by the man of the hour himself, "santa" in at second place and his main gal "mrs. clause" in at fourth. Other traditional favorites like "Christmas anal" and "santa blowjob" also make appearances a little further down.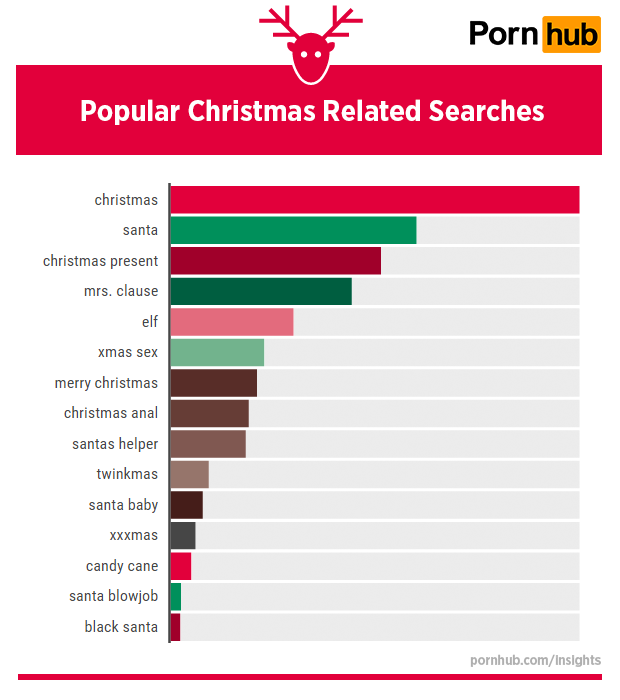 We were also curious to see which of these holiday search terms increased in popularity since Christmas time last year. "Naughty santa's helper" sleighed it with a whopping 2012% increase in searches, as did 'xmas present' with a 1842% rise in searches. What those gifts consist of in this case, we'll leave up to your imagination.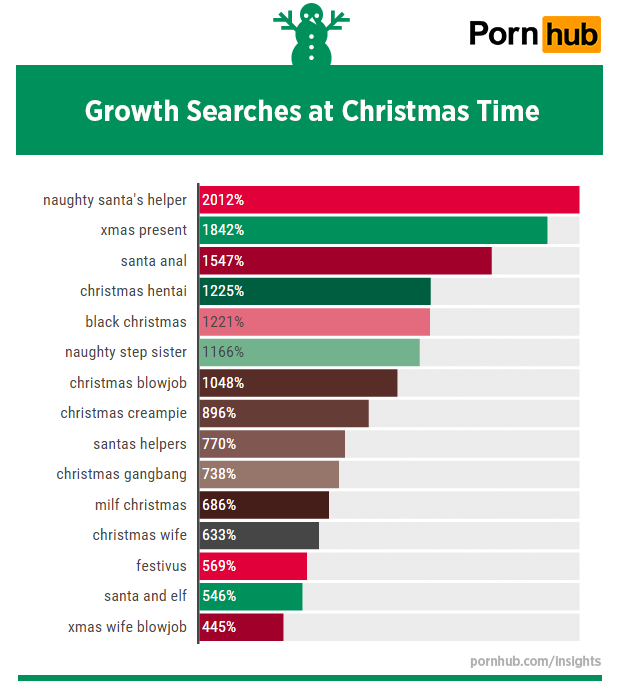 For many, Christmas is a time that is spent with family and loved ones. Because of this, many of our faithful viewers have their hands full with gifts to give and eggnog to pour as opposed to, well you get the picture. This next chart shows how traffic changes on Pornhub on Christmas Day. Some of the biggest drops we observed were in Australia and the UK, each with 30% dips, then Italy and Canada in the 25-22% drop range. Japan, India, and Russia all actually saw traffic increases on December 25th, which isn't surprising as Christmas is not widely celebrated in any of these.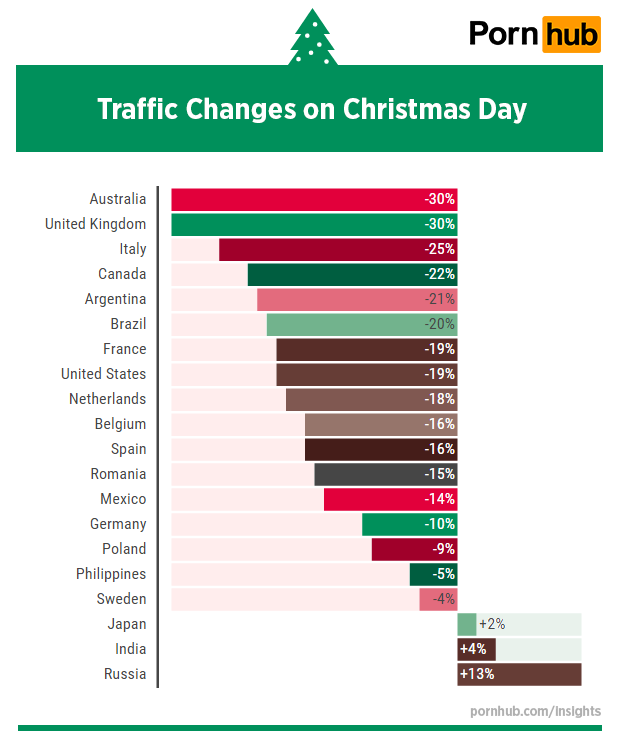 The holidays season is also one of travel for many people. Because of this, our users tend to switch their game up a little when it comes to getting in some time on Pornhub. Having left their computers back at home,  many opt for visiting the site with tablets and smartphones instead. As such, the largest decrease in traffic by device we observed was on desktop, with a 36% dip on Christmas.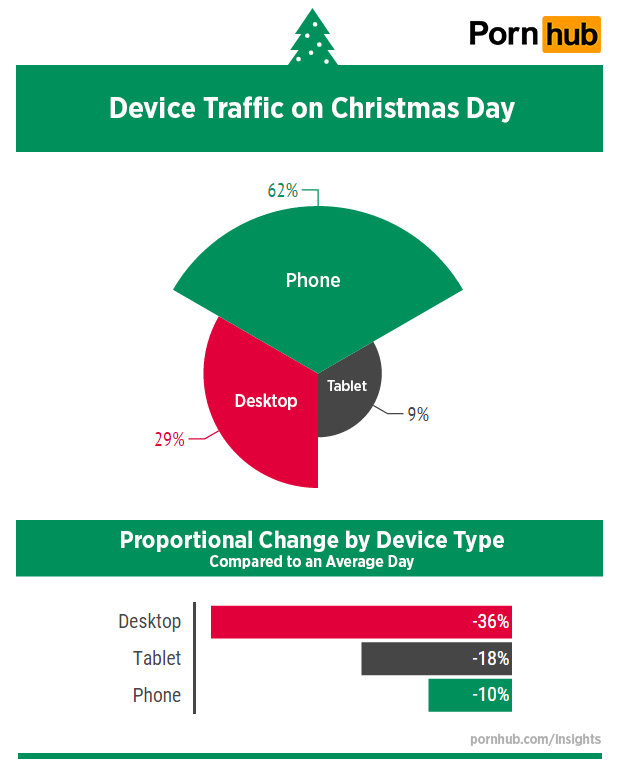 XXXMAS IN THE UK
We'll close out our holiday coverage with a focus on how Pornhub users in the United Kingdom get festive with their on-site searches during Christmas. Here, like in the rest of the world, "Christmas" remains as the star of the holiday-themed searches, followed in second place by the ever so jolly "merry christmas" in second and "christmas gift" in third. Many of these terms are found on the worldwide list that we presented a little earlier on, in more or less the same order. What sets this UK list apart from the worldwide popular Christmas searches is the appearance of 'xmas chav' in at the end.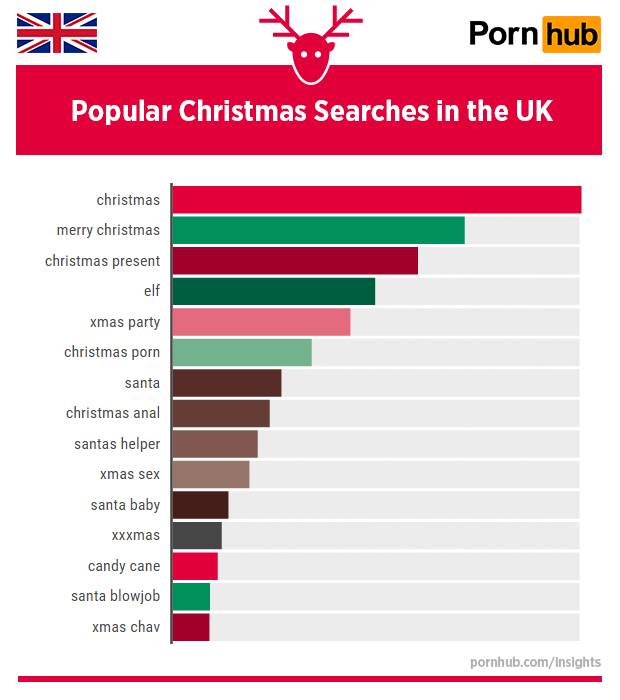 Last but not least we've got a list of which Christmas search terms grew the most in popularity. "Xmas present" shot up with a 3496% increase as did "christmas blowjob" with a 2928% growth. Family favorites like "stepmom and son," "granny" and "christmas wife" saw increases of 1529%, 1105% and 477% respectively.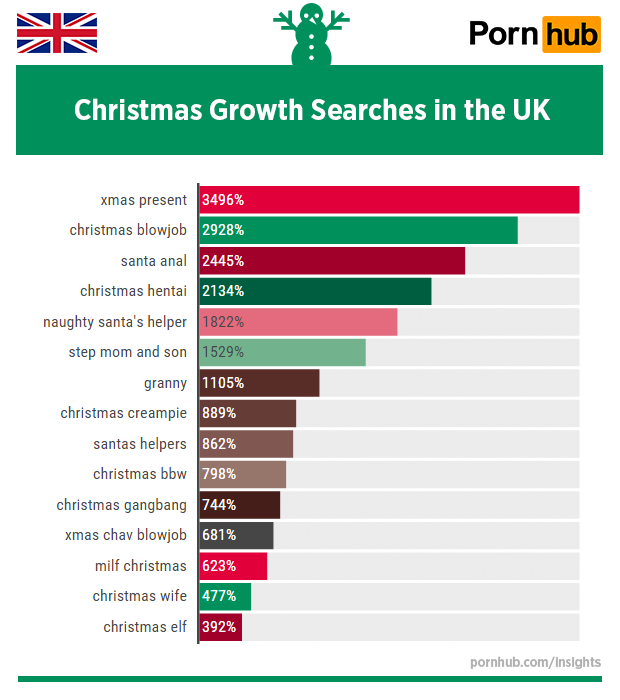 That's a wrap on this year's xxxmas edition of Insights! From everyone here at Pornhub, we wish you a very safe and happy holiday season.