Gobble gobble! Tis the season for family fun, food and football, so before the festivities commenced our statisticians took a look to see how turkey season affected traffic and searches on Pornhub. As we've previously found on holidays like Christmas, Easter and even St-Patricks Day, they can have quite an effect on the type of porn people search for.
Based on results from 2014, we found that 'Thanksgiving' tops the list of related terms, but interestingly there were many popular searches relating to the very first Thanksgiving such as 'native american', 'pilgrims and indians', 'navajo' and 'pocahontas'. Because holiday shopping season also kicks off, we also found increased searches for 'black friday', 'christmas present' and even 'walmart'.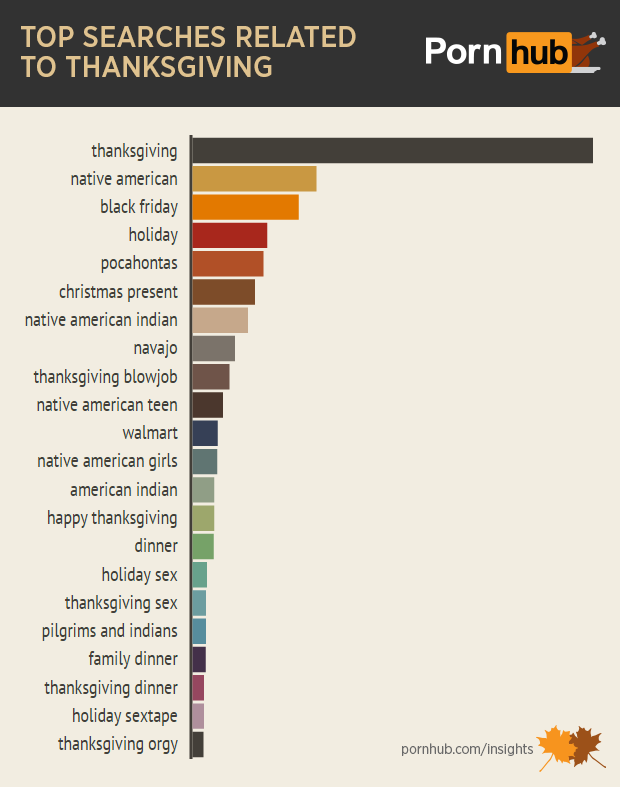 Looking at searches that increased over Thanksgiving (compared to an average day), we found that 'thanksgiving' increased a whopping 3985%, and 'black friday' by 2785%. Of course that does mean that people search for these terms at other times of the year, but not nearly to the same degree. Perhaps because people are spending so much time with extended family we see searches like 'granny' (+344%), 'step mom' (+318%) and 'step sister' (+227%) all increasing significantly.
As the following chart illustrates, if we consider all searches that contain the word 'thank' we see an increase of nearly 14x the normal average over the Thanksgiving holidays.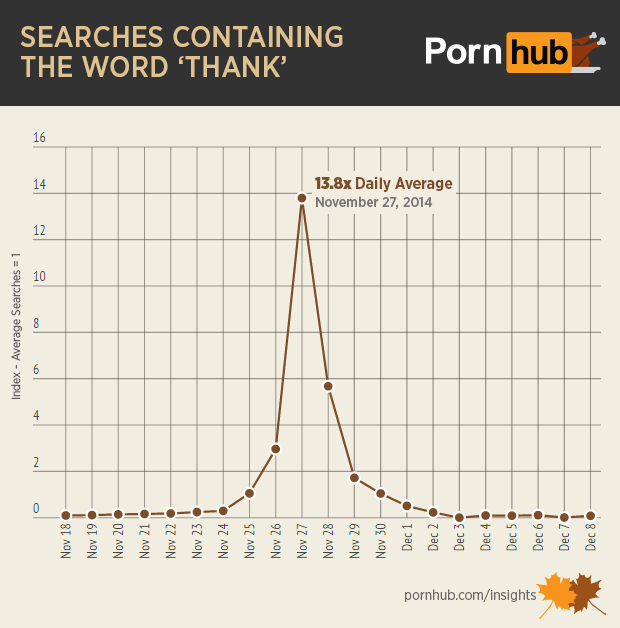 Thanksgiving Traffic
Across the United States, traffic to Pornhub dropped a significant 12.7% on Thanksgiving Day (Thursday November 27, 2014) but increased on Friday (+8.7%), Saturday (+5.6%) and Sunday (+7.8%).
The following chart also breaks down the traffic change by specific device types. On Thursday we found that mobile traffic dropped the least (-9.9%), but increased more significantly on Friday (+9.8%) compared to other devices. This is most likely due to people travelling and relying more on their portable devices while away from home.
Our statisticians also found that the traffic change varied greatly depending on the state, as the following heatmap illustrates. New Hampshire had no trouble giving up their porn fix on Thanksgiving Day, and traffic was down 40% – far more than any other state. The next nearest was Kentucky, down 28%. Apparently Nebraska gives thanks for Pornhub regardless of the day, as their traffic levels barely moved. Virginia and Hawaii also bottomed out the list with only a 5% drop in traffic.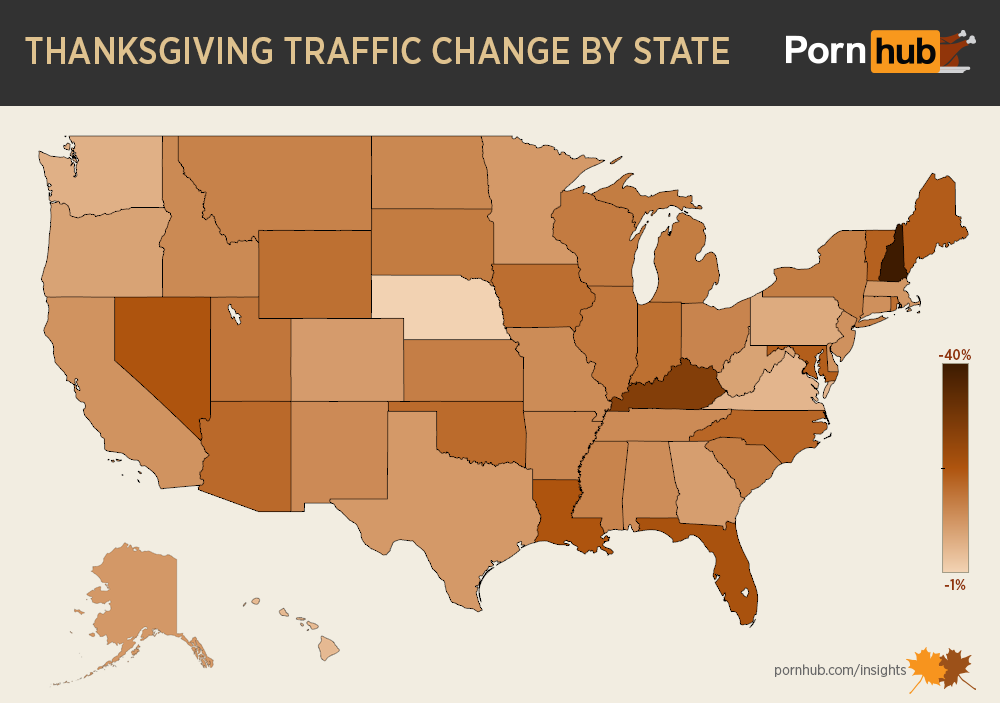 To see how far your state dropped, click below to view the full list.

Thanksgiving by the hour
If we look at hourly traffic on Thanksgiving Day, we see that traffic is 35% higher at 3am compared to an average Thursday. It's also 18% lower at 7am and 10% higher at 11am. We see the same trend on other holidays, and even on weekends because people tend to stay up later in the evening and sleep in later in the morning when they don't need to get up for work the next day. In other words, their morning fap is just as important as always, but it can wait a few hours in favor of sleeping in. Amen.
The most significant change happens on Thanksgiving afternoon, when traffic drops nearly 40% below the daily average, and stays down until midnight. Clearly people are preoccupied with family, friends… and of course watching football. As if making up for lost time, traffic jumps nearly 30% above normal between 2am and 3am after the family is not around.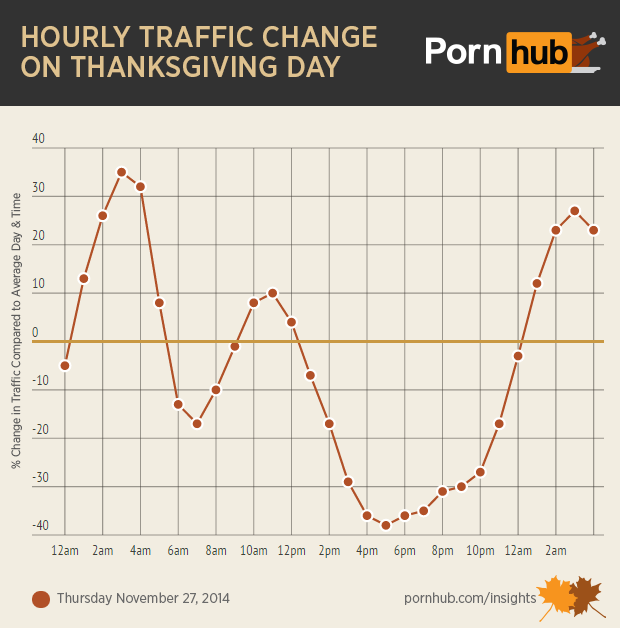 What better way to give thanks for what you have, than waiting in line to buy more stuff you don't. Yes, even Black Friday causes some interesting changes to Pornhub's traffic. Compared to an average Saturday, traffic is up 27% in the early morning hours, but drops as much as 15% between 6am and 8am. Perhaps people are up early to line up at their local big box store. Traffic shoots up 35% by noon hour. Maybe the best way to test out their new half price computer is to check some smooth HD action Pornhub Premium?
As always, we hope you enjoyed today's Insights. We're thankful for our loyal Pornhub viewers, and we hope you will join us in giving thanks for all the wonderful pornstars who work hard to give us pleasure every day of the year.