What does your search history look like? According to Google Trends, it likely includes searches for the World Cup, Malaysia Airlines and Ebola, as these were some of the most searched terms in 2014. For today's installment of Pornhub Insights, our friends over at Metro UK asked us for a peek at ours and we happily obliged. In fact, we're coming at you today with a complete retrospective, tracing the top searched terms on the site from 2009 until now. We'll begin with a look at which search terms climbed and fell from the charts on a global level.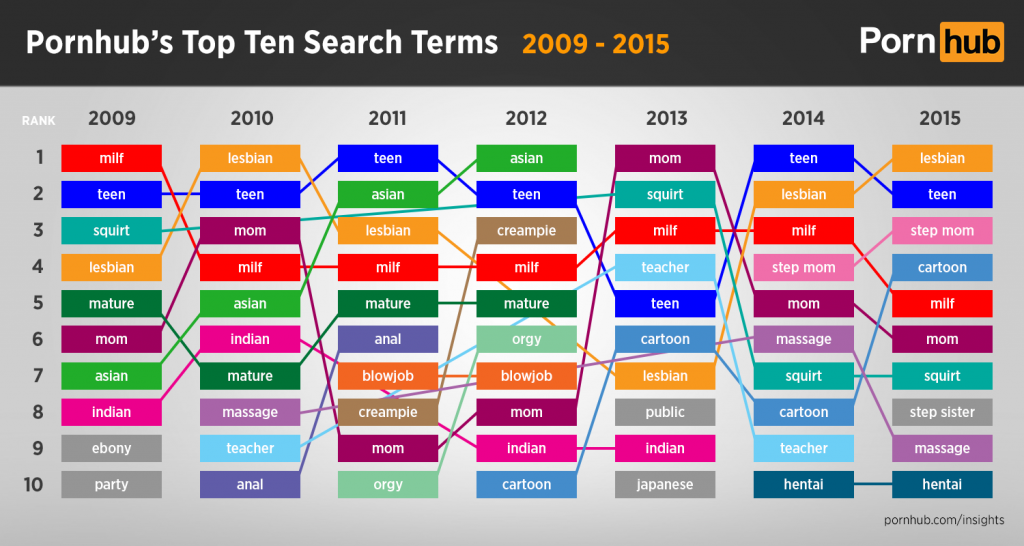 One clear trend is that searches by ethnicity have decreased over the course of the past almost 7 years. Searches like 'indian' and 'asian' proved to be quite popular between 2009 and 2012, the latter even taking the top spot on the list in 2012, to vanishing from the current top 10 completely. 'Teen' and 'milf' have always hovered in the top 5, though 'mature' hasn't appeared in the top 10 since 2012. In fact, 'teen,' 'mom' and 'milf' are the only 3 terms that have remained on the list throughout the 7 years we've surveyed. Search terms 'cartoon' and 'hentai' have also been on the rise since 2012, indicating a growing global desire for this more fantastical type of content.
Interestingly, terms oriented around male pleasure like 'creampie' and 'blowjob' have also dropped off the list completely whereas 'squirt,' which has to do with female orgasm, has remained solid on the lists for the last 3 years. Get it girls! We'll continue with a look at how searches within the same time period have evolved in the United Kingdom.
Searches involving nationality have grown in popularity over the course of the past few years in the UK. Back in 2009 'british' was all the way down in 10th place, from where it has since climbed steadily and has remained within the top 4 since 2012, peaking at 1st in 2013. Similarly, 'indian' has remained popular throughout the years, even taking the number 1 spot in 2011. Profession oriented searches like 'teacher' and 'babysitter' have steadily dipped in popularity and neither currently appear in the top 10 searched terms. On the other hand, 'lesbian' and 'milf' have remained close to the top, the former currently taking the lead as 2015's most searched term in the Isles.
Brits have also been leaning more towards the wet and wild type of content with 'squirt' noticeably climbing closer to the top over the past few years, as has 'massage'. Based on this last bit it seems that Pornhub users in the UK are getting more in touch with their sensual sides, but they are also demonstrating a strong preference for step-relative themed content with 'step mom' first appearing in at 6th place in 2014, and now taking 3rd, joined by newcomer 'step sister' in at 10th.
Denmark
Curious about their own top term history, the folks at Metroxpress in Denmark asked us to look into this as well. As with many other countries, Danes love to search for their fellow countrymen and women. Interestingly, 'danish' has been tops since 2010, but 'dansk' become the second most popular term starting only in 2013. Point of View ('pov') porn is more popular in Denmark than the worldwide average, and they also love 'public' sex. We see more searches for happy endings such as 'cumshot' and 'orgasm' that we usually do — in most videos those are a given, provided you last until the end of the video.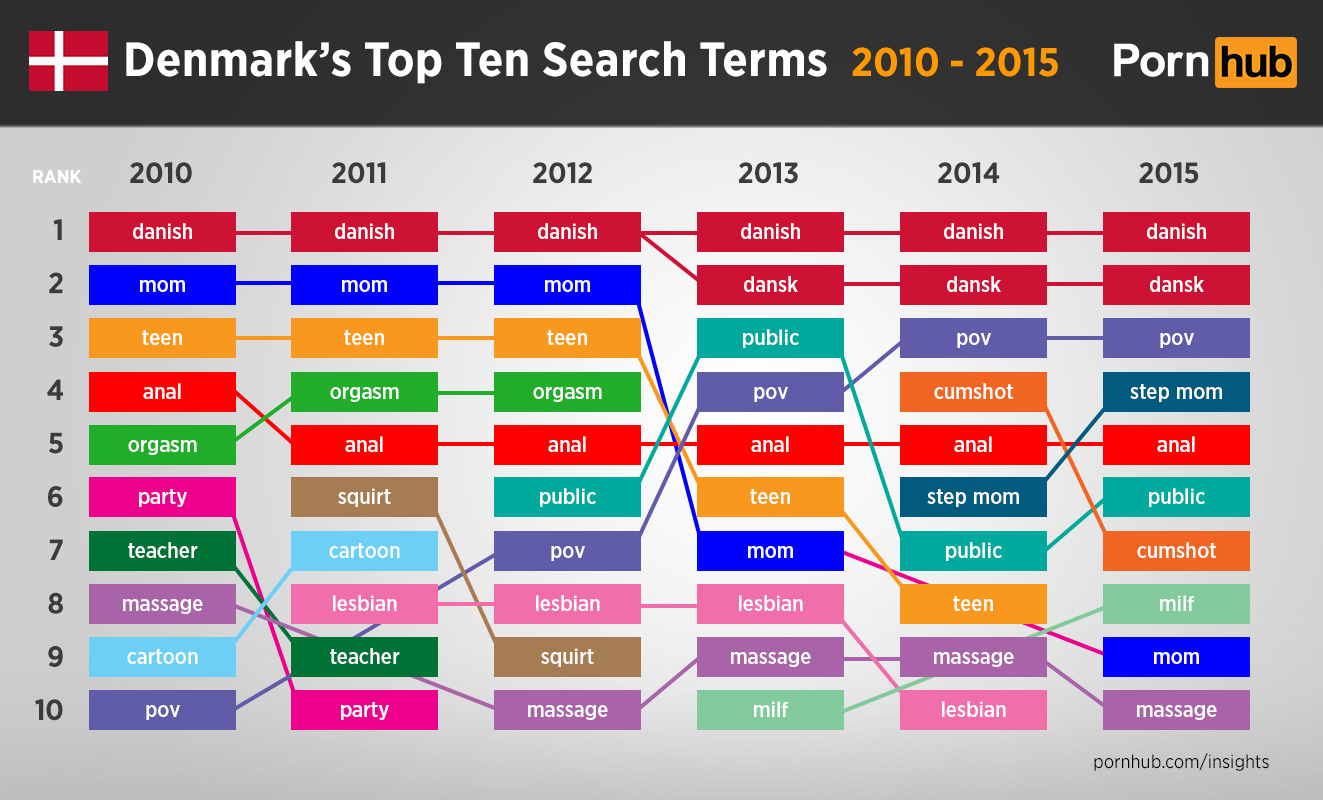 What do you think about the ebb and flow of Pornhub's most searched terms over the years? Let us know in the comment section below and be sure to check back soon for a brand new edition of Insights.