After having spent some time looking at the porn habits of visitors to our site in both the State of New York and Illinois, the Pornhub statisticians have headed south. We're looking at you, Alabama! That's right, we're in the Heart of Dixie examining what the people of Alabama like to look at the most when playing with theirs. As some of you may have heard by now, Pornhub is in the process of crowdfunding the first ever sex tape made in space, and seeing as workers from Alabama built the first rocket that put man on the moon, we couldn't help but want to stop in and check out the state's porn stats. At the request of our friends over at AL.com, we're coming at you today with a huge load of Yellowhammer State data. There's lots to cover, so let's begin.
SOUTHERN STYLE SEARCHES
We'll start with the really good stuff. As we noticed as an overall search trend in our 2014 Year in Review, step relative themed porn is quite popular these days, the same being true in Alabama with terms like 'step mom' and step sister' ranking quite high. Overall though, Alabama appears to be into Ebony-themed content. In our survey of the State of New York, we noticed that in areas with larger populations of African Americans, searches for terms like 'ebony' and 'black' tended to rank quite high. The same appears to be true in Alabama, where a considerable 26.2% of the population is Black according to the US Census Bureau, compared to just 12.6% nationwide. 'Black' is the top searched term in the Yellowhammer state, followed by 'ebony' in at third and 'ebony lesbians' and 'black teen' a little further down on the list.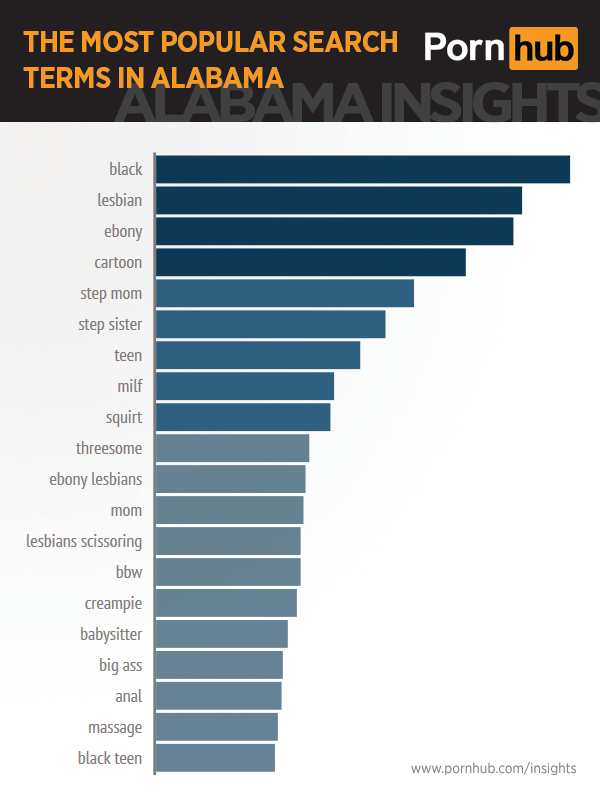 When we look at the terms that are proportionally more searched for in Alabama that in the rest of the United States, the affinity for Ebony vids becomes even more apparent. When we look at this same kind of chart in Chicago, which also has a relatively large African American population at 33%, we also noticed a considerably high number of Ebony-related search terms being searched for at proportionally higher rates. Alabama really takes the cake though, in that every term on the list of terms that are searched for more in the state than within the US at large incorporates the words 'black' or 'ebony' with the exception of 'ghetto booty' and 'pinky,' who happens to the the top searched for Ebony star on Pornhub.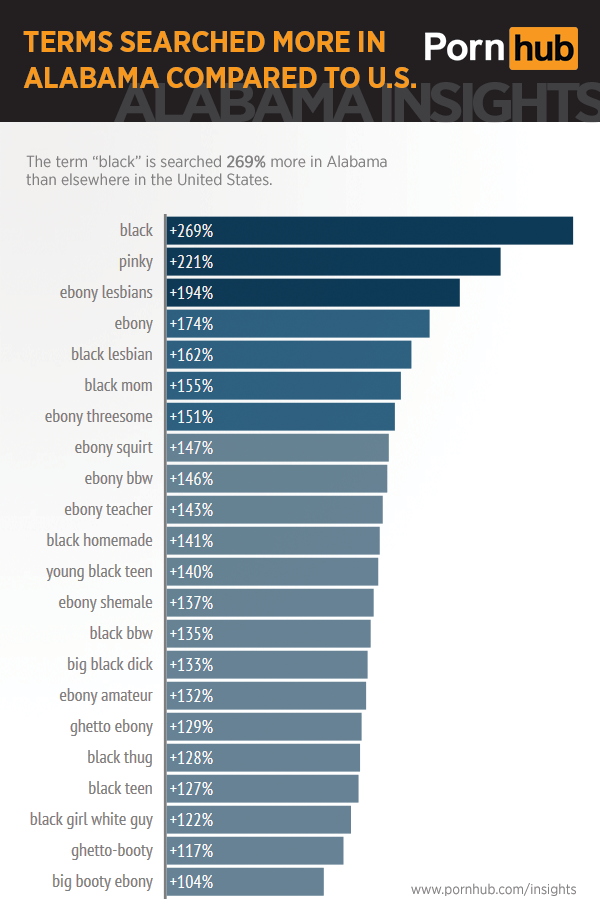 At the end of the post, we've broken this down even further with individual charts detailing the top searched terms, most searched for porn stars and average time on site for the 10 cities that drive the most traffic to Pornhub in Alabama. Be sure to take a look out for yours! We'll continue here with Alabama's favorite porn stars. Suffice it to say, Alabamians have a thing for reality stars.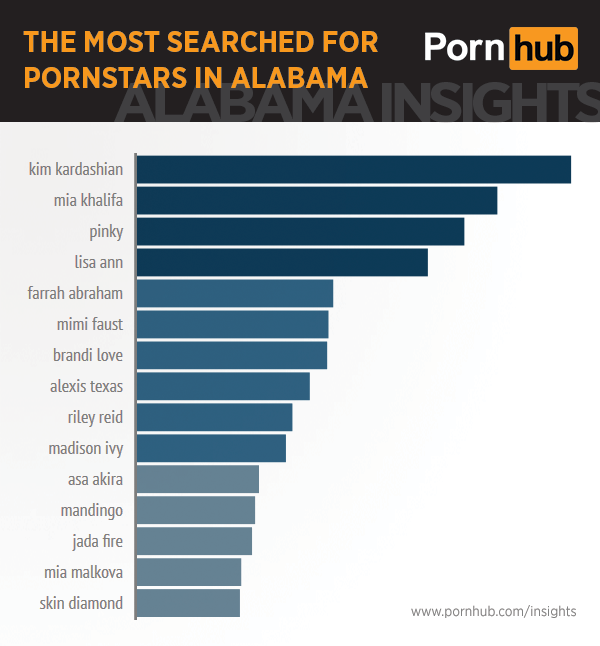 Topping off the list is Mrs. West herself, ultimate porn star turned reality babe Kim Kardashian, followed by fellow small screen vixens Farrah Abraham (NSFW) and Mimi Faust (NSFW) in at 5th and 6th place. Claiming third place is Ebony queen Pinky (NSFW) followed by the mother, or should we say MILF of all porn, Lisa Ann (NSFW) in at 4th.
ALABAMA MAN…AND WOMAN
Let's continue with an in depth look at who exactly Pornhub's visitors are in Alabama. When we look at the proportions of women to men among Pornhub viewers, we are currently sitting at 23% women to 77% men on a worldwide level and 21% to 79% within the US. Alabama's female viewership stands at a respectable 23%, with some interesting variations within some of the state's different towns and cities. For instance, over in Trussville, a whopping 30% of Pornhub viewers are female. This may have to do with the fact that Trussville is also home to a slightly higher than average female population, specifically 100 females aged 18 and older for every 90.8 males according to the US Census Bureau. Over in Auburn, where just 18% of Pornhub viewers are women according to anonymized data from our analytics tool, the margin is much closer with 99.9 males for every 100 females.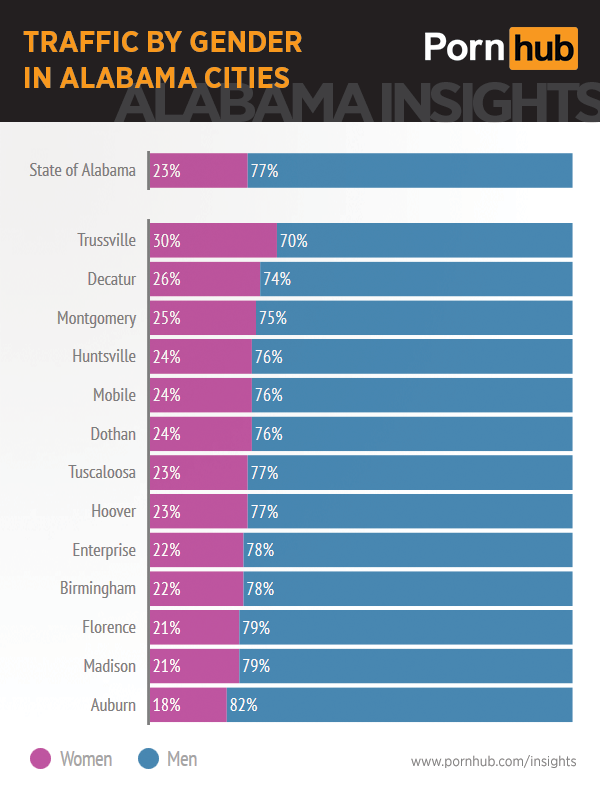 We'll move on with some stats pertaining to traffic by age group. Alabama falls more or less in line with the rest of the US in terms of age demographics, though with slightly higher numbers in the 18-24 grouping. We also noted much higher than average numbers in this same age group in the college town of Auburn. We noticed this same trend in Edwardsville and Champaign during our Illinois state coverage, in that the presence of an institution of higher learning in an otherwise rather small urban area tends to drastically affect the distribution of age demographics. The youth of Madison Alabama appear to be living in accordance with their city motto of 'Play hard, learn well & live richly' – at least with regards to the 'play hard' part, with a colossal 45% of Pornhub viewers falling between the ages of 18-45.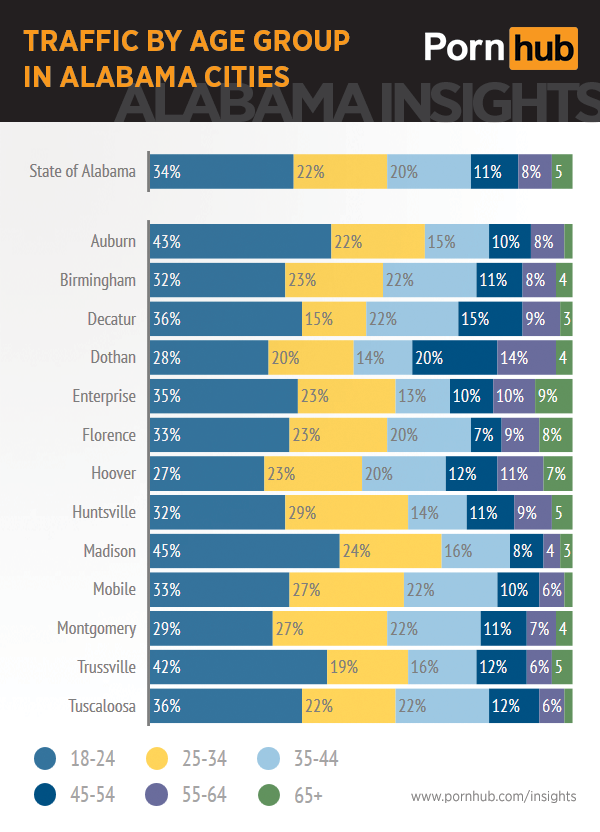 Enterprise impresses with it's whopping 9% of 65+ viewers, where residents also happen to spend an additional 10 seconds longer on site when they visit Pornhub. The chart below compares these same cities in terms of how long they tend to spend on Pornhub. We've never really seen such a huge variety of average session durations within a country, let alone a state. As it stands, Alabama takes the current US average time on site of 9 minutes and 38 seconds over by 3 seconds with it's 9:41 average. Hoover sucks a whole minute and a half off of this number in the name of efficiency while in Montgomery, they typically spend a leisurely near 11 minutes on the site.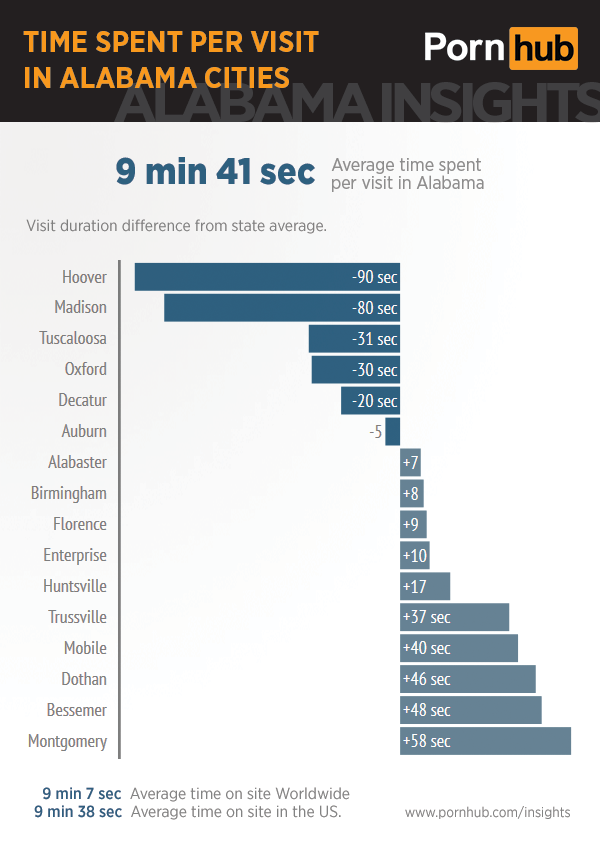 We've displayed this data and more in the heat map below, which shows which counties spend the most and the least time on Pornhub on average.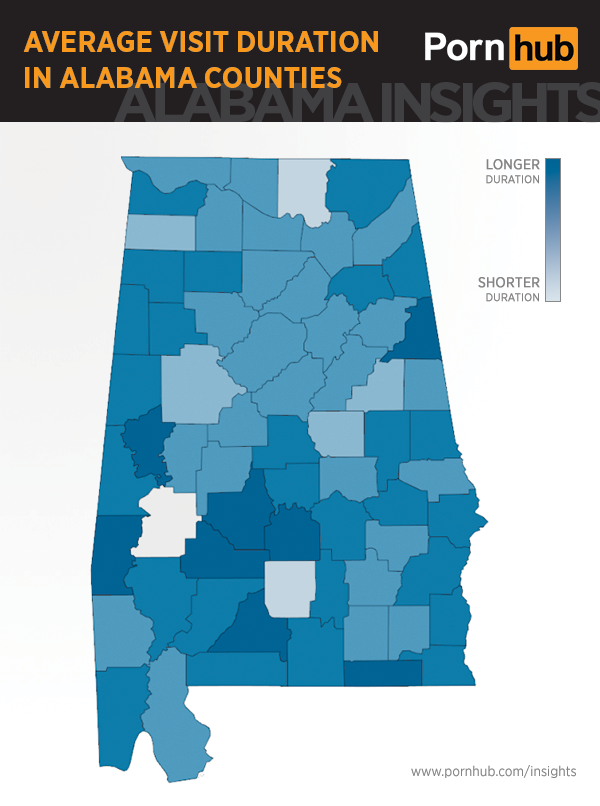 Have you ever wondered which types of devices are most used to access Pornhub in the Heart of Dixie? You're about to find out thanks to the chart below, which details the breakdown of desktop, smartphone and tablet use throughout the state.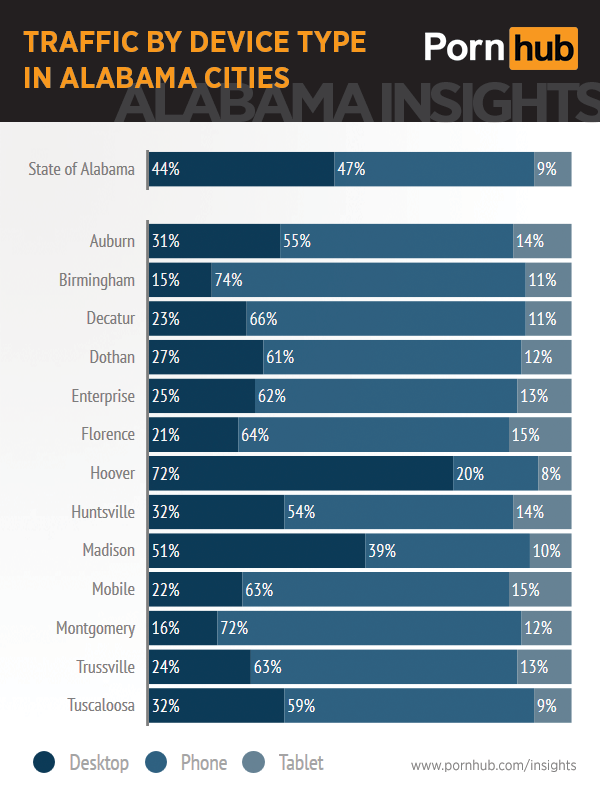 Device proportions are all over the place in Alabama. In the United States, the current traffic breakdown by device is sitting at 27% desktop, 61% mobile and 12% tablet. In Alabama, desktop use is considerably higher, and as such, smartphone traffic is a good deal lower. Interestingly though, it seems like just a few cities are throwing the rest of the state off. When we look at Birmingham and Montgomery, desktop use falls over 10% lower than the rest of the nation, with much higher proportions of mobile traffic. In Hoover, however, desktop sucks up a whopping 72% of traffic proportions. Apparently the largest employer in Hoover is a Blue Cross insurance company, so we have a slight theory that the majority of our traffic there originates from clerks sneaking in sessions to spice up the claim submission process.
ALABAMA INTERRUPTED
We've seen before how everything from weather events to holidays like Easter and Christmas can cause traffic rates to drastically climb or fall on Pornhub. Below we've got a look at how various holidays affect traffic in the Cotton State. Though Alabama was the first state to declare Christmas a legal holiday back in 1836, traffic rates only drop by around 20% on the holiday. The most significant drop is observed on New Years Eve with a sizable 37% dip in traffic – interestingly the exact same rate with which traffic in the US overall appears to have dropped on December 31st according to our Year in Review coverage.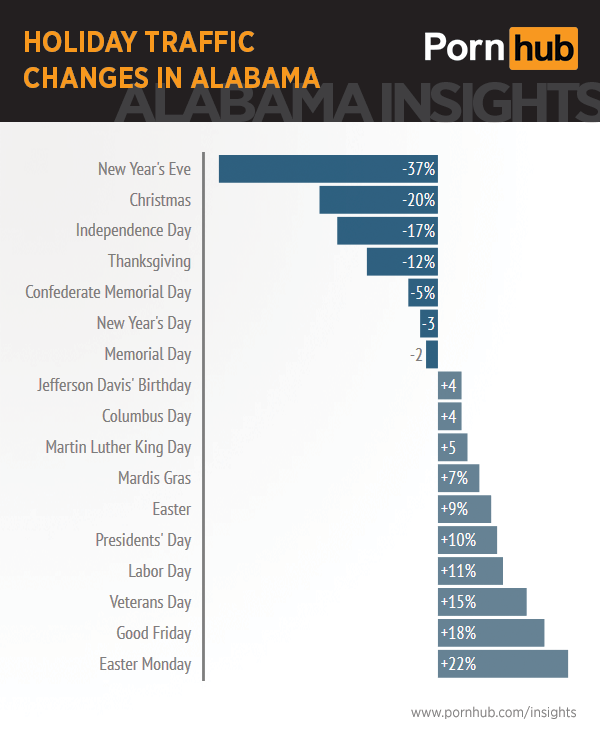 Comparatively, in countries like Germany and the Netherlands, traffic drops by as much as 66% on this same day. Did you know that Alabama actually first introduced Mardi Gras to the western world? Though New Orleans is now known as the Fat Tuesday mecca, it was early residents of Alabama who first celebrated the French holiday on this side of the pond. The celebrations continue in Alabama as noted by the 7% increase in traffic on the day, though the biggest holiday spike is observed on Easter Monday with a 22% increase. Sporting events like the NBA Finals as well as the Stanley Cup playoffs have also been known to cause traffic disturbances – the chart below depicts the same with the Sugar Bowl.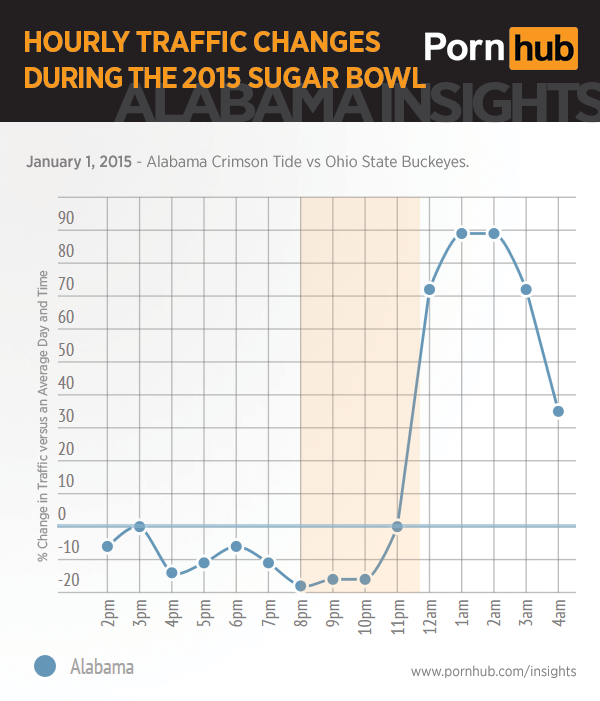 During the New Year's Day game, which was the semifinal in the College Football Playoff, traffic hovered between 10-20% below average throughout. In the hours following the Alabama Crimson Tide loss to the Ohio State Buckeyes, traffic surged up by as much as 90% over the average rate. As we like to say, there's really no better way to ease the pain of a big game lost than some extra time spent on Pornhub.
And that's a wrap for Alabama! As promised, we've got charts for the top 10 cities in the state listing the top searched terms, most popular porn stars and average time on site for each. How does your city compare? Let us know in the comment section below, and stay tuned for more awesome Insights!